In the finance community, merger arbitrage is sometimes referred to as "a business of picking up nickels in front of a steamroller." By contrast, the EQT Corporation (EQT)–Rice Energy (RICE) merger arbitrage situation increasingly appears to be an exercise of "picking quarters in front of a scarecrow."
Following the stir created by the activist hedge fund JANA Partners, which is advocating against the merger and demanding immediate separation by EQT of its upstream and midstream businesses instead, the arbitrage spread has widened dramatically and is currently at a level that makes expected return on RICE and EQT to the assumed transaction closing materially differential, presenting investors participating in these two stocks with a dilemma.
Based on July 14 closing prices, a position in the EQT-RICE merger arbitrage pair would earn a ~6% annualized return if the transaction closes in mid-December. By the standards of the merger arbitrage trade where the return is often measured versus zero, this is a very lavish return. The unusually wide spread obviously indicates strong concerns (not to say fear) and disengagement by many arbitrageurs.
Given the operational merits of the proposed combination and the endorsement by investors so far, a case can be made that in spite of JANA's activism, the transaction has high likelihood of being approved by EQT shareholders and will likely close as planned.
On the day of the Rice-EQT merger announcement, RICE was the largest natural gas-focused position in OIL ANALYTICS' Model Portfolio with a status of a "best stock idea."
Merger Arbitrage
In a typical merger arbitrage situation, where one publicly traded company has entered into a definitive agreement to buy another publicly traded company in a stock-for-stock transaction at a premium, the arbitrageur sets up a short position in the stock of the acquirer and a long position in the stock of the target, with an expectation to net the "arbitrage spread" once the deal closes. In merger situations where the risk of non-closing is perceived to be low, arbitrage spreads are typically razor-thin. If the risk of non-closing is viewed as high, many arbitrageurs are not able to participate at all due to limitations imposed by their mandates.
In calculating the expected return, the arbitrageur typically factors in the probability of competing offers for the target that could trigger a bidding war and create a windfall gain on the position; the probability of the transaction not closing (Halliburton's (NYSE:HAL) failed bid for Baker Hughes is a vivid example); and uncertainties related to the timing of the closing (which can have a major impact on the return).
A failed transaction can result in a catastrophic loss for the arbitrageur (the "steamroller" risk). Under the worst case scenario, in the event the merger is terminated, significant losses can occur on both sides of the pair trade: the stock of the target company can trade sharply lower, no longer reflecting the acquisition premium; on the other hand, the stock of the acquirer can trade up, as the premium is no longer being paid. As a result, a failed transaction is a nightmare scenario for traders with merger arbitrage positions.
Merger arbitrage typically requires access to low-cost capital, low charges on margin positions, and efficient trade execution. As a result, the merger arbitrage business is a club of hedge funds and institutional investors with a short membership list.
EQT-Rice Merger
On June 19, EQT and Rice announced a definitive agreement to merge. EQT is the acquirer, paying a meaningful premium to Rice (38% based on pre-announcement closing prices). As consideration, Rice shareholders will receive 0.37 shares of EQT common stock and $5.30 in cash per share of Rice common stock. The transaction is expected to close in the fourth quarter of 2017, subject to shareholder approvals and other customary closing conditions.
The merger is expected to yield significant operational synergies, given that the two companies' acreage positions in Greene and Washington Counties, PA, are largely contiguous with each other. Most notably, EQT believes that the combination will result in a significantly improved lease geometry, increasing average lateral length and pad size and thereby creating a major cost-of-supply advantage.
As one would expect, EQT stock price initially declined in reaction to the announcement. However, the share price fully recovered within several days, as investors digested the news and assessed the combination's merits.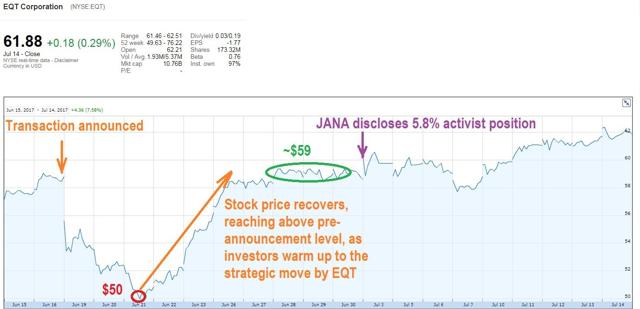 In the announcement press release, EQT commented:
As the vast majority of the acquired acreage is contiguous with EQT's existing acreage position, EQT anticipates a 50% increase in average lateral lengths for future wells located in Greene and Washington Counties in Pennsylvania. This same land synergy also complements the infrastructure footprint of EQT Midstream Partners, LP (NYSE:EQM), where growth opportunities are expected through drop-downs and additional organic projects.

We will now shift our focus from acquisitions to integration as we work to drive higher capital efficiency through longer laterals; reduce per unit operating costs through operational and G&A synergies; improve our sales portfolio by expanding access to premium markets; and deliver increased value to our shareholders.
On July 3, JANA Partners, an activist fund, disclosed a 5.8% position in EQT, stating its opposition to the merger and insisting that EQT instead pursue a separation of its upstream and midstream businesses.
Of note, JANA's 13D filing failed to produce a meaningful impact on EQT's stock. However, the "arbitrage spread" widened dramatically from as low as $0.35 per Rice share to as much as $1.93 per Rice share (using daily prices at the market's close), a nearly six-fold increase.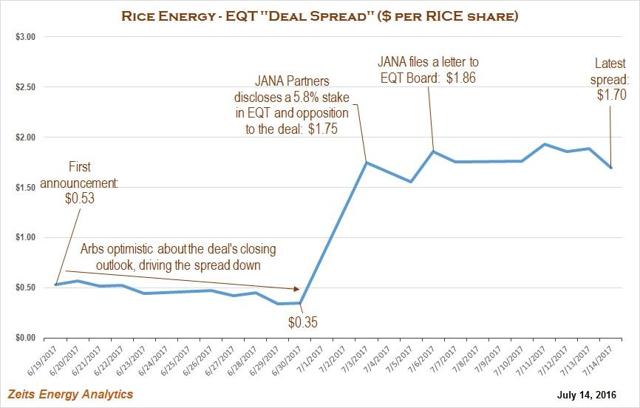 JANA Partners' Activism
On July 5, JANA Partners filed a letter to EQT's Board. In the letter, the fund is expressing its strong opposition to the merger and advocates that EQT instead pursue an immediate separation of the midstream. The letter threatens EQT with a proxy fight.
The letter is skillfully and eloquently presented. However, in my view, it fails to make a truly convincing case against the merger that would be sufficient to generate a broad shareholder support.
The letter attempts to downplay operational advantages of combining two overlapping acreage positions. Such advantages can be particularly significant in Appalachia where development is often challenged by surface conditions, infrastructure availability, and environmental considerations. Longer laterals and larger pads can provide a major benefit.
The letter suggests that the acquisition dilutes EQT's inventory, an argument that is unlikely to find recognition among sophisticated institutional investors. Rice's acreage is located in the heart of the Marcellus South sweet spot (Greene and Washington County, PA) as well as in one of the most economic parts of the Utica's dry gas window (Belmont County). While EQT's pre-acquisition acreage footprint is extensive, the best acreage contributes disproportionately to value. In fact, a case can be made that the acquisition of Rice deepens the premium inventory per EQT share quite significantly.
With regard to JANA's demand that EQT immediately pursue strategic alternatives for the midstream business, the activist fund may face disagreement from some EQT's institutional investors. Given that many of EQT's midstream projects are still in development (and some are in early development) and the pipeline of future drop-downs is still extensive, a case can be made that a premature separation would destroy shareholder value. Stated in simple terms, one can hope for a better price for a house when it is completed and furnished to be shown to buyers as compared to selling the same house off a blueprint.
Besides, to a significant degree, JANA is pushing at an open door. EQT already has an MLP vehicle for its midstream business and has highlighted the value of the general partner interest by taking EQT GP Holdings (EQGP) public. JANA's claim that the separation would create $26 per EQT share in shareholder value is obviously highly speculative and will likely be taken by EQT investors with a due grain of salt.
While EQT's midstream vehicles are sponsored and controlled by the parent company, the alignment of interests between the parent and subsidiaries is not necessarily a value detriment at this stage. EQT has stated its commitment to maximize the value of the stock via corporate initiatives and has indicated the time frame for tangible steps in this direction: by the end of 2018. This commitment will likely give some comfort to many institutional investors.
Finally, and most importantly, JANA is advocating against a transaction that the market apparently approved off, judging by the quick recovery in EQT's stock price.
"Just Say No" Defense
Without debating the underlying merits of the arguments presented by JANA – some of which, in my view, have some validity - what are the chances that the fund's activism derails EQT's acquisition of Rice?
In my current assessment, those chances are slim. The main reason: JANA's objection to the proposed merger lacks a truly compelling substance and, therefore, is unlikely to be sufficient to build an opposition majority among EQT's institutional investors. In its turn, EQT is unlikely to stand still. It would be surprising if the company and its defense advisers have not already developed a strategy to proactively protect the merger should it become necessary.
Arguably, EQT has a solid position at the moment. A failed defense against JANA's attack on the merger plan would be a surprise and a failure on the part of M&A, legal, and PR advisers.
From a practical standpoint, at this point in the game, EQT simply needs to say "no" to JANA's demand to abandon the merger and stay the course (which EQT has effectively already done) in the meantime, preparing an elaborate investor relations campaign to convince shareholders to approve the proposed transaction.
JANA has a better chance of receiving what it wants on the corporate initiatives side. The fund's activism puts EQT in a spotlight with regard to strategic alternatives for the midstream business and is likely to generate a continuous stream of questions on this topic over the next several quarters from analysts and investors. In fact, a high expectation has already been created in this regard, and EQT will ultimately have to provide a tangible response. The company will have to go through a strategic alternatives process. However, even under pressure, the existing management team and Board are likely to remain in significant control and can execute their plan as they see fit.
With regard to the attempt to place its representatives on EQT's Board, JANA may have some success over time. Placing one nominee on the Board is certainly a possibility. However, given EQT's significant size, electing two or more Board members can be a challenge.
One seat on the Board would be enough to provide access to insider information but would unlikely to be enough to redefine the company's strategic agenda.
With these considerations in mind, I believe it is very premature to assume that the Rice deal is in jeopardy.
Arbitrage Spread Math
The following calculation illustrates the merger arbitrage spread trade, based on closing prices on July 14, 2017.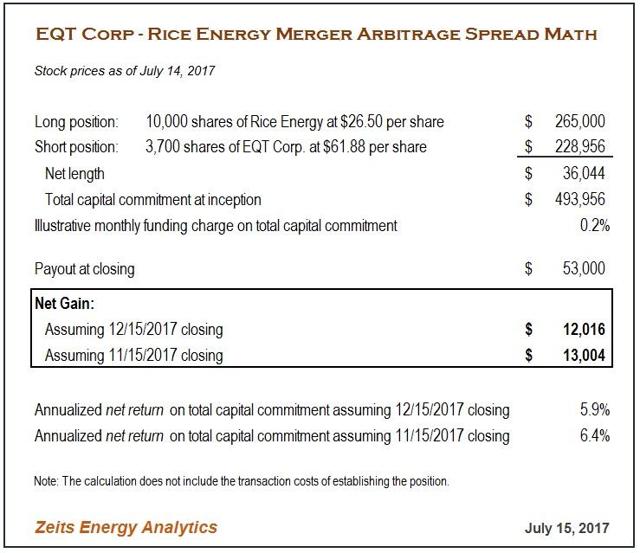 I reiterate that the net pay-off is unusually rich by measures of the merger arbitrage business (which typically "fights to outperform zero" on a net basis). The wide spread indicates the perception that the risk of the merger being terminated is quite high.
Risks
Any merger arbitrage position presents risk.
In addition to JANA's campaign to upset the proposed merger, other risks exist. An example of a (purely illustrative) adverse scenario is an unexpected third-party bid for EQT conditioned on EQT abandoning the Rice merger. No matter how improbable, this and other black swan scenarios are always present.
In Conclusion…
Merger arbitrage is an esoteric business. However, "plain vanilla" investors with long positions in EQT or Rice are currently forced to become arbitrageurs themselves as they assess their investment options.
Institutional and retail investors participating in these stocks now have two alternatives: to carry the position via EQT Corp. stock or carry a similar position via Rice Energy stock. If the latter is elected, the investor would gain an extra, very material return - ~$1.70 per Rice Energy share (which closed at $26.50 on July 14, 2017) - in the event the merger closes as planned. However, investors in Rice Energy shares will also face the risk of the merger not closing due to JANA's activist campaign (or other "black swan" events), in which case, the under-performance relative to EQT can be quite significant.
Therefore, understanding the context and possible outcomes of JANA's activism is critical to developing a judgement and making a correct decision.
The 13D filing by JANA Partners disclosing a 5.8% activist position in EQT has created a panicked reaction among arbitrageurs. The arbitrage spread has widened six-fold.
I should also mention that the activism story is just beginning to unfold. I expect JANA to escalate its campaign, which can lead to the spread widening even further. Follow-up letters to EQT's Board are to be expected within weeks, in my view.
Based on my assessment, JANA is facing an uphill battle in its attempt to upset the proposed merger. The combination has strong merits, and the EQT price reaction to the announcement has been neutral, indicating investors' general support for the initiative. A bet on the transaction not closing would be highly speculative, in my view.
When monitoring the developments, the merger arbitrage spread is something I would watch very closely.
About OIL ANALYTICS
OIL ANALYTICS remains one of the most active offerings on Seeking Alpha's Marketplace, with 300+ exclusive materials posted for its members since the beginning of this year alone (a total of over 1,000 non-public materials available to members).
To illustrate some of the aspects of our work, through our analyses, OIL ANALYTICS accurately anticipated the recent correction in natural gas and recent correction in crude oil, as well as the "bounces" that followed.
Our macro and company-specific views are continuously illustrated in our Model Portfolios and Best Stock Ideas modules.
Disclaimer: Opinions expressed by the author in materials included in Zeits OIL ANALYTICS subscription service or posted on Seeking Alpha's public site are not an investment recommendation and are not meant to be relied upon in investment decisions. The author is not acting in an investment, tax, legal or any other advisory capacity. The author's opinions expressed herein address only select aspects of potential investment in securities of the companies mentioned or commodities and cannot be a substitute for comprehensive investment analysis. Any analysis presented herein is illustrative in nature, limited in scope, based on an incomplete set of information, and has limitations to its accuracy. The author recommends that potential and existing investors conduct thorough investment research of their own, including detailed review of the companies' SEC filings, and consult a qualified investment advisor. The information upon which this material is based was obtained from sources believed to be reliable but has not been independently verified. Therefore, the author cannot guarantee its accuracy. Any opinions or estimates constitute the author's best judgment as of the date of publication, and are subject to change without notice. The author explicitly disclaims any liability that may arise from the use of this material.
Disclosure: I/we have no positions in any stocks mentioned, and no plans to initiate any positions within the next 72 hours.
I wrote this article myself, and it expresses my own opinions. I am not receiving compensation for it (other than from Seeking Alpha). I have no business relationship with any company whose stock is mentioned in this article.