During the 2009 to 2012 leucovorin shortage, shares of Spectrum Pharmaceuticals (NASDAQ:SPPI) (a firm that focuses on the development and commercialization of drugs to treat blood disorders and cancers) soared from $5 to $17 peak. The company's lead drug, Fusilev, a pure racemic form of leucovorin, is used as a folate analog for methotrexate rescue therapy. It is also indicated in combinations with 5-fluorouracil for the palliative management of advanced metastatic colorectal cancer.

Source: Google Finance

FDA approved on March 7, 2008, Fusilev was launched five months thereafter to fill the leucovorin scarcity. Accordingly, the drug procured $32M, $154M, and $204M for fiscal 2010, 2011, 2012, respectively. As the shortage is abated, generic leucovorin is more competitive than Fusilev due to its low price. As a result, Fusilev sales declined drastically to $68.4M for the next several years (and continued to trend down to $34.8M by 2016).

As follows, the stock tumbled from its $17 peak and maintained the downward trajectory for three consecutive years. Interestingly, 2017 is starting to witness a trend reversal in Spectrum's trading. Perhaps, this is due to the market sentiment shift, in acknowledging the increasing value of the company's products as well as its developing pipeline. That being said, we shall review the product portfolio and explore the prospects of the developing pipeline (while focusing on the lead molecule, Rolontis) in this research.

About Spectrum

Based in Henderson, Nevada, Spectrum Pharmaceuticals has a total of six FDA-approved therapeutics that target different types of cancer: non-Hodgkin's lymphoma, advanced metastatic colorectal cancer, acute lymphoblastic leukemia, and multiple myeloma.


Source: Spectrum

For 2016, sales for Folotyn, Zevalin, Marqibo, Beleodaq, and Evomela also registered at $46M, $11M, $7M, $13M, and $16M, correspondingly. Based on such figures, these drugs are seemingly not substantial revenue drivers. A likely reason is that the sales team is not robust. Moreover, there is intense competitive pressure in this market while there is seemingly no clear advantage from spectrum's molecules. According to the firm, "Companies that have products on the market or in research and development that target the same indications as our products are large and well- capitalized companies focusing on a wide range of cancers and drug indications, and have substantially greater resources and expertise than we do."

Source: Spectrum
Rolontis' Promising Prospects

Approved drugs aside, the company has three late-stage molecules, including eflapegrastim (Rolontis), Qapzola (apaziquone), and poziotinib. Despite that all three drugs could potentially deliver promising sales, we are most interested in Rolontis: this is an investigational drug, potentially used to alleviate low blood cells due to cancer treatment or chemotherapy-induced neutropenia ("CIN").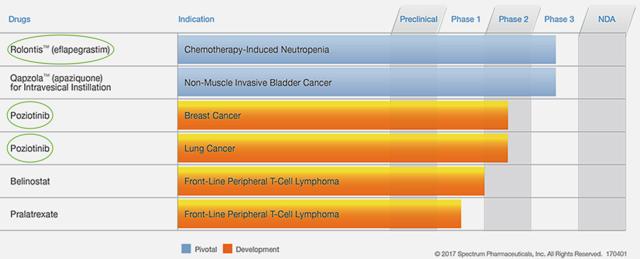 Source: Spectrum

As alluded, most cancer patients experience blood cell reductions (neutropenia) due to the adverse effects of chemotherapy. Neutropenia then causes other problems like an infection (due to the loss of white blood cells that, in and of itself, combat diseases). To treat blood cells suppression, granulocyte colony stimulating factor (G-CSF) is utilized, in pushing the bone marrow to make more white blood cells.

As an investigational treatment for CIN, Spectrum designed Rolontis using Hanmi Pharmaceutical's Lapscovery technology (which binds G-CSF to a polyethylene glycol coined PEG linker). Ultimately, this prolongs the drug's half-life (and also increases the dosing stability). In the agreement with Hanmi, Spectrum retains the worldwide rights to Rolontis, except in Korea, Japan, and China.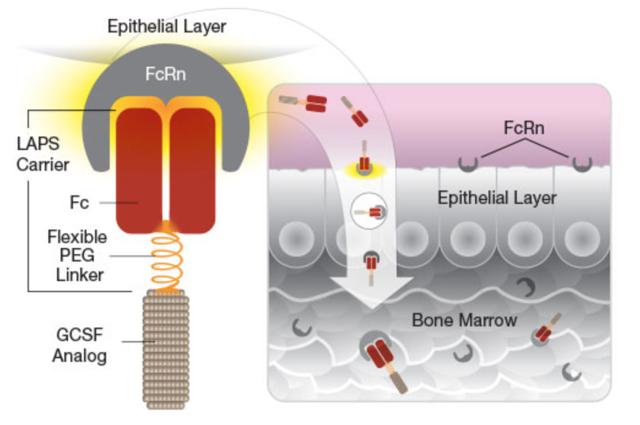 Source: Spectrum

Dominating the $6B CIN market, Neulasta (pegfilgrastim) is manufactured by Amgen (NASDAQ:AMGN) and procured $4.6B sales for 2016. The said drug has 15 to 80 hours half-life after injection; whereas, Rolontis has the slightly longer half-life (31 to 81 hours). Of note, the half-life of a drug is the time it takes for 50% of the medicine to be cleared from the body. Another way of assessing the time that the drug remained in the body is via its area under the curve ("AUC"). Based on the phase 2 trial, more Rolontis is retained in the body over Neulasta as indicated in the AUC figure below.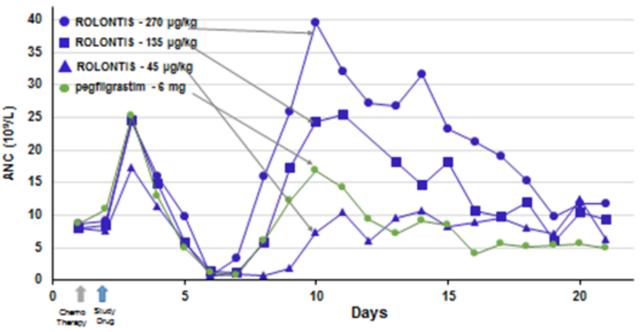 Source: Spectrum

In the phase 2 trial, Rolontis was compared to Neulasta for the primary study endpoint (the duration of severe neutropenia, in patients with breast cancer who were treated with docetaxel and cyclophosphamide). At the low dose (135 mcg/kg), Rolontis was non-inferior to 6 mg of Neulasta (0.44 days versus 0.31 days). In contrast, the drug (at the higher dose, 270 mcg/kg) was superior to Neulasta (0.03 days versus 0.31 days). Notably, both molecules show similar adverse effects.

Based on the favorable study outcomes, Spectrum reached an agreement with the FDA for the Special Protocol Assessment re Rolontis phase 3 trial in Dec. 2015. In Q1 of the following year, the firm initiated the ADVANCE Trial that is currently studying 400 patients in the US, Canada, and South Korea. Estimated to complete on Oct. 2018, the study is investigating the non-inferior primary outcome (the severe neutropenia duration) of Rolontis to Neulasta for breast cancer patients with cancer-induced neutropenia. Another similar phase 3 trial (the RECOVER Study) is also assessing 218 patients in the US and Europe. And, the company is expected to file a Biologic License Application ("BLA") with the FDA next year.

Of note, we expect the company to post favorable data for both trials. And, if the drug is eventually approved, Rolontis will be the first novel medicine for CIN in the past 25-years. Furthermore, we approximate that it will procure at least 15% of the CIN market. Our estimate is rather conservative due to the strong competition from Neulasta (a good drug with many years of proven efficacy and safety). Moreover, the non-inferiority of Rolontis alone (without differentiated superiority) per its phase 3 trial primary outcome is another limiting factor to its market success. Furthermore, biosimilars are increasing their competitive pressure in this market. Needless to say, the 15% market penetration of $6B amounts to $900M revenues (and this can drastically increase the stock's true worth).

Poziotinib Adds Further Value

Rolontis asides, the other notable molecule in development is Poziotinib (a novel, oral quinazoline-based tyrosine kinase irreversible inhibitor of HER1, 2, 4, and HER receptor mutations), which has a good drug design. Similar to the combination therapy or cabozantinib that attacks multiple targets, the said drug blocks many tyrosine kinases, as mentioned (which increases its efficacy).

That being said, the molecule is currently in its phase 2 trial to assess its prospects for the treatment of patients with lung cancer (who have the EGFR exon-20 insertion mutations). Data for the said trial will be released by the end of 2017. In addition, there are two ongoing phase 2 studies (that investigate the efficacy and safety of poziotinib in patients afflicted by HER2-positive breast cancer).

Based on our analysis, poziotinib has roughly 60% and 70% chances of posting positive outcomes for lung cancer and breast cancer, respectively. And, if our prognostication is true, the share price can increase substantially when such a small cap biopharma to post robust phase 2 study results.

Financials And Valuations
For 2016, Spectrum procured $146M sales and spent $208M in operating expenses for a net loss of $61M. Total debts for the year was $193M versus $206M from the year prior. As of Q1 2017, the company has $137M in cash and equivalent, which should be adequate to fund operations for the next two years. Shares outstanding also stands at 80M counts from the past three years (indicating that the firm is making money and is conservative in its spending rather than relying on dilutive financing).

Using comparative market analysis and the valuation of the sum using its parts, we appraised this enterprise at $1B ($385M higher than the current market cap of $615M). Accordingly, the firm's true worth should be at least $12 per share, thus representing a 62% upside. Similarly, Finbox valued the firm at $10.42 per share (a 41% premium).

Source: Finbox

Potential Risks

The main investing risk is that the firm may fail to post positive outcomes for the phase 2 trials studying poziotinib (and more importantly, the phase 3 study for Rolontis). If the data reports are unfavorable, the stock can tumble as much as 50%. And yet, the positive results can catapult share price northbound by the similar magnitude. Notably, we've witnessed similar stocks to enjoy +60% share price increase in a trading session due to strong phase 2 and 3 data reporting.

Despite the aforementioned risks, we ascribed +65% overall chances of positive data outcomes for poziotinib and +75% success odds for Rolontis, as alluded. Another risk is that those drugs may not procure substantial sales even with approval: this can be due to the strong competition in the cancer market in general and CIN in specific.

Conclusion

Subsequent to the opportunistic sales growth of Fusilev (during the 2009 to 2012 leucovorin shortage), Spectrum now has six approved medicines (that have been generating roughly $140M in total sales). As a product stage bioscience, the firm has yet to turn profits while incurring $60M in annual losses. The situation, however, can change in the foreseeable future that is, if and only if, Rolontis will post positive phase 3 data (and to gain approval). And, we believe that will highly likely be the case. Moreover, the said drug will deliver substantial sales in servicing the CIN market. As for poziotinib, it may surprise shareholders with positive future data reporting.

In all, Spectrum is now at a point where the odds of investing rewards is more than 60% higher than its associated risks. Therefore, the firm can be a prudent purchase for the long-term oriented biotech growth/value investors. As the final note, it is wise to diversify into a basket of promising bioscience stocks like the model portfolio that we conduct for our premium service, Integrated BioSci Investing. This approach maximizes one's chances of finding multibagger investments while minimizing the risks. Furthermore, the purchasing of shares in a stepwise fashion is recommended to ensure the best average investment costs.

Author Note: Be sure to FOLLOW US for latest insights. And, don't forget to SUBSCRIBE to Integrated BioSci Investing (to receive our free articles before the market, as well as to access other exclusive research and our model bioscience portfolio).

Disclosure: I/we have no positions in any stocks mentioned, and no plans to initiate any positions within the next 72 hours.
I wrote this article myself, and it expresses my own opinions. I am not receiving compensation for it (other than from Seeking Alpha). I have no business relationship with any company whose stock is mentioned in this article.