Scott Osheroff, Regional Research Analyst at Asia Frontier Capital, who currently resides in Myanmar, recounts one of his recent trips in the frontier country. The photos in this article are all by AFC.
On a blisteringly hot April afternoon I left my apartment in search of lunch. Eerily quiet as I walked down the road, with not a car in sight, I was suddenly approached by a seemingly innocent girl, save for the fact that she was armed. Knowing what would ensue I became uneasy, not wanting any trouble of course. With phones and my wallet in tow, after a short while of gentle negotiation for her to save her ammo for another victim she unfortunately lifted her weapon and said a soft "sorry" as she pulled the trigger, pumping copious amounts of water onto me. Thoroughly drenched, she yelled "Happy Thingyan!" and with a big smile ran off to go reload for the next pedestrian or car with windows ajar to pass.
Thingyan is the Buddhist New Year which in Myanmar is synonymous with loud music and trucks packed with people focused on getting as hydrated as possible all amid borderline chaos. During this period, Myanmar turns into a nation-wide waterpark and Yangon in particular into a madhouse, the following photo of which puts this into perspective. It is great fun!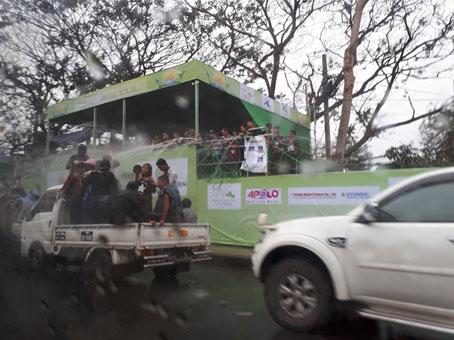 Platforms set-up throughout the city where cars drive up and get hosed with water.
Early in the morning on the fifth day of Thingyan I had plans to depart Yangon for Shan State. Leaving early in the morning, I had a 9-hour drive ahead. The first leg of this journey was the drive to the edge of Yangon where we reached the Yangon-Mandalay toll road. Infrastructure lagging vehicle growth, this ~8-kilometer drive should have taken 20 minutes, but instead took an hour.
On the entrance to the highway we approached the first toll gate where we had to pay for the stretch Yangon-Naypyidaw, Myanmar's capital. This section is 360 kilometres yet costs a mere 5,000 Kyat (USD $3.66). How the highway is so well maintained, while the fare is so low for this Build-Operate-Transfer (BOT) concession I can only imagine, but I wasn't complaining as this was one of the best highways I've traveled on during my five years living in Asian frontier markets.
Some 150 kilometres past Naypyidaw we exited the highway onto a single lane country road where the topography experienced dramatic change from previous scrubland to rice paddy and then increasingly forest as we entered the Shan mountain range. Passing through several quaint villages with many vehicles being horse powered, we eventually passed a bridge and on the other side were greeted by a sign saying "Welcome to Shan State" in Burmese. For the next 1.5 hours we faced endless switchbacks which, while treacherous at certain points with the occasional truck careening around the corner into our lane, were also stunningly beautiful as the topography changed into something you may see in the Colorado Rockies or even northern Mongolia. For a good length of time we paralleled a valley-floor river with elephants being washed by their mahouts before beginning our 1,000 metre ascent.
As we continued our climb yet higher it became readily apparent why for centuries Shan State has remained either wholly or semi-autonomous—if the British hadn't built the road we were driving on there would be no "easy" access to the area. The Shan plateau is largely impenetrable and equally gorgeous.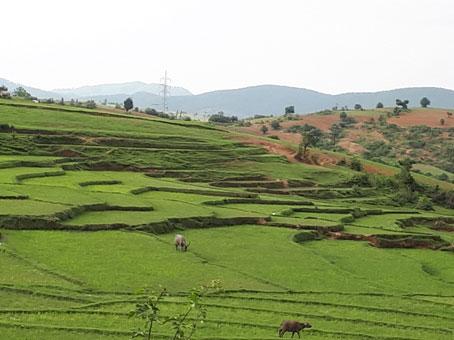 Terraced rice paddy near Aung Pan, Southern Shan State.
With dusk upon us we reached the top of the switchbacks and raced through Kalaw, a town renowned for its trekking, followed by another toll gate as we continued onward to Taunggyi, the capital city of Shan State. Something which humored me about this toll gate (and many others for that matter) is that the fee for our car was 870 Myanmar Kyat (MMK). We gave a MMK 1,000 note, but the smallest note in Myanmar is MMK 50 and this being Myanmar there was only one "obvious" way for the toll operator to give us our change. She reached into a bag and gave us a handful of small candies!
Finally, around 7pm, we arrived in Taunggyi and after a grueling day's drive settled into a simple meal of Shan tomato salad and Myanmar's famous tea leaf salad, also indigenous to Shan State, before settling in for the night.
The next morning, we awoke and headed down the street to a local, open air tea shop to indulge in a bowl of dry Shan noodles with a side of piping hot soup. Washed down with a glass of Myanmar tea, I was ready for the 30-minute drive to Nyaung Shwe, a town well-known for its location just north of Inle Lake and its relaxed atmosphere.
Nyaung Shwe used to be a largely agricultural town where sugar was a staple crop, but the mills have long since closed and over the past several years tourism has become the new growth driver with most every house having transformed into either a hotel or restaurant. A quaint town, the number of hotel keys is certainly a few years ahead of the tourist inflow needed to provide profitable occupancy ratios. Nonetheless, I spent a short while exploring the downtown area and then proceeded to rent a boat on one of the city's two canals, which lead into Inle Lake, for a morning tour.
We rented a long boat with a deafening engine and long propeller as the depth of the lake during the dry season is quite shallow (in certain areas not more than 40 centimetres). As we set sail, speeding down the canal passing wetlands which will one day inevitably be transformed into resorts, we entered the lake. Not much further on and our guide slowed down as we came upon the famous Inle fishermen who row with their feet. This was followed by a several hectare floating tomato garden and yet onward a floating pagoda and a textile factory where they turn lotus root into thread and from there weave everything from scarves to handbags and traditional Myanmar clothing. The lotus scarves were remarkably intricate and the starting price was USD 100!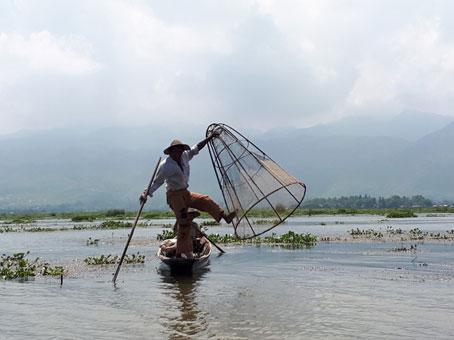 Inle fisherman posing for a photo.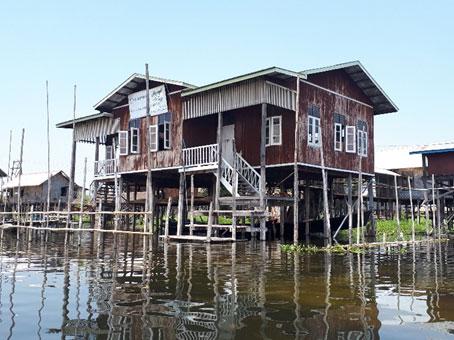 A nursery school in the floating village.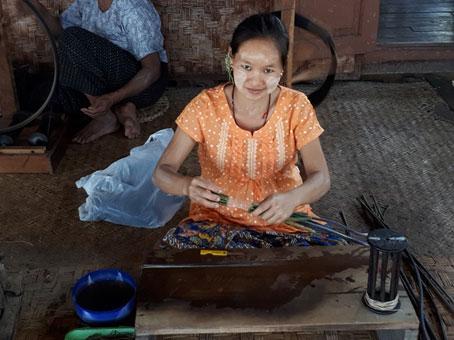 A woman opening lotus roots to then create thread for weaving.

After lunch on the lake at a floating restaurant we "putt putted" back towards Nyaung Shwe where en-route we were caught in a rainstorm. It was beautiful seeing a wall of water sweep across the northern part of the lake heading south where when it suddenly hit us we had umbrellas open.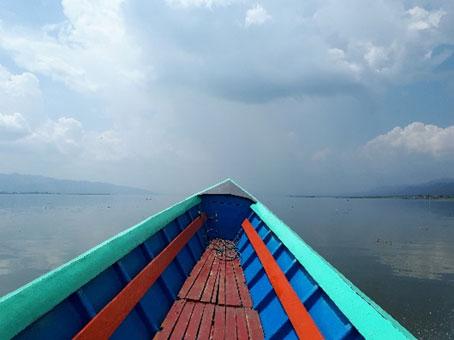 Heading into a rainstorm on Inle lake.
That evening I rented a bike and rode about 15 minutes out of Nyaung Shwe to Myanmar's most famous winery, Red Mountain. After touring the property and strolling through the vineyard I settled on the patio for dinner and a glass of wine overlooking Nyaung Shwe and Inle Lake as the sun began to set.
This visit to Shan State showed me the immense potential Myanmar has to attract tourists and FDI for that matter. Though, it will undoubtedly take time for them to come, they will surely come. As the pace of inflows increase, it will also create new listed opportunities for AFC to invest into. We remain long term optimists on the development of Myanmar and upbeat about the country's prospects.
Disclosure: I/we have no positions in any stocks mentioned, and no plans to initiate any positions within the next 72 hours.
I wrote this article myself, and it expresses my own opinions. I am not receiving compensation for it (other than from Seeking Alpha). I have no business relationship with any company whose stock is mentioned in this article.
Additional disclosure: The AFC Asia Frontier Fund is currently invested in Myanmar.