My 'Buyers Basket' series provides a quick weekly rundown of timely stock picks for active investors. Aimed at buy-and-hold DGI investors focused on total return, I try to feature a mix of value and growth stocks as well as the occasional fund.
Finding Where Technicals, Growth, and Value Align
Since my goal here is to offer quick, actionable stock picks with a fair amount of safety at current prices, I highlight companies that my research shows have the best blend of current value, investor sentiment, growth catalysts, and technical price movement. I typically only feature stocks that I would also include in my Best Balance Sheets portfolio, which is composed of companies with a long history of revenue and EPS growth that possess the strongest balance sheets in their respective sectors.
Without further ado, here are my Buyer's Basket picks for the week of July 17th, 2017…
Energy MLPs: Midstream Magellan Partners (MMP), Spectra Energy Partners (SEP)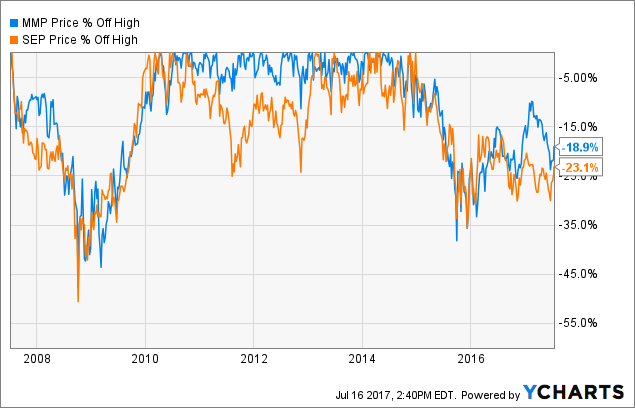 MMP data by YCharts
Energy commodities finally seem to be on the rise after a rough and volatile first half of the year. Even though major pipeline companies' revenues are largely immune to oil and natural gas price fluctuations, investors know that their stocks still tend to move with them in the short term. In my view, the best time to invest in these stocks is when you see a convergence of fundamental undervaluation, upward commodity price movement, and upward technical price momentum. I believe we may see this occur in the coming months, and if we do these stocks could see a quick rise to fair value prices and beyond.
Midstream Magellan Partners and Spectra Energy Partners are my favorite wide-moat picks in the MLP sector and are both currently trading at nearly a 9% discount-to-fair value according to Morningstar. Investors now have the opportunity to pick up these stocks below their 5-year average Price/Earnings, Price/Sales, Price/Book, and Price/Cash Flow ratios. Both companies have an impeccable distribution growth record as well. MMP has hiked distributions for the past 15 years with a 16% growth rate over the past five years, and SEP has grown its distributions for 9 years with an average 6-7% growth rate over the past five years. Although SEP has a higher 6.5% yield, it may be somewhat less attractive to some investors due to its 28% IDR (Incentive Distribution Rights) agreement with its general partner Enbridge, whereas MMP keeps all of its cash flows as a standalone MLP.
MMP Total Return Price data by YCharts
Magellan operates and maintains some the largest and most important oil pipelines and storage facilities in the U.S., and Spectra, now a subsidiary of Canadian energy giant Enbridge, controls a similarly significant network of natural gas pipelines and storage facilities. Growth catalysts are present for both companies as well. Spectra has $4 billion in new projects slated to go online in the next year and recently delivered a Q1 2017 earnings beat. Magellan has approximately $1.2 billion in new projects coming online in 2017-2018, low debt ratios for its sector, and one of the highest S&P credit ratings for an MLP at BBB+.
S&P Capital IQ rates MMP a strong buy (unfortunately they do not cover SEP) and has it trading at its biggest discount to their 12-month price target in the past 5 years. Their $92 target implies a massive 27% upside from MMP's current price and doesn't even include its tax-advantaged five percent distribution yield. Not surprisingly, MMP and SEP have become my largest energy holdings, and I will enthusiastically be adding shares to both at current prices.
Chinese Technology: NetEase (NTES), Alibaba (BABA), JD.com (JD), BlackRock Science & Technology Trust (BST)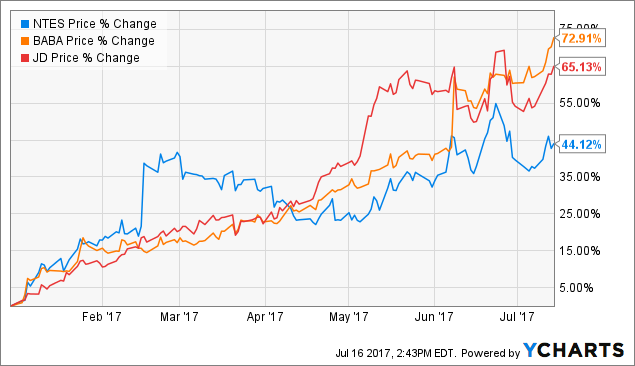 NTES data by YCharts
NetEase
With Activision's (ATVI) Overwatch about to enter the Chinese market, I view China's second-largest game producer and distributor NetEase as a strong buy here. NetEase has exclusive distribution rights for Activision's blockbuster Overwatch in China, and the company just paid $20 million to buy one of the first Overwatch league teams along with the likes of New England Patriots owner Robert Kraft. The company is up over 42% in 2017, and after a couple recent pullbacks I think this fast-growing company is poised to break through resistance at $320 and climb higher. Compared to Activision, I find that NTES is trading much closer to fair value at a modest forward PE of 21.3, a forward PE of 19.2, and a low PEG ratio of 1.22. As an additional bonus, its management is very shareholder-friendly and offers what may be the highest dividend growth rate in the gaming sector along with occasional share buybacks. NTES currently yields 1.41% and has grown its dividend by an average of 60% per year since 2013, although this growth rate will likely settle into a more moderate range as the company matures. I think the company is a strong buy here for long-term investors.
Alibaba, JD.com
Chinese e-commerce is red-hot at the moment, and the best plays in the space are its top two e-retailers Alibaba and JD.com. The two companies take very different approaches to expanding, so I prefer to own both to gain exposure to their unique growth stories. JD is following the Amazon (AMZN) model, building out a massive, hi-tech warehouse and drone delivery infrastructure while operating on razor-thin margins and plowing all its cash flow back into operations. Alibaba is more similar to Ebay (EBAY), partnering with a wide seller network and taking advantage of its asset-light model to rapidly expand into other geographic areas.
As a result, BABA sports a much more easily digestible balance sheet with high margins and consistent, rapid revenue and earnings growth. JD's balance sheet is not as pristine, but its smaller $60 billion market cap along with its focus on owning its own warehouses and inventory and developing the most high-tech processing and delivery system on the planet has earned it a place on investor's radars as a possible long-awaited challenger to Amazon.
Although JD looks overvalued to some fundamental analysts including Morningstar, with a $60 billion market cap, $280 billion in annual revenue, and a growth rate around 40-50%, I am aggressively adding shares here for a long-term hold. BABA looks more fairly valued on a fundamental basis with a $350 billion market cap, massive annual profits of $48 billion, and a forward PE of 35.5 that is significantly lower than its earnings growth rate.
BlackRock Science & Technology Trust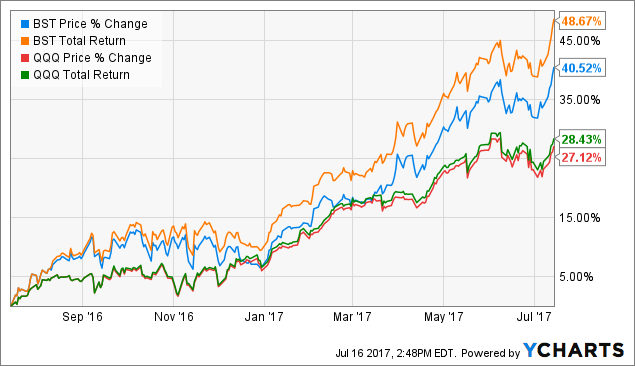 BST data by YCharts
For those seeking diversification and/or active management in the tech sector, my favorite technology fund at the moment is the 5.58%-yielding, actively managed BlackRock Science and Technology Trust (BST). The managers of this relatively new CEF have done a stellar job over the past year, returning 48.67% compared to Nasdaq's (QQQ) 28.43% while delivering a substantial monthly payout to investors. The fund's top holdings shown below are some of my favorite names in the tech sector and include a substantial allocation to Chinese equities, which should be a timely way to capture the massive growth of names like retail giant Alibaba and social networking and gaming titan Tencent.
Source: BlackRock
Despite its steep climb over the past 12 months, I think this fund has a long runway ahead of it, and that's to say nothing of its generous monthly yield, which should help to compound returns faster and provide some downside padding in the event of a tech drawdown or market correction. BST is also currently trading at a 5% discount to NAV, which, while not unusual for CEFs as a whole, is atypical for a fund performing at this level. This is likely due to its short track record (BST is less than three years old), and I think buyers at current prices will get an additional boost as its discount-to-NAV compresses. I expect BST will trade at a premium-to-NAV in the long term just as its excellent BlackRock Health Sciences (BME) CEF does, so I think BST is a great buy at this time.
Brazil: iShares MSCI Brazil Capped Index Fund (EWZ), iShares Latin America 40 ETF (ILF)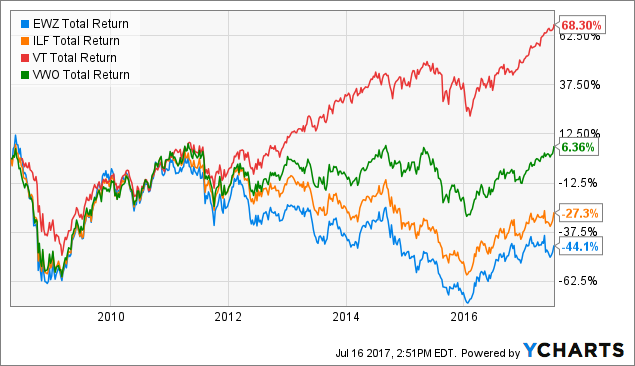 EWZ Total Return Price data by YCharts
Brazil is back en vogue this week as its ousted president was finally convicted on corruption charges and sentenced to nine years in prison, which will make him ineligible to run again for the country's highest office. Political risks still abound as the short list of Brazil's future presidential candidates is far from encouraging, but its economy is improving faster than expected and some of its largest private companies equities are trading at compelling valuations, especially given their strong balance sheets. I highlighted AmBev (ABEV) as a strong buy last week, and major index components like Itau Unibanco (ITUB), Bank Bradesco (BBDO), and Telefonica Brasil (VIV) are sitting at technical buying points at the moment. As a result, the overall index looks poised to continue climbing after spiking on news of the ex-president's conviction.
The largest Brazilian market index ETF is the iShares MSCI Brazil Capped Index Fund (EWZ) with an expense ratio of 63 basis points. Investors who want to spread their risk and currency exposure a bit more and who are bullish on both Brazil and Mexico might prefer the iShares Latin America 40 ETF (ILF), which is mainly comprised of Brazilian (54%), Mexican (29%), and Chilean (11%) equities and offers an even lower 0.49% net expense ratio.
REITs: Long-Term Care Properties (LTC)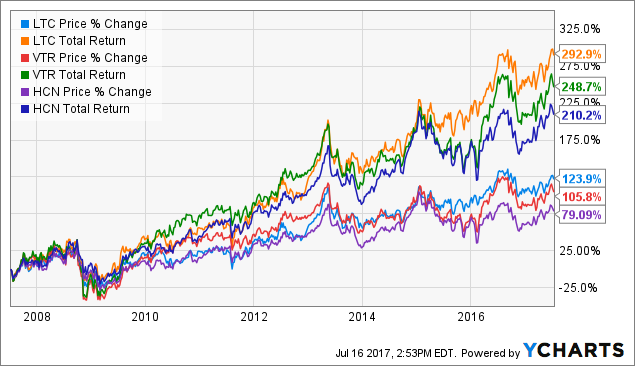 LTC data by YCharts
Over the past decade, Long-Term Care Properties (LTC) has been one of the best-performing monthly income REITs along with popular DGI core holding Realty Income (O). Its modest 4.5% yield allows it to keep debt in check and shareholder dilution to a minimum relative to its peers, and the company has one of the most consistent records of revenue and income growth in its industry. The strength of its balance sheet speaks to the quality of its management, and although LTC isn't very exciting, it has produced better total returns over the past ten years and nearly double the total returns over the past five years than the "big two" DGI senior care REITs, Ventas (VTR) and Welltower (HCN).
LTC may be somewhat unsung as Brad Thomas' recent article points out, but it continues to deliver EPS growth (only one minor EPS dip in the past ten years) along with monthly dividends to patient investors. LTC has lower Medicaid/Medicare exposure than higher-yielding Omega Healthcare Investors (OHI) with 40% of its revenues coming from long-term assisted living (Medicare does not cover long-term care), but likewise LTC has a significantly lower dividend growth rate than OHI at around 4-5%, which I find is somewhat offset by the rapid compounding potential of its monthly payout. I think the company is a solid buy here after a recent pullback to the support level of its upward channel, which looks to continue its stepladder pattern higher.
Materials: Compass Minerals (CMP)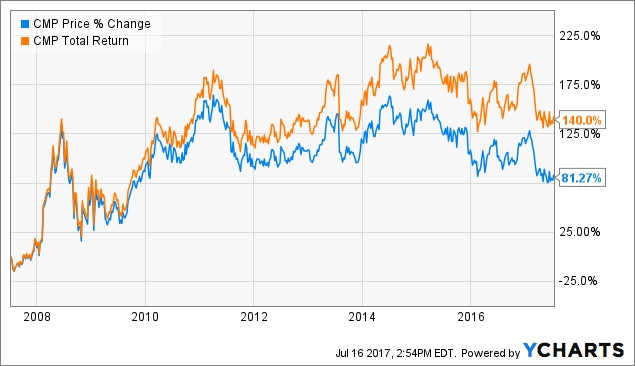 CMP data by YCharts
Contrarians may want to diversify their holdings with Compass Minerals, one of the largest salt and sulfur of potash producers in the U.S. and possibly the most consistent dividend grower in the materials sector, now in its 13th year of consecutive dividend hikes with a 4.3% current yield. Compass owns and operates the largest salt mine in the world and derives most of its sales from road deicing salt sold to municipalities, a relatively recession-resistant business that benefits from colder, snowier weather patterns and is sensitive to agricultural commodity pricing. Depressed agricultural commodity prices and an uncertain outlook in South America have brought CMP's price down to within 5% of its five-year low, and the stock hasn't been available at current prices since 2009.
Although CMP investors must accept the risks associated with the commodity and mining sectors, Compass performed extremely well during the 2008 crash and the ensuing recession and even saw an extended treasury-like price spike while most of the S&P crashed and burned. I hold CMP as a bond-like substitute in my own portfolio, not expecting much aside from the hefty yield but knowing it has significant upside potential should commodity prices spike or equity markets tank, as well as the likelihood that the company's valuation will return to normal levels over the long term given its stable operations and strong competitive advantages. Price technicals show CMP trading in a rising channel since bottoming around $63 in May this year, and I feel very comfortable adding to or starting a position at the current price of $66.40.
Sources: Morningstar, GuruFocus.com, Yahoo Finance, YCharts
Author's Note: If you enjoyed this article and found it useful, please consider clicking the "Follow" button above to help me reach a wider audience and receive my weekly picks as well as deeper analysis of each position in my Best Balance Sheets portfolio, many of which are featured here. I look forward to hearing some of your own weekly pick ideas below!
Disclosure: I am/we are long MMP, SEP, NTES, BABA, JD, EWZ, LTC, CMP.
I wrote this article myself, and it expresses my own opinions. I am not receiving compensation for it (other than from Seeking Alpha). I have no business relationship with any company whose stock is mentioned in this article.