As I approach my 100th article, I am starting to get a sense of my Seeking Alpha followers and fans. I want to thank everyone for the follows and most of all your time and attention spent reading my work.
Even though the most read articles are those that I have written about BlackBerry (BBRY), Staples (SPLS) or the firearms industry, I can share that the majority of the lengthy conversations and thank you comments that I get are those about closed end funds and etfs. In particular, the finale of the water theme series was one of my most widely read articles. THANK YOU.
Going forward, I will be focusing at least 2/3 of the time on the search for those active management who can consistently deliver alpha, be it in the ETF, Closed End Fund or Open End Fund space. The rest of the time I will continue to write about various stocks or investment strategies that I am employing, such as covered call writing.
Since I have been writing for a number of years, I wanted to go back and do updates on the most read closed end funds. It is something that we started doing over the last few articles and today I wanted to cover one of my favorite CEFs, the Nuveen Core Equity Alpha Fund (JCE).
What's New?
Since our initial article just over a year ago, the economy has kept sputtering along, the Fed has raised key interest rates and the stock markets reached new highs.
One popular strategy to monetize risk is to write covered call options against your portfolio. JCE uses covered call options to generate extra income for its shareholders. Unfortunately, writing covered calls also limits your upside.
Has it limited JCE? How has it done? Let's find out.
Fund Update
At the time of our initial article, JCE yielded a managed distribution of 8.53% and was trading at a discount of 5.64% to its Net Asset Value. Today JCE yields 7.32% and is trading at a discount of 3.38%.
As we can see from the chart below, over the last year, the fund has traded at a discount as great as 9.5%.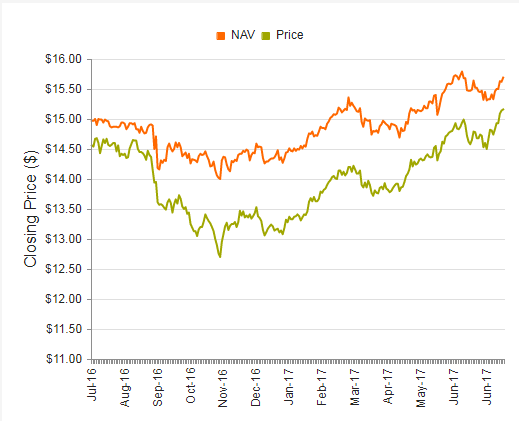 Source: CEF Connect
As we can see, the vast majority of the fund is invested in common stocks. The remaining 2% is cash and equivalents along with call options income.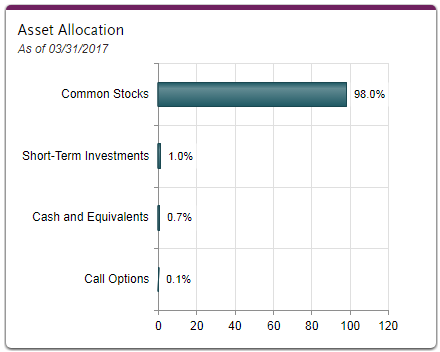 Source: Nuveen CEF Website
By prospectus, the fund is going to be diversified and invested in securities that are included in the S&P 500. The fund currently has 207 holdings and is predominately invested in US securities. (down from 209).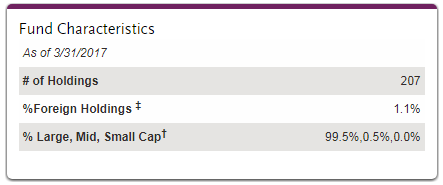 Source: Nuveen CEF Website
The fund's top sectors are semiconductors and insurance. Banking makes up less than 7.5% of the fund holdings. This should be welcome to anyone concerned about the next big financial crisis.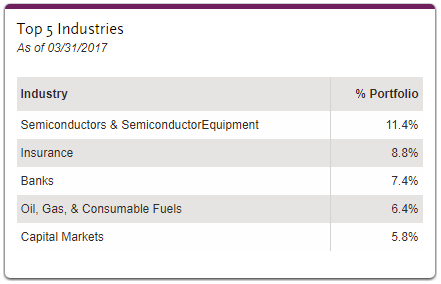 Source: Nuveen CEF Website
Looking at the current top 10, we can see names such as NVidia (NVDA) and Applied Materials (AMAT), and not Apple (AAPL), Microsoft (MSFT) and Amazon (AMZN).
The reason for such a difference is in how the fund's holdings are selected,
"using a proprietary mathematical process designed and implemented by INTECH, a sub-adviser of the fund."
Source: JCE: A Better Index Fund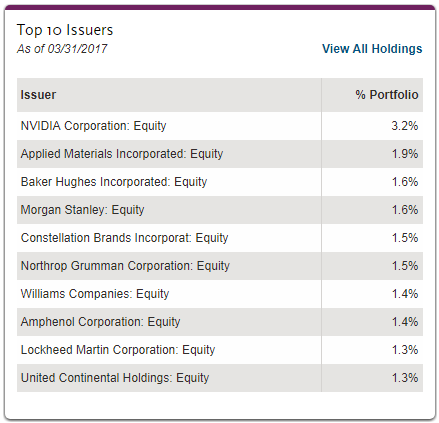 Source: Nuveen CEF Website
Secondly, Nuveen generates extra income for the fund by writing covered call options.
The fund also sells custom baskets of call options covering up to 50% of the fund's equity portfolio in seeking to enhance risk-adjusted performance relative to an all equity portfolio.
As of the latest update, the fund is currently writing options on 26% of the portfolio.


Source: Nuveen CEF Website
Performance Update
Since our initial article the fund has returned a solid 10.82% per share and has returned 20.02% total return including the distribution.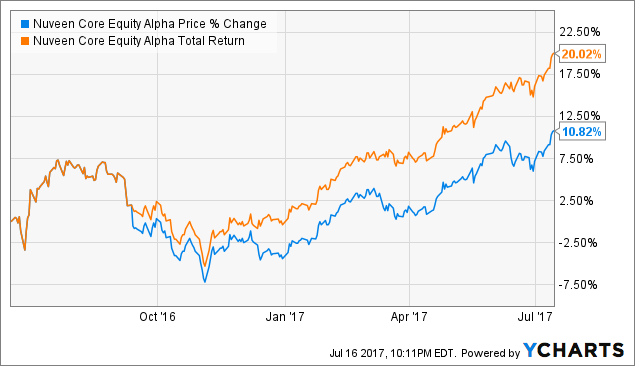 JCE data by YCharts
Taking the underlying Net Asset Value into account we can see that a part of the per share and total return growth has come from the small decrease in the discount to NAV.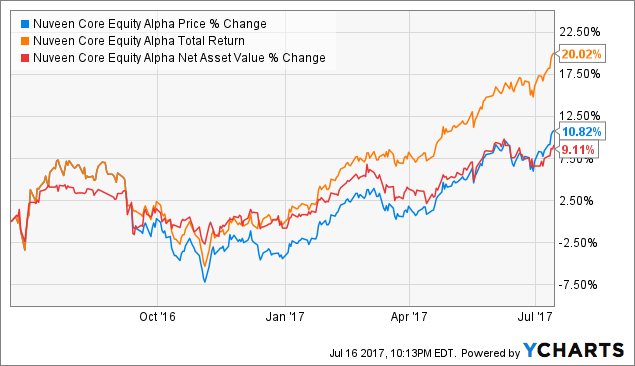 JCE data by YCharts
Since this fund is positioned as an index fund alternative, let's take a look at how the fund has done compared to the S&P 500 (SPY) and a covered call ETF such as the PowerShares S&P 500 BuyWrite Fund (PBP).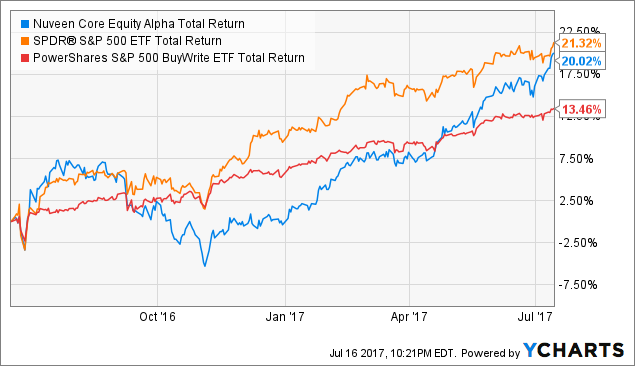 JCE Total Return Price data by YCharts
As we can see, while JCE is trailing the S&P 500 slightly, it is has returned 7% more than the buy write ETF.
Looking at JCE versus various dedicated covered call closed end funds, we can see JCE ends up in the middle of the pack of the largest covered call closed end funds (as per CEF Connect), Eaton Vance Tax Managed Dividend Equity Income Fund (ETY), Eaton Vance Tax Managed Global Dividend Equity Income Fund (EXG), BlackRock Enhanced Equity Dividend Income Fund (BDJ), Nuveen S&P 500 Buy-Write Income Fund(BXMX), Allianz NFJ Dividend &Premium Fund (NFJ) and the BlackRock Global Opportunities Fund (BOE).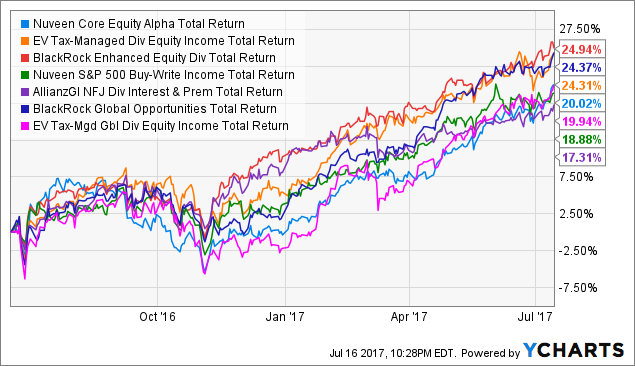 JCE Total Return Price data by YCharts
What is more impressive however is JCE's performance of the underlying portfolio. Simply put, a significant amount of the peers' performance came from the shrinking of the discount to NAV.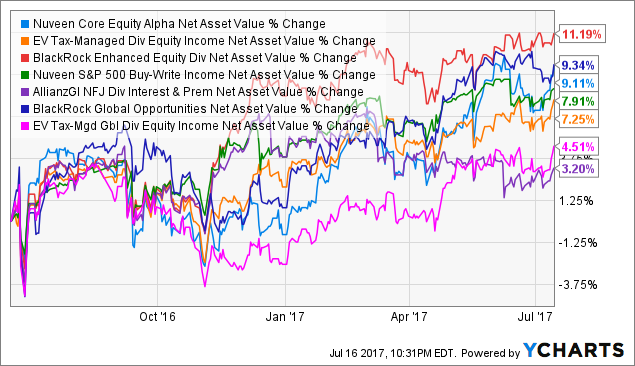 JCE Net Asset Value data by YCharts
Bottom Line
JCE is neither an index fund nor a traditional covered call fund. In fact it is two distinct strategies in one fund. As a quant fund, JCE has performed well against the S&P 500 in a record breaking market, even with the focus being put on risk management. As a covered call fund, JCE is above average even though currently only 26% of the portfolio is written against, compared to some funds which write on the entire portfolio.
One place where the fund lagged however is in the discount to NAV, which has only shrunk by about 1%.
Overall it has performed quite well, even in an environment where these types of funds tend to under-perform funds whose upside is not capped. A good analogy would be a Safe and Fuel Efficient SUV doing well against performance sedans on straightaways. Where this fund will shine however is in flat and stagnant markets where the risk management of the quant strategy will hopefully select the best securities and the covered calls generate extra income. Perhaps seeing the top 10 names where they are already signifies a start of that shift?
More than one year later, I am still a fan and would consider this a solid hold. If the discount shrinks further or turns into a premium, I would look to temporarily switch into the open end versions of this fund run by Janus, (JRSAX)(JRSIX) (JRSCX), until the discount opens up again. One thing you would not get in the open end version however is the covered call income, you can however write options to generated it.
A Few Resources:
If you do not currently own the fund, please read my initial article, JCE: A Better Index Fund
I hope this was helpful in your search for income. Questions? Let's keep the conversation going.
Looking for more income ideas? Check out my previous Closed End Fund and ETF articles.
I believe in active management that works, and I am here to help you find those opportunities. Please follow me here on Seeking Alpha as we look for those opportunities and sort out the good managers from the mediocre. Simply click the "Follow" button next to my name at the top of the article or on my profile page.
Disclosure: I/we have no positions in any stocks mentioned, and no plans to initiate any positions within the next 72 hours.
I wrote this article myself, and it expresses my own opinions. I am not receiving compensation for it (other than from Seeking Alpha). I have no business relationship with any company whose stock is mentioned in this article.