"Can you imagine the hysterics if the U.S. indices had the kind of day their counterparts in China had? No one would be talking about anything else."
That's from former FX trader Richard Breslow and he's describing the rather unfortunate price action we got overnight in Chinese equities.
Admittedly, I stayed up for the overnight session on Monday. I was all settled in to watch "Margin Call" for the eight-hundredth time and when the Chinese econ data deluge came and went without a surprise it seemed like it would be smooth sailing.
But then I checked the ChiNext ("China's Nasdaq", only with small caps). It was plunging.
That wasn't surprising. Indeed, it had been spiraling lower since last Monday (I flagged it here). But what was interesting about today was that despite the PBoC setting, the yuan fix at the strongest since November and despite liquidity injections...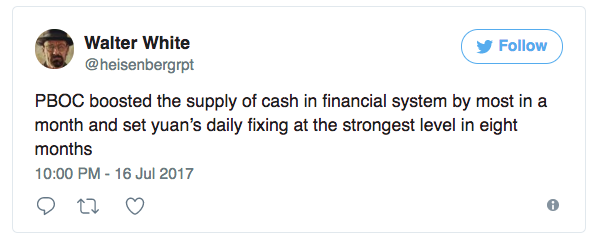 ... and despite the decent data, it was readily apparent that Chinese equities were going to be in free fall all night long.
Sure enough, by the end of the session, the ChiNext had fallen by more than 5% to its lowest level since January of 2015: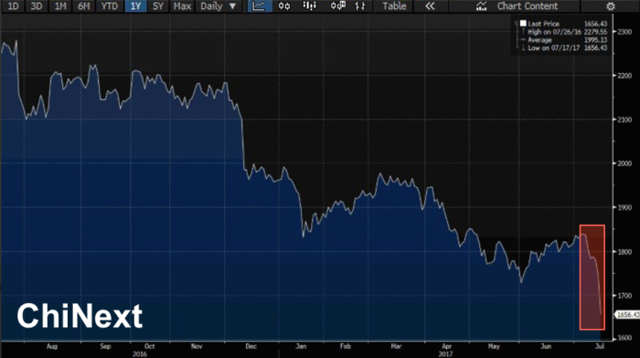 (Bloomberg)
The damage wasn't confined to small caps. Everything was sharply lower:
SHCOMP -1.4%
SZCOMP -4.3%
CSI 300 -1.1%
ChiNext -5.1%
The proximate cause here was jitters over the extent to which Beijing's ongoing effort to deleverage the financial sector will impact Chinese risk assets, starting (naturally) with ChiNext stocks which trade at something like 40X.
There are two important things to note about what we saw overnight in Asia.
First, the fact that stocks fell while the economic data came in solid is a kind of microcosm of a dynamic that Beijing really - really - hopes is sustainable.
In a way, the juxtaposition between the econ data and what Chinese stocks did in response to The National Financial Work Conference represents a broader dynamic wherein efforts to squeeze leverage out of the system mercifully aren't spilling over into the real economy.
This same dynamic is visible at the 30,000 foot level in the following chart which plots the Chinese credit impulse against factory gate prices: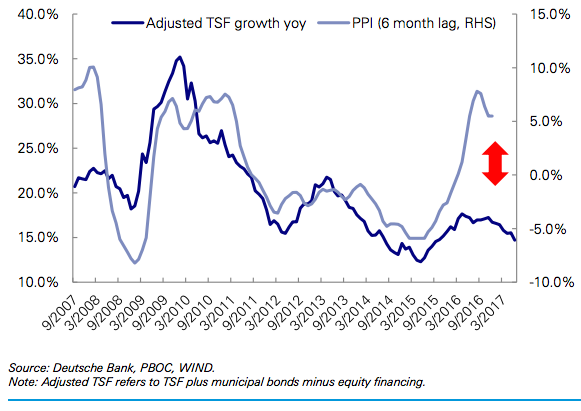 (Deutsche Bank)
The second important thing to note about the action overnight was that while Chinese stocks were plunging, Asian stocks hit a 9-year high for the second day in a row: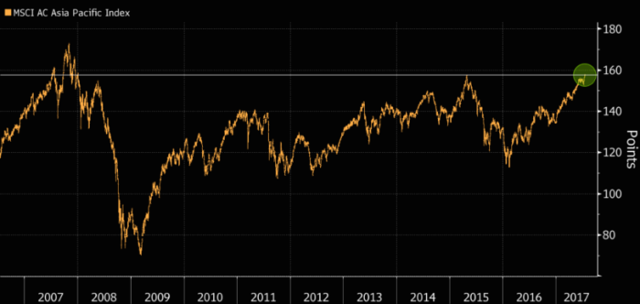 (Bloomberg)
Any guesses why? Here's BDO's Jonathan Ravelas to explain:
There is no threat coming from inflation so the risk of another interest rate hike in the U.S. has diminished significantly.
In other words, it's the exact same thing I documented over the weekend in "All Hail The Queen."
All it took to reignite global risk sentiment was one cherry-picked sentence from Janet Yellen's prepared remarks to Congress and a lackluster CPI print in the US.
In any event, you should be cognizant of what happened in the overnight session. Watching the dynamics described above was well worth staying up for.
I'll leave you with one final chart to ponder:

Disclosure: I/we have no positions in any stocks mentioned, and no plans to initiate any positions within the next 72 hours.
I wrote this article myself, and it expresses my own opinions. I am not receiving compensation for it (other than from Seeking Alpha). I have no business relationship with any company whose stock is mentioned in this article.