Store Capital Corporation (STOR) is a high-quality REIT choice for income investors. The real estate investment trust has very strong portfolio stats that compare favorably to its peers, including a superb occupancy rate, and Store Capital has guided for at least 5 percent internal growth moving forward. Further, Warren Buffett recently scooped up a bigger stake in Store Capital in a private placement. Though shares popped after the Buffett news, I think investors should not take any profits yet, but stay with Store Capital for the long haul.
Store Capital is a high-quality real estate investment trust with good dividend coverage and excellent portfolio statistics. The REIT's management is very experienced and has consistently grown Store Capital's asset base through acquisitions over time. Here is a snapshot of Store Capital's real estate portfolio as of the end of the March quarter: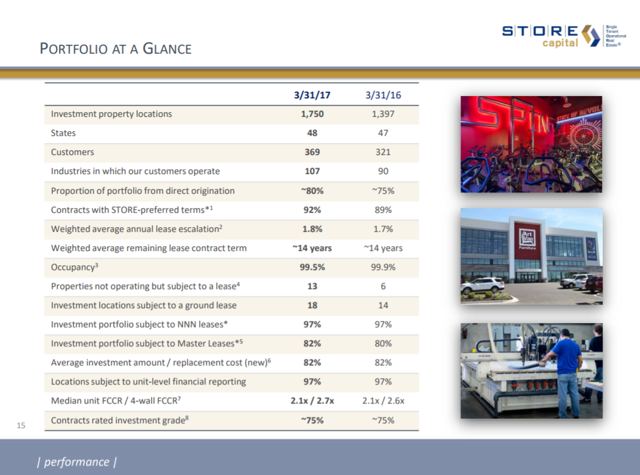 Source: Store Capital
Store Capital has an excellent occupancy rate, attesting to the REIT's outstanding management. The occupancy rate at the end of the first quarter sat at 99.5 percent…And it can't get much better than that.
Store Capital's high occupancy rate is not the only thing that worthy of attention, though. Store Capital's portfolio stats compare favorably to its REIT peers: The REIT has the longest lease terms (lowest lease risks) and most diversified tenant base (lowest cash flow risks), all of which help strengthen the REIT's cash flow profile.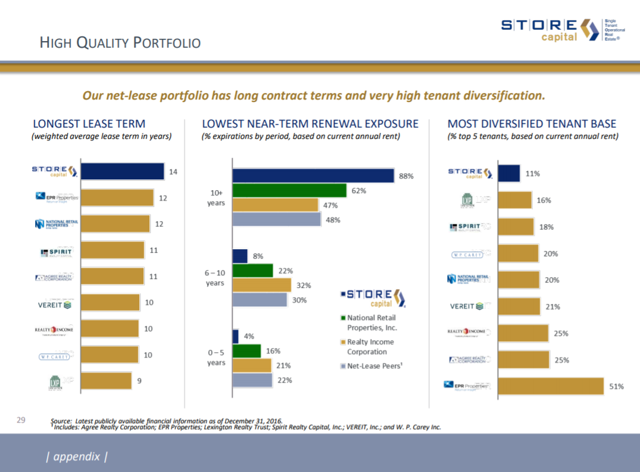 Source: Store Capital
More Than 5% Internal Growth Projected Moving Forward
Store Capital has multiple avenues to create value for shareholders and grow its dividend payout. Acquisitions are only one way to create value, rent bumps are another way. Typically, contracts of net-lease REITs include rent/lease escalators, meaning that every year the contractual rents for the properties increase by a certain percentage. In other words, rental revenues and cash flows increase every year.
As a result, Store Capital is in a good position to grow cash flow and shareholder dividends in the future (the REIT retains reinvestment potential due to its low AFFO payout ratio). Management expects it to be able to squeeze out 5 percent internal growth each year moving forward. Acquisitions, of course, could boost that percentage.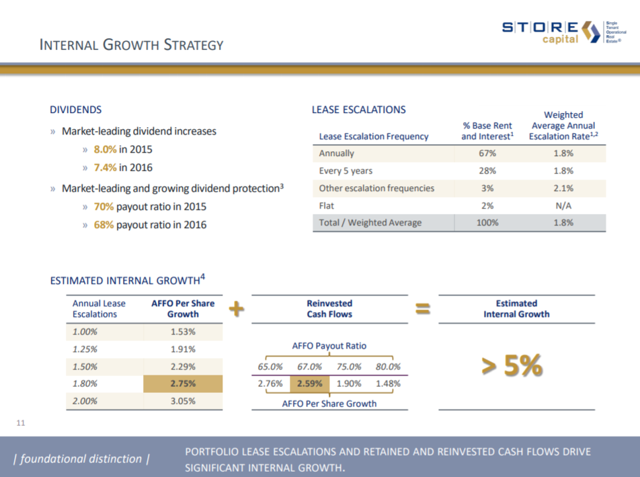 Source: Store Capital
Buffett Lends His Seal Of Approval To Store Capital
Store Capital's shares got a boost at the end of last month when it became known that Warren Buffett's investment firm Berkshire Hathaway bought a 9.8 percent stake in the real estate investment trust. The REIT's shares popped 11 percent on the news, but investors shouldn't even think about selling yet. Store Capital's shares are far from being overvalued (even after the pop).
Store Capital expects its adjusted funds from operations to clock in somewhere between $1.74 to $1.76/share in 2017. Based on this guidance, the REIT's shares change hands for only 13.2x 2017e AFFO.
Your Takeaway
Store Capital is a high-quality REIT with excellent occupancy rates, and the REIT's portfolio stats compare favorably to Store Capital's peers. Store Capital's annual lease escalations are an important contributor to AFFO growth, and the company expects at least 5 percent internal growth annually moving forward. Acquisitions are likely to lift this percentage even higher. Buffett recently gave his seal of approval to Store Capital, and the REIT's shares reacted the way you'd expect, surging higher. That said, though, Store Capital is still relatively cheap based on 2017e AFFO. Buy for income and capital appreciation.
If you like to read more of my articles, and like to be kept up to date with the companies I cover, I kindly ask you that you scroll to the top of this page and click 'follow'. I am largely investing in dividend paying stocks, but also venture out occasionally and cover special situations that offer appealing reward-to-risk ratios and have potential for significant capital appreciation. Above all, my immediate investment goal is to achieve financial independence.
Disclosure: I am/we are long STOR.
I wrote this article myself, and it expresses my own opinions. I am not receiving compensation for it (other than from Seeking Alpha). I have no business relationship with any company whose stock is mentioned in this article.