Market-maker daily price range forecast trends
A current SA "news" item alerts readers to upcoming earnings reports by the two major soft drink companies, Coca-Cola Company (KO) and Pepsico, Inc. (PEP).
Anticipating such reports -- and much more -- well-informed Market-Making [MM] professionals helping investment organization clients adjust billion-dollar portfolios in these stocks reveal their coming price limit expectations.
To protect firm capital temporarily put at risk, they engineer hedging deals in leveraged derivative securities. Prices paid and deal structures created tell their implied forecasts.
Market-Maker [MM] odds favor PEP; their current price change forecast has had 7 out of 8 wins, compared to KO's 11 of 20 (little better than a coin-flip). They see a +10% upside for PEP, compared to only +7% for KO.
Prior forecasts for PEP like today's (5 times as much upside as downside) have had worst-case price drawdowns from cost at only -2.1%. KO exposures were -3.6%.
All prior PEP forecasts averaged 4.6% in 53 market days, a CAGR of +24%. KO took 55 days (11 weeks) to net only +1%, a CAGR of +5%.
Figure 1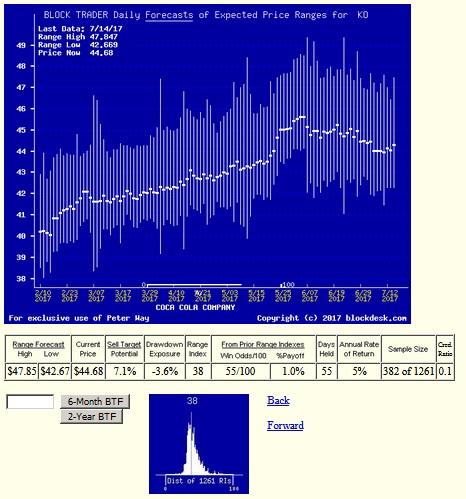 (used with permission)
The vertical lines here are the forward-looking appraisals implied by MM-community hedging actions, updated daily over the past 6 months. Each forecast price range is separated into upside and downside price-change prospects by the day's closing market quote (the heavy dot).
The up vs. down proportions are indicated by the Range Index [RI] which tells what percentage of the range lay below the market quote on the forecast day. Here the RI is 38, so less than twice as much upside prospect appears to be present as downside, at about +7%
Following prior 38-level RIs KO experienced price drawdowns averaging -3.6% price loss interim exposures while seeking the upside forecast sell target.
A standard portfolio management discipline calls for forecast-producing positions to be closed out upon the first instance of reaching the top of the indicated price range. If that has not occurred by the end of 3 months after the forecast (63 market days) the position is closed out regardless of gain or loss and its capital is next day invested in the best available alternative.
Performances scored by this discipline result in Win Odds of the percentage of profitable positions and simple %Payoffs of the average net gains and losses from all such positions. Their number is indicated by the Sample Size of like RI forecasts among all available in the past 5 years' market days.
The average holding periods (in market days) for the sample leads to the annual calculation of CAGR. Here for KO, the 382 experiences produced an average %payoff of only +1.0% in 55 market days, for a compound rate of +5% in a year of 252 market days.
Figure 2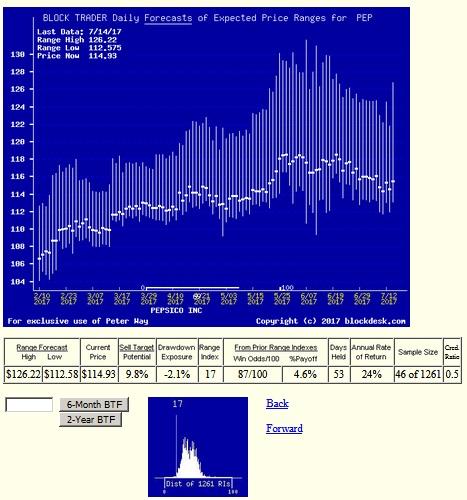 (used with permission)
This parallel to Figure 1 above shows a similar daily market price history over the past 6 months, but with typically more optimistic price range expectations in comparison to then current prices.
PEP's present RI of 17 has had favorable advantage over KO's current RI of 38 on many key dimensions of larger gain expectations and accomplishment, smaller interim price declines, and shorter capital-involvement holding periods.
The net result is a prospect offering potential near-term capital gains several times those of its industry competitor.
Conclusion
PEP here looks to be a far better choice to hold or buy at this point than KO, leading to probable expanded capital for reinvestment in less than 2 months.
Additional disclosure: Peter Way and generations of the Way Family are long-term providers of perspective information, earlier helping professional investors and now individual investors, discriminate between wealth-building opportunities in individual stocks and ETFs. We do not manage money for others outside of the family but do provide pro bono consulting for a limited number of not-for-profit organizations.
We firmly believe investors need to maintain skin in their game by actively initiating commitment choices of capital and time investments in their personal portfolios. So our information presents for D-I-Y investor guidance what the arguably best-informed professional investors are thinking. Their insights, revealed through their own self-protective hedging actions, tell what they believe is most likely to happen to the prices of specific issues in coming weeks and months. Evidences of how such prior forecasts have worked out are routinely provided. Our website, blockdesk.com has further information.
Disclosure: I/we have no positions in any stocks mentioned, and no plans to initiate any positions within the next 72 hours.
I wrote this article myself, and it expresses my own opinions. I am not receiving compensation for it (other than from Seeking Alpha). I have no business relationship with any company whose stock is mentioned in this article.