Gazprom (OTCPK:OGZPY) continues to sign major deal after major deal to sell gas around the world, despite the best efforts of U.S. policy-makers to stop them. The latest is a formalization of the start date for deliveries from the "Power of Siberia" pipeline to China as part of 2014's massive deal, estimated at $400 billion over 30 years.
Power of Siberia will be the first such pipeline into China under that deal. Gazprom CEO Alexei Miller told the press earlier this month that a second pipeline deal is in the works.
This comes on the heels of another deal involving the Turkstream pipeline which will supply gas to southern and now eastern Europe. Hungary signed a deal with Gazprom to begin delivering gas by the end of 2019 as well via the second branch of Turkstream. Each leg of Turkstream is capable of delivering 15.75 billion cubic meters of gas annually.
Prime Minister of Hungary, Viktor Orban, is open to having Russia supply his country gas from any and all sources, including the controversial Nordstream-2 pipeline opposed bitterly by both the U.S. and Poland. The groundwork for this was laid back in February when Russian President Vladimir Putin visited Budapest.
The deal was finalized when Orban visited Ankara at the beginning of the month, prior to both the Three Seas Summit and the G-20 meeting.
Putin's 'pipeline diplomacy' is ultimately a win-win for all involved.
Gazprom's Polish Problem
I'm aware that many disagree with that view. In his speech to the Three Seas Summit President Trump called for energy independence for Poland, which is what the Poles wanted to hear. He went so far as to call Gazprom a 'monopoly' in his remarks which would normally signal strong U.S. opposition and arm-twisting behind the scenes.
But, given the outcome of Putin and Trump's initial meeting in Hamburg as well as Putin's comments afterward, it's clear that the two agreed to stay out of each other's way in developing gas projects in Europe.
Question: He [Trump] made yet another statement about the United States being ready to begin direct supplies of liquefied natural gas to Poland and Central Europe. What do you think of these plans, especially in the context of our plans for the Nord Stream? What if gas becomes a new cause of tension in US-Russian relations?

Vladimir Putin: I view these plans highly positively because healthy competition is good for everyone. We support an open market and healthy competition.

The US President said yesterday during the discussion that the United States stands for open, fair competition. And, by the way, when I spoke, I supported his point. So, we are absolutely all right with this; if it is so, if there is open and fair competition, no political motives or political resources involved, it would be quite acceptable for us. Because to date, it is an obvious fact that any specialist would tell you: the cost of production and delivery of liquefied natural gas from the United States is much higher than our LNG - even LNG - and is not even comparable to Russian pipeline gas. So, there is no doubt that we have an absolute competitive advantage. But to keep it, our market participants must work hard. They need to retain these competitive advantages.
Putin has a firm grasp of the economics of the difference in cost between Russian pipeline gas and U.S. produced LNG.
He can also be generous given that Gazprom's exports to Europe and Turkey are up 12% year over year, as reported by RT.
But, for Poland, the issue runs much deeper. It is about independence from both Moscow and Brussels. He understands this as does Trump and it's why the two likely agreed that fighting over Poland's gas market is not on the table. We'll know if this is true if Trump goes through the motions of vetoing the expanded sanctions bill currently in front of the House or if the House guts the energy portion of the bill that's aimed squarely at Nordstream-2.
So, it is not Trump's comments that are bullish for U.S. LNG exports, but rather Putin's that is the green light for companies like Cheniere Energy (CQP) to be able to count on increasing LNG exports to Europe.
The Polish government sees Nordstream as a way to further Germany's leverage over Polish sovereignty as opposed to the current situation of having its Russian gas delivered via Ukraine. It is in a major fight with Brussels and German Chancellor Angela Merkel over adherence to immigration quotas.
So, Poland is willing to over-pay for some of its gas supply to be able to fight Germany and the creeping undemocratic controls coming from the EU.
Nordstream-2 is Putin's attempt to circumvent future problems with an increasingly hostile Ukrainian government. And while Poland may be hostile to Russian gas for historical and political reasons, the rest of the Visigrad Four are not. Slovakia's imports of gas are up 25.8% and the Czech Republic's are up 24.8%.
The Current Gazprom Picture
After an extreme correction from all-time highs, the Russian MICEX, tracked by the Van Eck Russia ETF (RSX), has recovered nicely, after testing long-term support between 1800 and 1865. The 2 nd quarter threw a two-bar reversal pattern but it also came with a strong, spike bottom and subsequent rally to begin Q3.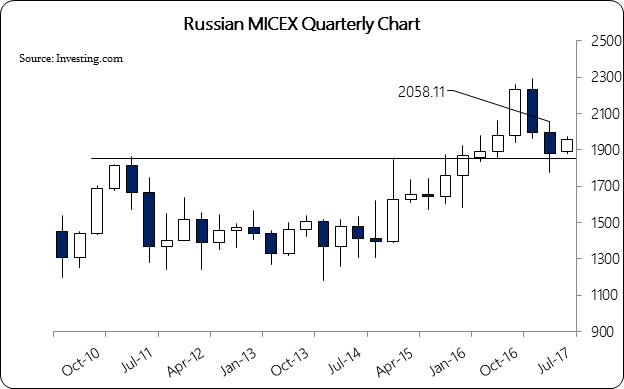 The monthly chart is improving and a close in July above 1905, the June high, would be a monthly reversal signal and indicate a potential rally to the Q2 high of 2058.11 this quarter. Not getting a close below the April 2011 high of 1865.25 in Q2 is important. It sets up the possibility of this being the new low for the Russian stock market.
With economic statistics improving and lower interest rates showing an increase in the credit cycle as well as huge gains in bilateral trade with China ( up 26% year over year) in the first half of this year the Russian economy should support a higher Gazprom price as well as the next leg in the MICEX bull market.
Gazprom was the main driver of the MICEX's steep fall in the first half of 2017. It is 15% of the index's weighting and the stock dropped from a high in January of RUB160.62 to a low of RUB111.46 in June. Much of that sell off comes from investors bailing on the political news surrounding Nordstream-2. In January Poland blocked the Joint Venture between Gazprom and a consortium of five oil majors including Royal Dutch Shell (RDS.A).
In June, the news of the new sanctions bill passing the Senate could not push the stock below major long-term support long-enough to elect a structural breakdown below RUB110 per share, established during the height of the ruble crisis in December 2014.
And since then Gazprom has bounced strongly, up 12% off its lows. That low represents a major opportunity for investors to buy one of the most under-valued stocks on the market. With Trump and Putin signaling détente on energy politics as it pertains to Poland and the Baltics, the risk associated with Nordstream will fade over time.
Watch for more jostling between Trump and his chief rival, Senator John McCain to see who wins that match. This is one of the keys to Trump getting leeway to make moves both geopolitically and domestically. Any movement on that front in Trump's favor should be a boon to Gazprom in the long run.
Disclosure: I/we have no positions in any stocks mentioned, and no plans to initiate any positions within the next 72 hours.
I wrote this article myself, and it expresses my own opinions. I am not receiving compensation for it (other than from Seeking Alpha). I have no business relationship with any company whose stock is mentioned in this article.
Editor's Note: This article discusses one or more securities that do not trade on a major U.S. exchange. Please be aware of the risks associated with these stocks.