It's a social network (or two). It's a gaming company. It's a bank. A VC fund. A video streaming service. A movie production company. A TV sports channel. A budding advertisement broker. A cloud services provider. A cashless payments solution. A sleeping e-commerce juggernaut. And literally hundreds of other stakes and subsidiaries.
This is Tencent Holding Ltd. (OTCPK:TCEHY).
Unlike its main frenemy, Alibaba Group Holding Limited (NYSE:BABA), Tencent does not trade on the New York Stock Exchange. It trades on the Hong Kong bourse as 0700.HK. But if you lack a specialized broker that allows you to efficiently trade directly in foreign markets, you can trade Tencent's unsponsored ADR on the OTC Pink market under the ticker symbol TCEHY.
Most likely due to its gargantuan market cap of $350 billion and recent surge in interest due to accelerating growth and Alibaba and Facebook (NASDAQ:FB) comparisons, the pink sheets issue currently offers a fairly liquid asset. The bid-ask spread is narrow, oftentimes at $.01. The stub averages around 2 million shares traded daily, which is currently around $74 million worth of volume. At close of market, July 15, 2017, the pink sheets traded at $37.06, equivalent to 289.2 HKD, while the 0700.HK shares ended the day at 284.8 HKD. Although this discrepancy means that unfortunately American investors currently pay a 1.5% premium to invest in Tencent Holdings stateside, this surcharge is very reasonable as compared to other unsponsored ADRs on the OTC Pink.
Plus, Tencent is up 51.6% year to date and 157% since the beginning of 2015. Over the past 18 months, the stock has offered truly superior performance. The S&P 500 (NYSEARCA:SPY) has returned 19.0% in that same time period. Remarkably, TCEHY still trades at a trailing price/earnings-to-growth-rate (PEG) of less than 1. The trailing twelve-month P/E stands at 51.54. Last quarter, in terms of its home currency Chinese yuan, revenue actually accelerated, to a rate of 54.9%. Earnings surged even more - by 57.6%.
Thus, despite the stock trading at essentially an all-time high, Tencent Holdings still has room to run in this crazy bull market. So does Alibaba.
Here's one simple, often overlooked reason why.
A Short History of East Asian Networking
The corporate structures of East Asian business organizations have long emphasized byzantine networks of cross-ownership. China is no different in its development. Its sustained astounding economic success is in the process of creating some of the biggest and most powerful companies in the world.
In Korea, the chaebol (literally translated as "wealthy clan") dominate the economy. Samsung (OTC:SSNLF), Goldstar, Doosan and Daewoo all function in this manner. These companies maintain fairly direct lines to their founding families who exert tight, formalized control over a variety of often times unrelated subsidiaries. The tremendous success of the chaebols is largely due to the American and Korean government's desire to hasten the Republic of Korea's economic expansion as a counterweight to Asian communism. As a result, the Korean economy saw 20x growth from 1965 to 1985. If Samsung can use the much smaller economy as a base to create record quarterly profits of $12.1 billion, what can we expect of a similarly dominant and mature Tencent in a fully developed Chinese economy 20 years from now? Even today, China's GDP is more than 8x that of South Korea. What will that multiple be in 2035?
In Japan, the prewar zaibatsu, of which Mitsubishi (NYSE:MTU) and Matsui (OTCPK:MITSY) are just a few, evolved into the postwar keiretsu. American economic directives suspicious of reinvigorating the same family-based conglomerates that funded a war against the US led to the replacement of informal familial ties with formal cross-ownership structures. Often times, a bank or insurance company sits at the nexus of these ties to provide financing for disparate subsidiaries. In the twenty-first century, Softbank (OTCPK:SFTBY) has found great success substituting the consistent cash flows of a stable and growing telecom for the more volatile financial units like Mitsubishi UFJ in the middle of this keiretsu structure.
In China, the first generation of private internet behemoths has continued to use this East Asian business structure. Only in Mandarin the name is xilie, but the characters are the same as those of the Japanese keiretsu. Alibaba uses its indispensable e-commerce platforms as its cash-generating growth engine. Tencent uses its dominance in the high-margin gaming business. Now, both companies have developed cashless mobile payment and comprehensive personal finance platforms, Alipay and WeChat Pay, that will serve as the free cash flow machines at the center of the next generation of turbo-charged growth for each company's far-flung empire. In fact, aggressive acquisition sprees have left AliTen better positioned for the future than the renowned FANG stocks that currently drive the US bull market.
The power of these unique corporate structures to simultaneously leverage existing capital and eventually, in the long run, reveal the true value of a powerful collection of assets in a sum-of-parts analysis should not be understated. Why else would Warren Buffett employ a similar model? In perhaps the greatest form of flattery, Google restructured along similar lines to become Alphabet (NASDAQ:GOOGL) (NASDAQ:GOOG) on October 2, 2015... and has risen by 57.4% ever since.
Structure Obscures Value of Numerous Cross-Ownership Positions
In the short run, analysts often do a poor job of ferreting out the value in AliTen's various subsidiaries and ownership interests. In fact, it is just this type of issue that led to an SEC inquiry into Alibaba's accounting for its stake in logistics data platform Cainiao Network. At this point, more than a year after the inquiry announcement, the issue seems a moot point. The Cainiao investment seems fairly obviously a type of equity method of accounting, which firms tend to use to keep from inflating their balance sheet assets. Nevertheless, the issue demonstrates the largely overlooked values of AliTen investees on their respective balance sheets.
Like Alibaba, Tencent's sprawling structure makes it difficult for even the most diligent analyst to accurately gauge the value of its collection of assets. The chart below is somewhat dated and does not include significant cross-investments like ride-hailing king Didi Chuxing and China's leading food delivery app ele.me. But you get the idea.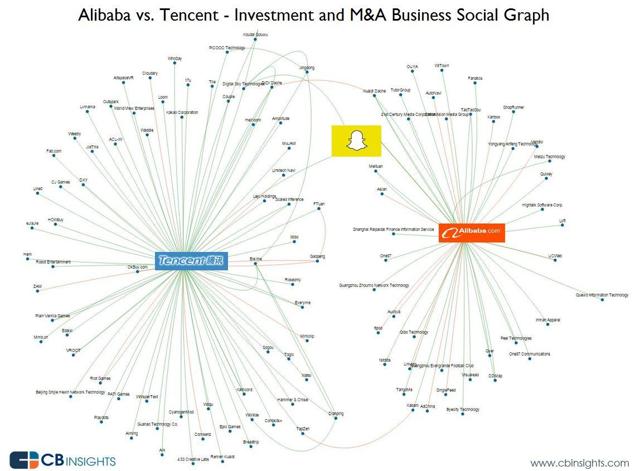 Tencent Holdings and Alibaba Group are Chinese super-conglomerates. CEO Ma Huateng cannot even list all of the revenue and growth drivers in his recent first-quarter press release announcing record results:
"We delivered a strong set of operating and financial results for the first quarter of 2017. Financially, our smart phone games, payment related services, digital content subscriptions, PC games and social advertising businesses all contributed to our broad-based revenue growth. Operationally, our entertainment services benefited from the Chinese New Year holiday, and several of our products achieved notable growth during the quarter. These include our video platform which featured popular original content, as well as newer products such as our karaoke app WeSing, our photo editing app Pitu, and our mobile games such as Honour of Kings. We will continue to invest in new technologies, quality content and innovative products to bring increasingly better experiences to our users."
Great talk. But there is not one mention of successful VC investments Didi or Tesla (NASDAQ:TSLA), which the company now has a 5% stake in. No mention of QQMusic, essentially the Spotify of China, nor talk of QQ's successful e-book app that is about to enjoy its own IPO. Not one breath about Tencent's mouthwatering push into e-commerce. Heck, WeChat, the crown jewel of the Tencent empire, is only mentioned by name twice in that press release. In short, Tencent is firing on all cylinders right now.
These are just a few examples of what the Street is missing when it comes to valuing these companies properly.
But there's nothing wrong with their accounting practices. They've both put their substantial cash flows to work to develop products and make cross-ownership investments in the grand tradition of East Asian business culture. They've solidified their status as the leading companies in the secular trend of mainland China's rapidly evolving digital economy.
No question. Portfolios should have exposure to both positions. Even at today's prices.
Disclosure: I am/we are long BABA, TCEHY.
I wrote this article myself, and it expresses my own opinions. I am not receiving compensation for it (other than from Seeking Alpha). I have no business relationship with any company whose stock is mentioned in this article.
Editor's Note: This article discusses one or more securities that do not trade on a major U.S. exchange. Please be aware of the risks associated with these stocks.