CNBC: Friday Close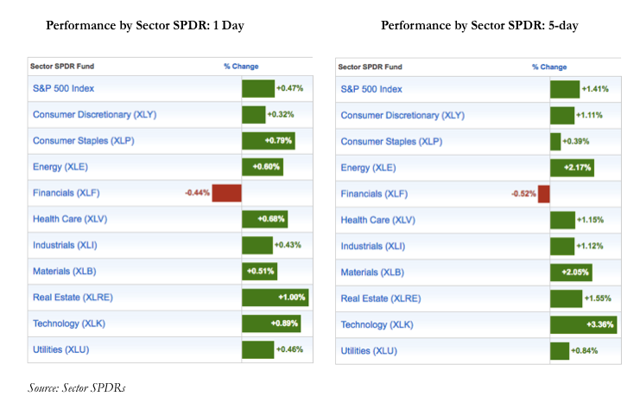 The major indexes had a strong session on Friday, particularly after the close of European trade. Financials (XLF) were the only laggard over both the one-day and one-week period. Tech (XLK) led for the week, but Energy (XLE) and Materials (XLB) also enjoyed a week of strong gains.
We found the headlines for CNBC to be amusing, as equities were up Friday on "bets for a strong earnings season", while bond yields and the USD were lower as weak data "cools rate hike bets".


On Friday the VIX had its third-lowest close of all time; the index printed a low of 9.51! Of the twenty lowest closes in VIX history, ten have occurred since this past May (more on this in the Thoughts on Volatility segment below).
The Bloomberg Economic Calendar does not indicate any major market movers for the week. Earnings season is getting into full swing, and that could be more likely to play a role in generating market vicissitudes in the upcoming sessions.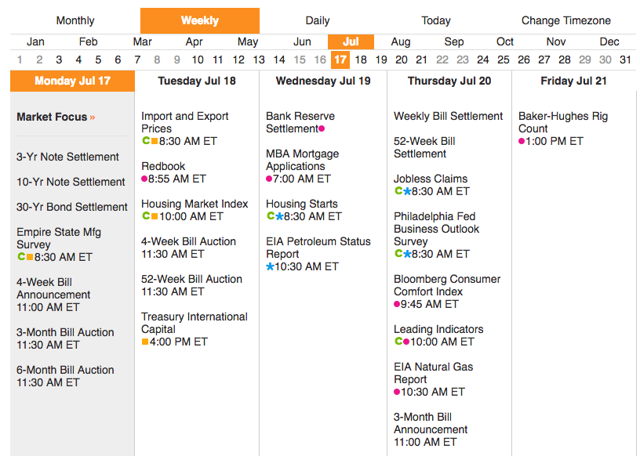 Shout Out
Quadratic Capital CIO Nancy Davis appeared on CNBC's Fast Money last week. We found the short clip to be of interest.
Ms. Davis makes the case that with low rates and high prices, volatility is trading on "super sale", and doing so across a wide range of markets. Quadratic has a long-option bias to their approach, investing among quite a few underlying positions (Emerging Markets, Commodities, stocks).
Ms. Davis discusses the fact that the short vol trade has largely worked due to the back stop by central banks over the past several years. Now, Quadratic Capital sees a shift in the winds, with monetary policy taking on more hawkish tones to their eyes. With a few important qualifications, we agree.
One interesting attribute of her firm is that their portfolio does not merely use options to hedge, but rather the firm's portfolio is made of options. This may give her some important issue into the current state of markets. More importantly, it demonstrates that derivatives can and do act as a viable set of instruments for trade, provided one knows how to manage them.
Thoughts on Volatility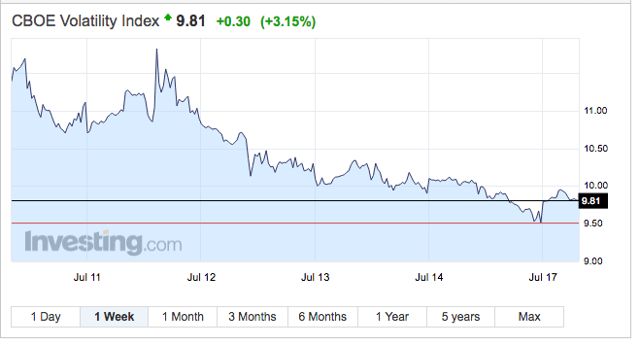 Last week saw vol come in near all-time lows on Friday. Spot VIX in the tens, once a "super bargain", is now quite commonplace. In afternoon trade we saw spot briefly hit 9.51, just a couple basis points away from the second lowest close of all time, put in over the Christmas week of 1993.
We'll refer once more to SA Contributor Charlie Bilello's piece from last week: "Will There Ever Be Another Correction?". For those who want a sense of just how low vol is, this is a good read. We'll focus on the following table for our discussion.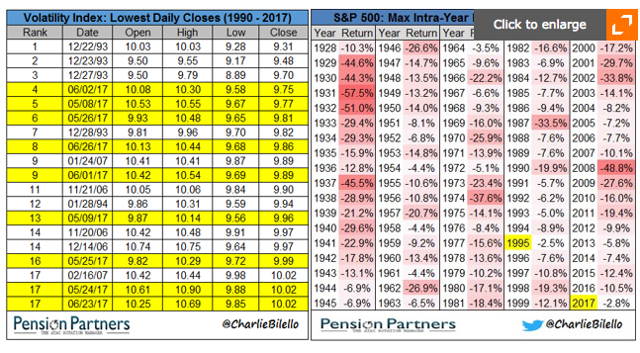 Friday's spot VIX print of 9.6 tallies the new third-place position for all-time lowest closes. As mentioned earlier in MVB, ten of the lowest twenty closes for the index have occurred since this past May!
What we would like to highlight from the table above is that, while recent observation has indeed been quite unique, the fact is that volatility really does tend to cluster. Five of the bottom twenty lowest closes occurred between Dec 22, 1993 and Jan 24, 1994. November 20, 2006 through Feb 16, 2007 also witnessed five of the lowest readings. Takeaway: it is not uncommon for low volatility to make way to more low volatility.
What's more, the VIX index is not that old: Finance Yahoo! Data takes the historical series back to Jan 2, 1990. It is strongly likely that over a larger stretch of S&P history, there would be significantly more data points with implied vols of comparable readings.
Lesson: Don't fall for the Gambler's Fallacy: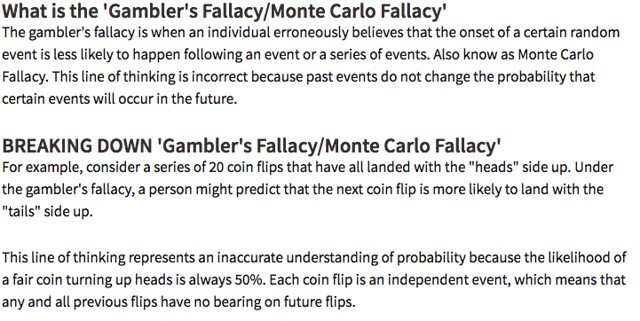 Source: Investopedia
The reality is that low vol - extreme low vol even - tends to be autocorrelated. That is to say that very low vol tends to beget more very low vol, as we've seen in these three clusters of all-time lows. Getting long volatility products because vol just has to go up is actually worse than the Gambler's Fallacy: there is a relationship between past prints and future prints, and the relationship over short spans of time tend to be relatively positive.
Don't get us wrong: buying the dip in volatility has not been such a bad strategy (at least for ES straddles) over the past five weeks or so. The key is to sell any spike. We believe that this is a learned-behavior pattern: buy-the-dip has just worked so well for so long that now everyone knows about it and many act upon it. We contend that players who use this strategy will need to get badly burned in order for the pattern to fade out into history.
Historically speaking, buy-the-dip (for equities) is not a particularly compelling trade for equities. Sayings like "Don't Catch a Falling Knife" or "He who panics first panics best" or "Bulls and bears make money, pigs get slaughtered" all speak to the reality that the johnny-come-lately saying/strategy of "buy the dip" truly is not a fail-safe.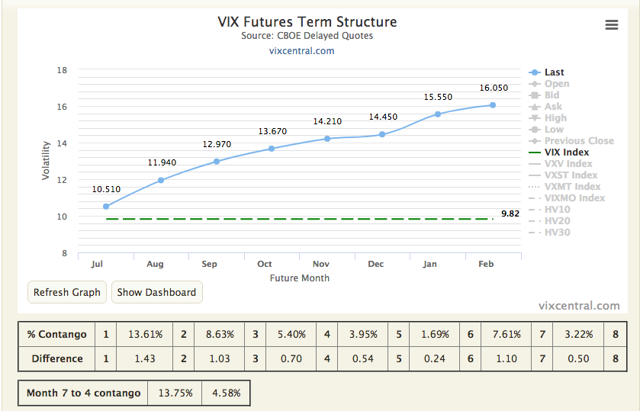 The term structure has now reverted to its far more typical shape: large contango up on the front end, with diminishing contango as one transacts further back on the curve. Of course, the closer to the front one trades, the more sensitive the futures are to a large movement in spot VIX.
Conclusion
We'll wrap it up there for today. Equities are the darlings of today's markets, and volatility is a dog. Reversals of fortune for either asset class require more than a simple belief in mean reversion. Recall earlier this year the Dow had something like ten consecutive all-time closing highs this past February.
That said, also recall that the near all-time low volatilities that we witnessed in early 2007 made way to all-time high readings less than two years later. While 20 months is an eternity for someone who positions in volatility products (or even for many in the equities markets), it does warrant mention that volatility can and does turn quite quickly. That's not a bet on "mean reversion": that's simply an embedded characteristic of the asset class.
Thank you for reading. We hope you have a wonderful week of trading/investing.
Please consider following us.
Disclosure: I am/we are short SPY.
I wrote this article myself, and it expresses my own opinions. I am not receiving compensation for it (other than from Seeking Alpha). I have no business relationship with any company whose stock is mentioned in this article.
Additional disclosure: We actively trade the futures markets, potentially taking multiple positions on any given day, both long and short. It is our belief that the S&P 500 is meaningfully overvalued. As such, we typically carry a net short position using ES options and futures.