In a recent article I published on my Marketplace service, I highlighted the appeal of American Tower (AMT) because of its ability to leverage the robust capital expenditures still being deployed to 4G by major carriers, the diversification offered by its international presence, and its methodical return of cash to shareholders in the form of buybacks and dividends.
Focus on 4G and lower frequency capex
The recent 600MHz auction resulting in $19.6 billion in proceeds is a clear indication that carriers are still focusing on building out their current 4G capacity. The lower bandwidth spectrum is typically used for sending signals over longer distances and through walls and windows, which is more likely to benefit tower owners and macro cell providers such as AMT. Meanwhile, even with the launch of 5G in a few years, the lifecycle of each network typically lasts 10 years so we still have 4-5 years of runway with 4G.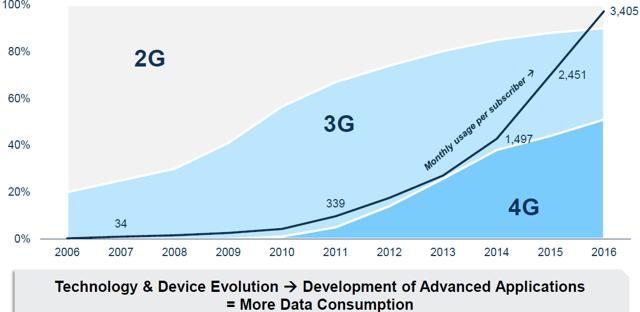 International exposure
The US market is still the largest market for total data usage and subscriber use but there are plenty of upside opportunities abroad. According to Cisco (NASDAQ:CSCO), IP traffic is growing fastest in the Middle East and Africa, followed by Asia Pacific. Traffic in the Middle East and Africa will grow at a CAGR of 42 percent between 2016 and 2021.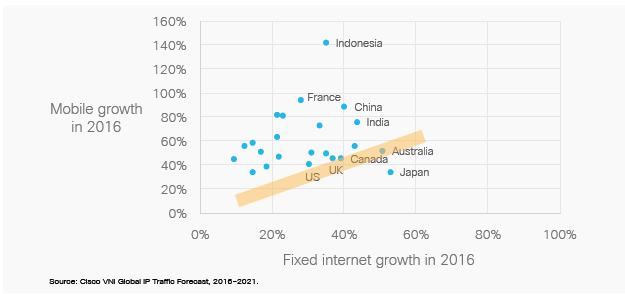 AMT is better positioned than its closest rival to take advantage of this growth. Having an international presence also diversifies its client/tenant base which is increasingly dominated by a few players via mergers and acquisitions.
Since the original article, the company bought another 142 towers from Axtel in Mexico for $56 million, which will be rented back to Axtel for 15 years.
Cash back to shareholders
American Tower has been raising its dividend aggressively and is targeting a 3% dividend yield in the near future, which would almost double the dividends paid from its current level. In addition, it has been returning cash to shareholders through a share buyback program.
Valuation Overview
So, the next question you would ask as in investor is "is it too late to invest?" or "Has the train left the station?" In other words, has the price gotten ahead of expectations or is the price still attractive at current levels? After all, it's up 30% YTD.
To determine the valuation of a stock, investors can use a discounted cash flow method, the dividend growth model, or price multiples, to name a few of the most popular. The first two require a number of different assumptions about revenue growth, cost projections, and cost of capital calculations. All of which can dramatically change the resulting value with just minor adjustments.
The easiest to use is analyzing price multiples of companies over time – comparing the ratio of price relative to earnings, cash flow, book value, or FFO, in the case of REITs. A high multiple is generally associated with the possibility of a stock being overvalued, while a low price multiple may indicate a stock is undervalued. But high or low relative to what?
Some sectors tend to have higher price multiples than other sectors just like some companies have higher multiples than other companies, even within the same sector. So looking at price multiples in isolation or relative to dissimilar companies even within the same sector can lead to an incorrect conclusion.
Let's compare the Price/Earnings of JPMorgan (JPM) to that of Starbucks (SBUX). JPMorgan currently has a PE ratio of 14.2 while Starbucks currently has a PE ratio of 28.5. If we stop there, JPMorgan looks undervalued and we might incorrectly conclude that the better investment option is JPMorgan. But the long-term average PE multiple for JPMorgan is 15.3 while Starbucks' average PE multiple is 39.6. Based on a relative comparison with each company's long-term average multiple, JP Morgan looks reasonably valued while Starbucks looks cheap. We could also compare the current and historical price multiple of each company relative to the current and historical price multiple of the other company. This might work when comparing two banks, for example, but is probably not applicable in this situation. We can, however, use it to compare two companies within the same narrow industry.
AMT Valuation
American Tower is currently trading at a price/FFO multiple of 24.1 and by comparison with several other REITs in the infrastructure sector, it might look expensive. However, comparisons on an absolute level aren't relevant in this case because American Tower always trades at a premium to these other companies.
Comparing the price/FFO of American Tower to Crown Castle International (CCI), its closest competitor, indicates that AMT tends to trade at an average premium of 18% over that of CCI. The average P/FFO for AMT since 2011 was 24.6 while the average price/FFO for CCI since 2013 is 20.6. At a current price/FFO of 24.1, AMT looks reasonably priced, while CCI's current price/FFO multiple is 23.2, considerably above its long-term average. Looking at price multiples from this perspective might lead to the conclusion that CCI looks priced to perfection.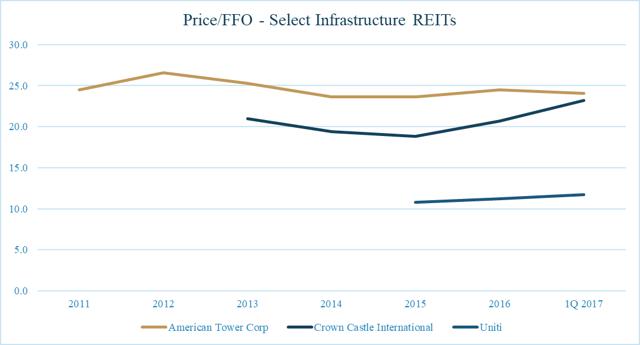 Part of the reason for CCI's expanded price multiple is the decline in FFO in 2016. It is expected to recover in 2017 to $4.50 per share from $4.19 in the previous year, which will probably result in the price/FFO multiple to fall in line with its long-term average. But AMT's FFO is expected to grow by 25% in 2017. To restore the relationship between the two companies price multiples, therefore - a reversion to the mean - either the price of American Tower will increase, the price of CCI will decrease, or some combination of the two will happen. Since AMT is already trading at its long-term average price/FFO, it is perfectly priced to generate a 25% return as the price of the stock moves in lockstep with FFO growth. If we get any multiple expansion on top of that, it would be additional icing on the cake.
All aboard!

American Tower Corp is the largest holding in the Heard on the REITs portfolio.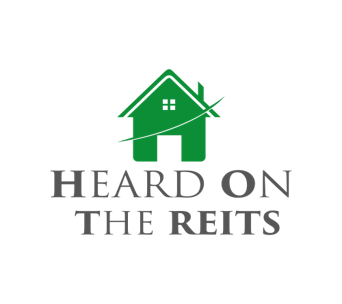 Disclaimer: Please note, this article is meant to identify an idea for further research and analysis and should not be taken as a recommendation to invest. It is intended only to provide information to interested parties. Readers should carefully consider their own investment objectives, risk tolerance, time horizon, tax situation, liquidity needs, and concentration levels, or contact their advisor to determine if any ideas presented here are appropriate for their unique circumstances.
Past performance is not an indicator of future performance. This post is illustrative and educational and is not a specific offer of products or services. Information on this blog is not an offer to buy or sell, or a solicitation of any offer to buy or sell the securities mentioned herein. Information presented is believed to be factual and up to date, but we do not guarantee its accuracy and it should not be regarded as a complete analysis of the subjects discussed. All expressions of opinion reflect the judgment of the authors as of the date of publication and are subject to change. Any positive comments made by others should not be construed as an endorsement of my abilities to act as an investment advisor.
Disclosure: I am/we are long AMT, CCI, UNIT.
I wrote this article myself, and it expresses my own opinions. I am not receiving compensation for it (other than from Seeking Alpha). I have no business relationship with any company whose stock is mentioned in this article.