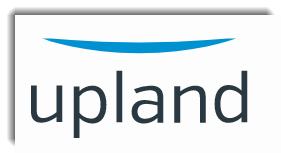 Quick Take
Enterprise IT company Upland Software (UPLD) has announced the acquisition of Waterfall International for total cash consideration of approximately $26 million.
Waterfall has developed a mobile messaging service that enables cross-channel messaging for brands seeking to engage their customers and prospects.
Upland continues to use its balance sheet to acquire companies to build out its offerings, and the stock has risen dramatically since the start of the year.
Target Company
San Francisco-based Waterfall was founded in 2005 to develop a social-oriented marketing platform for enterprises. After the iPhone was introduced in 2007, the company shifted its focus to mobile engagement capabilities.
Management is headed by founder and CEO Matthew Sechrest, who was previously Vice President at now-inactive ArrowPath Venture Capital and an investment banker at Goldman Sachs (GS).
Below is a brief demo video about Waterfall's mobile marketing system:
(Source: Rocco Baldassarre)
Waterfall has focused its efforts on two industries, Restaurants and Retail. It says it has more than 200 clients worldwide and sends over 100 million messages per month.
Investors put approximately $5 million into Waterfall in three offerings since 2009, according to SEC regulatory records. Given that founder & CEO Sechrest was a senior member at venture capital firm ArrowPath just before founding Waterfall, it is possible that some or all of the funding came from ArrowPath.
Acquisition Terms and Rationale
Upland paid Waterfall shareholders $24.4 million in cash. Also, Upland held back $1.5 million for 18 months. The amounts exclude 'additional potential earnout payments tied to performance-based conditions,' however Upland did not disclose the scope of that contingent consideration in either the press release or the 8-K filing.
As of Upland's March 31, 2017, 10-Q filing, the company had $19.4 million in cash, total liabilities of $102.8 million, and operating cash flow of $4.9 million for 1Q 2017.
Given the recent low cash balance compared to the purchase price, Upland must have incurred additional debt under its expanded credit facility to close the deal. The company did not provide any balance sheet effect details in its disclosures so far.
What management did say is the following,
Upland today also announced that it has raised its full year 2017 guidance to reflect the Waterfall acquisition, raising revenue, recurring revenue, and Adjusted EBITDA guidance ranges. The increase in 2017 revenue guidance below is net of an estimated $0.6 million reduction for a deferred revenue discount as a result of GAAP purchase accounting and all guidance adjustments are prorated for an effective closing date of June 30, 2017.
As is unfortunately common, Management makes liberal use of 'Adjusted' numbers rather than industry standard GAAP figures, which are usually less generous. By using 'Adjusted' numbers, management can 'adjust' the figures any way they see fit, making acquisitions look better than they otherwise would.
So, why did Upland acquire Waterfall?
As Upland's Digital Engagement SVP/GM Jed Alpert stated in the deal announcement,
Upland Mobile Messaging is the leading end-to-end, enterprise-grade mobile messaging platform. Robust capabilities include smart campaigns, natural language-based messaging, and multi-channel communications across Facebook Messenger, Android RCS messaging, mobile wallet, and SMS/MMS.
As retail businesses struggle to remain relevant to customers and prospects in the battle for dollars with online merchants, there is a continuing need to generate greater engagement.
Waterfall's technology enables brands in the industries of retail, media, healthcare, government CPG and restaurants to more effectively prospect, convert prospects to paying customers and drive greater customer retention and lifetime value.
Management says the price paid was within its 'target range of 5-8x pro forma Adjust EBITDA and will be immediately accretive to Upland's Adjusted EBITDA per share.'
While UPLD saw an immediate bump up on the deal announcement, shares have since settled to only marginally higher than pre-announcement, as the five-day chart below shows,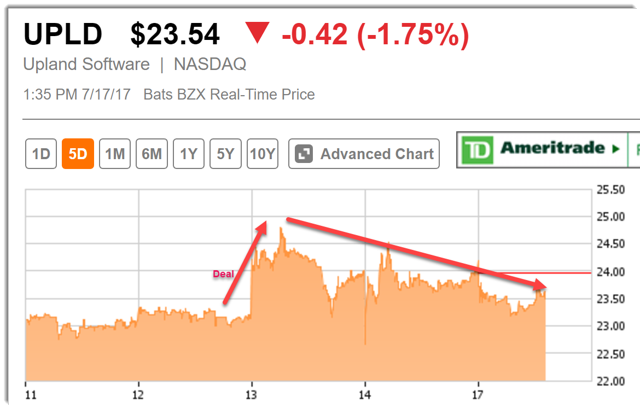 (Source: Seeking Alpha)
While I understand the acquisition from a functional standpoint, I'm skeptical of management's reliance on the moving target of 'Adjusted' financial effects.
UPLD has risen dramatically since the beginning of 2017, so investors appear to like what they see.
For this deal, until I learn what the GAAP effects are for the balance sheet and earnings, I'm on the sidelines.
I write about M&A deals, public companies that invest in technology startups and IPOs. Click the Follow button next to my name at the top or bottom of this article if you want to receive future articles automatically.
Disclosure: I/we have no positions in any stocks mentioned, and no plans to initiate any positions within the next 72 hours.
I wrote this article myself, and it expresses my own opinions. I am not receiving compensation for it (other than from Seeking Alpha). I have no business relationship with any company whose stock is mentioned in this article.