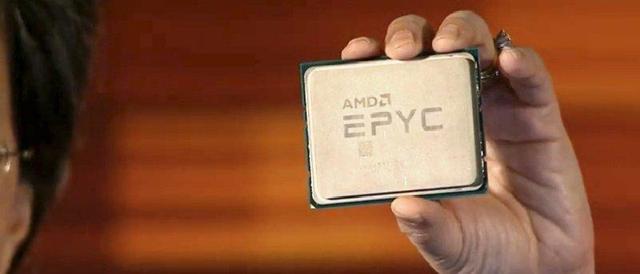 The first serious reviews pitting Advanced Micro Devices' (NASDAQ:AMD) Epyc server CPUs against Intel's (NASDAQ:INTC) new Skylate-SP CPUs indicate AMD's Epyc is competitive, and then theoretically wins because of being a better value on a performance per dollar or performance per watt base.
However, some doubts remain. Epyc's main identifiable difference versus Intel is its use of interconnected desktop dies to produce a server chip. This has clear cost advantages versus Intel's approach of using a monolithic die. It's much easier to get decent manufacturing yields on smaller dies which are then interconnected than on a very large die.
Theoretically, though, such an approach could also have a large performance impact. This has to do both with some larger latency within the desktop dies because of the way they are structured, and especially on much larger latency between individual dies. Intel highlights this by calling AMD's Epyc server chip as being "4 glued-together desktop dies."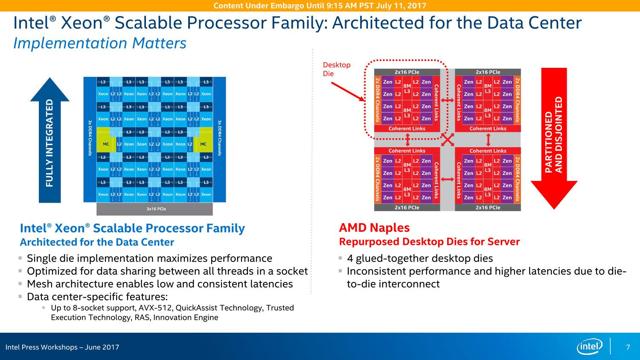 Source: Intel
Still, as I said, benchmarks don't seem to capture this potentially large (latency) disadvantage. In my view, a possible reason for this has to do with the construction of most benchmarks. They're done to solve specific independent tasks, which often lend themselves to great parallelization. This nature of the tasks means they don't need much "inter-core" communication, and especially don't often fall into scenarios relying heavily on accesses which need to cross individual AMD dies.
As a result of this, it remains to be seen whether Epyc's performance is still competitive in real-world scenarios. It's perhaps not a coincidence that, as Mark Hibben highlighted in his article titled "Intel: Selling Server Processors Before They're Announced," Intel is saying its customers are enjoying performance gains well in excess of what benchmarks would indicate. That in itself is a wild card.
There is also another wild card. It has to do with how server CPUs are used. Arguably, a large part of server workloads require the use of databases. And when it comes to database software, Oracle (ORCL) and Microsoft dominate.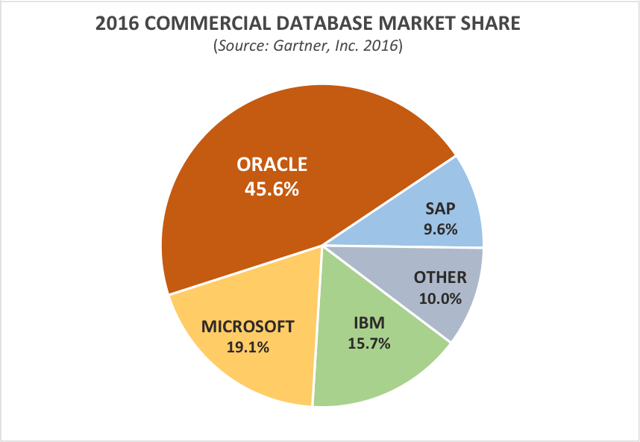 Source: Samadhi Partners' article, linked below
Now, how is this database software licensed? It's licensed per CPU core (or more exactly, per each two cores, since Oracle applies a 0.5 factor and Microsoft sells in 2-core bundles).
Now, here's the problem for AMD:
Intel still leads on a per-core performance basis and this should be more evident precisely in database-using applications because of the latency question mark. Indeed, a lot of AMD's strategy is selling higher value through more cores for a lower price.
The database license cost per core is very high versus the price of the chip. For instance, it can be as much as $47,500 per each unit (2 cores) on Oracle Enterprise Edition. This price will be lower when licensed in quantity, but it will always greatly surpass the even the highest-cost CPU price. For instance, the most expensive list price for Intel's Xeon Skylate-SP line is ~$13,000. That chip has 28 cores at list prices it would cost over $500,000 to run Oracle Enterprise Edition on it. Indeed, if AMD needs even just two cores more to provide the same performance as an Intel chip, that alone will already wipe out any possible cost advantage on the chip price – if it's meant to run Oracle Enterprise Edition or the equivalent SQL Server Enterprise (~14,000 per each two cores, list price).
As a result of this pricing idiosyncrasy, AMD can seem to win on a performance/value basis, and still not be the obvious choice for the most attractive CPU.
However, there is also another angle. As Samadhi Partners so well explained in his article titled "The Death Of The Commercial Database: Oracle's Dilemma," many current trends towards cloud computing, NoSQL and even SSDs and large memory databases are reducing demand for commercial databases.
These trends are thus potentially favorable for AMD's approach. As we saw above, DB licensing terms are a huge headwind for AMD's approach of relying on more, but somewhat slower, cores. The open source movement and many associated databases are either free or at least free from such per-core licensing. This automatically removes AMD's disadvantage. Of course, it remains to be seen if the latency problem surfaces when running this emerging software.
Finally, there are many workloads which won't suffer from DB licensing troubles or latency problems. There, AMD should be straight competitive.
Yet Another Factor
In early testing, AMD's Epyc is showing lower power consumption than Intel's Skylake-SP lineup. This can also be very relevant, both because of direct power costs and because of cooling requirements and the further costs they carry for datacenters.
Typically, datacenters are even placed in geographies with both easy access to ambient cooling and cheap power, so this is a very important consideration for end customers.
Putting It Together
Putting all of this together, it would seem AMD will lose in instances where:
Complex applications or use scenarios bump into the latency problem. This is likely to happen in many real-world scenarios.
Database-intensive jobs requiring use of licensed databases.
It looks like AMD will win where:
Databases being used are open source, namely by the large cloud providers or customers (Amazon.com, Google, Microsoft, Facebook). This is especially true when those customers are using the chips for their own workloads, but also applies to many emerging companies and software architectures which are more reliant on open source software.
Workloads which are highly parallelized (but not amenable to GPU compute) or where threads are independent enough not to bump into the latency problems.
Generally speaking, where power and cooling factors overwhelm other considerations. This is also a large wild card.
Weighting these factors, it would seem that AMD has a path toward conquering a meaningful slice of the server market – perhaps as much as 10% of that market.
Conclusion
While AMD's Epyc chips seem competitive in many benchmarks and reviews, there are still significant unknowns regarding its real-world performance. These unknowns stem from the architecture AMD pursued, which can have a substantial performance impact at times. Likewise, the fact that Intel still leads in single-core performance allows it to be the cheaper option by far in most database-reliant workloads, when both the CPU and DB licensing are taken into account.
However, there are also many use cases which are free both from those performance limitations and DB licensing concerns. In those use cases – which actually seem to comprise the main growth markets when it comes to datacenters (outside of GPU compute), AMD is competitive with the new Epyc chips.
It's hard to put these considerations into numbers, but likely there being niches where AMD will show itself to be very competitive might well be enough for it to conquer up to 10% of the server market. Going from Intel's $15.8 billion 2016 data center group revenues, and applying a 30% discount for AMD's cheaper pricing, 10% of the market could mean ~$1,100 million in revenues from this segment. $1,100 million comes to 22.8% of AMD's 2017 revenue consensus. AMD is expected to grow revenues 10.6% during 2018, so a 22% impact could produce upside to AMD's 2018 revenues versus present expectations.
Disclosure: I/we have no positions in any stocks mentioned, and no plans to initiate any positions within the next 72 hours.
I wrote this article myself, and it expresses my own opinions. I am not receiving compensation for it (other than from Seeking Alpha). I have no business relationship with any company whose stock is mentioned in this article.