This year could see more innovative medical devices approved by the US FDA than ever before, if the performance of the agency in the first half of the year is anything to go by. After a disappointing 2016, this will be welcomed by companies for whom FDA approval is the key not just to building revenues but also to obtaining investment or a trade sale.
So far this year, the US regulator has granted 24 premarket approvals and two humanitarian device exemptions - the types of market clearance granted to novel, high-risk medical devices. The newer de novo 510(k) path, used for devices that are innovative but low-risk, was used to get 17 products onto the US market, also an unusually high number.
This puts 2017 on course for 52 PMAs and HDEs combined, narrowly beating 2015's total of 51. And, if the de novo clearances also continue to come through at the same rate as in the first half of the year, there will be 34 - again, more than ever before.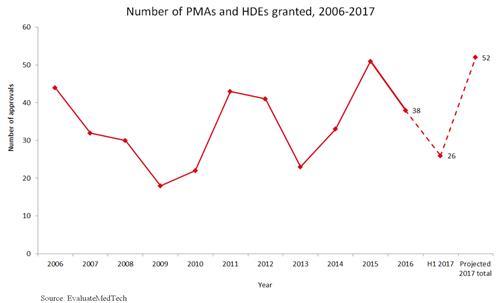 And, there is a good reason to believe that this will indeed happen. The FDA's new commissioner, Scott Gottlieb, has been explicit in his determination to bring new medical technologies to market as rapidly as possible.
The agency is planning an Innovation Initiative intended to streamline the approval process for drugs, biologics, and devices. The specific provisions for the device sphere include building computer-based regulatory models for product evaluation, including the creation of "virtual patients" for device testing.
Moreover, under the new 21st Century Cures Act, the FDA's Center for Devices and Radiological Health (CDRH) has amended its regulations to allow more devices to qualify for an HDE, the approval pathway used for products that serve small patient populations.
All of which suggests that if anything, the second half of this year might see even more innovative devices approved than the first.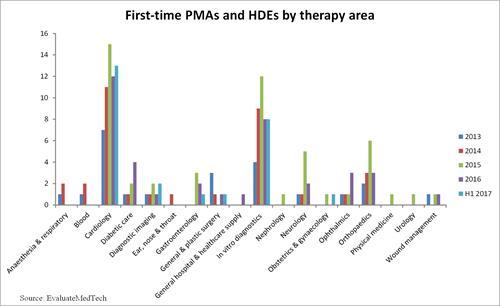 A look at the therapy areas that have seen PMA and HDE approvals show clusters in the perennially popular fields of cardiology and in-vitro diagnostics - but intriguingly, none in neurology or orthopedics.
This is probably due to chance rather than any specific policy or strategic decision. Orthopedics might not be the most innovative sector, but plenty of companies are working to bring new devices to market in this area. And, neurology is a hotbed of scientific research and therapeutic innovation. Both these sectors ought to be represented in this analysis when the year is out.
De novo
Efforts in recent years to make the de novo 510(k) route faster and more straightforward have also borne fruit, with 17 such clearances having been granted so far this year. These devices include Baebies' SEEKER system used to screen newborns for treatments for lysosomal storage disorders, and Claret Medical's Sentinel device, designed to capture embolic debris and thus prevent stroke in patients undergoing transcatheter aortic valve replacement.
The prospect of more novel devices gaining FDA approval than ever before is a tantalizing one, particularly as US approval is often the trigger for the acquisition of its developer. Provided the FDA does not lose sight of the importance of guaranteeing devices' safety - and it should be remembered that it is still much stricter here than the European regulators - this could be good for patients and the industry as a whole.
De novo clearances by year
Year
Number
Ave time (months)
2007
7
4.5
2008
3
6.0
2009
4
12.4
2010
3
14.4
2011
10
12.9
2012
10
15.3
2013
18
9.9
2014
28
13.7
2015
18
10.9
2016
24
13.4
H1 2017
17
10.6