Verizon's (NYSE:VZ) stock has fallen out of favor with the stock price dropping 20% over the last year to 5-year lows. There is no shortage of articles on Seeking Alpha and other sites bemoaning fierce competition from other wireless carriers, inability to fund the dividend, overwhelming debt, and a lack of growth opportunities. Bulls have cited strong cash flow supporting a dividend that will give the stock price a floor. Overall investors are afraid, and while I don't think it's time to get greedy, Friday's close of $43.56 should be a great entry point for investors with a 5-year or longer time horizon.
Debt:
Let's tackle the toughest concern first, Verizon's debt burden. With a consistent $20B-$40B in cash flow from operations for each of the previous 5 years, $116B in debt would not be difficult for VZ to pay down should the need arise, but at this point, that need does not exist. The chart below shows the makeup of Verizon's $116B in debt:

VZ Verizon Communications Inc. debt, bond, rates, credit - Morningstar
As you can see, most of Verizon's debt yields less than the current dividend payout, with the vast majority of shorter-term debt below 4% and $35B not due until at least 2040. Keep in mind that nearly half the current debt was a result of the 2014 decision to buy the 45% stake of Verizon Wireless owned by Vodafone for $130B, $58.9B in cash. Vodafone made out well in the deal, but it is important long term for Verizon to own 100% of its wireless segment, and they took advantage of a low interest rate environment.
Telecom is a capital intensive business, which has the negative effect of requiring companies to carry high debt loads, but it also serves as a barrier to entry. Given the rates VZ pays, and the array of lucrative investment opportunities available, it would actually be irresponsible to not carry a lot of debt. Why I state upfront that high debt is VZ's biggest concern is its effect on credit ratings, which affects the ability to borrow, re-invest, and grow.
VZ's debt burden and high dividend payout means earnings growth will likely be slower than it would without those constraints. However, AT&T (NYSE:T), VZ's biggest competitor, is in a similar situation debt-wise meaning VZ is not at a relative disadvantage.
The Dividend
I have read numerous articles recently questioning Verizon's ability to fund the currently 5.3% dividend, most citing that Q1 cash from operations of $1.7B will not be enough to fund $9.4B in yearly dividend payments let alone $17B in CapEx. Cash flow is a great metric because it is very difficult to fake over the long term. That being said cash flow can be erratic and a single quarter should not influence investment decisions unless other fundamentals provide confirmation.
The graphs below compare revenue, GAAP net income (although non-GAAP tells the same story), and cash from operations in millions of dollars for the trailing 12 months.

Revenue hasn't fallen off a cliff and neither has GAAP net income. If one were to describe VZ as a cash generation machine, it would be accurate given $20B-$40B in cash flow from operations generated consistently for each of the last 5 years.
To emphasize how variable cash flow can be on a quarterly basis, note the large negatives associated with acquisition/disposition of businesses and discretionary pension plan contributions, which account for the majority of difference between Q4 2016 and Q1 2017 on Verizon's consolidated cash flow statement.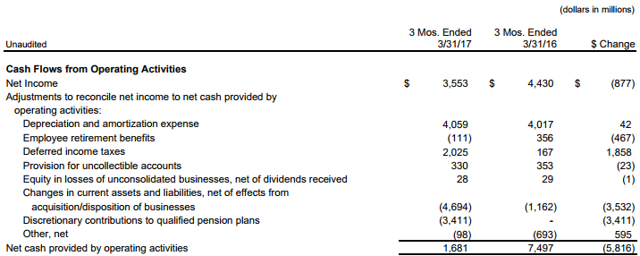 1Q 2017 Quarter Earnings Conference Call Webcast
From the Q1 2017 Conference Call:
"As a result of these contributions, our mandatory pension funding through 2020 is expected to be minimal, which will benefit future cash flows."
In other words, the timing of these cash transactions is strategic being affected by tax planning and other considerations. Verizon is known as a dividend stock, and given cash flows from the previous 5 years, combined with steady revenue and income in the most recent quarter, they will have no trouble paying it. As an aside, I personally would like to see them decrease the dividend and further invest in their business for reasons I will describe next, but I put the odds of that occurring close to zero.
Competition:
This is where we separate the bulls from the bears and see that despite increased churn in the Verizon customer base, VZ is widening the gap between themselves and every other competitor. Let's start with a simple but powerful metric, network performance. 3rd party studies have consistently come to the same conclusion, Verizon's network is the best.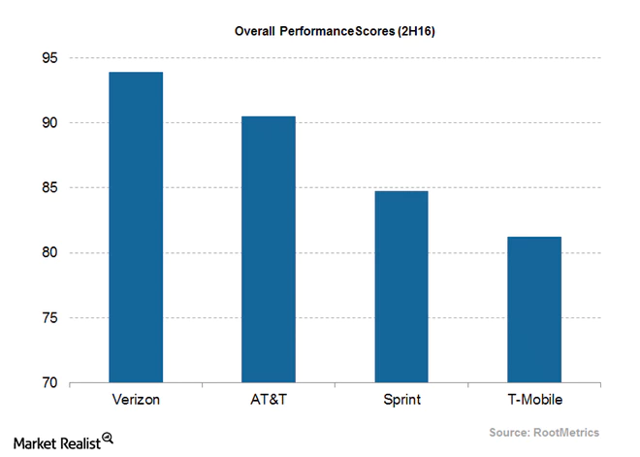 We can scrutinize various metrics showing monthly churn, analyze marketing campaigns designed to pull customers away from VZ, and fret over the customers lost due to Verizon's lack of an unlimited plan, or we can take a step back and think about what really matters to wireless customers. Customers want three things from their wireless provider: the best price, customer service, and network performance, that last category already shown to be led by VZ.
Price doesn't require much conversation as VZ has the scale to ensure that smaller competitors will either relent or be driven into deep financial trouble long before VZ feels enough pain to be forced to change its strategy. I'll answer customer service with anecdotal evidence that I just upgraded from a 4-year old Samsung to a brand new Motorola I bought through a third-party, and the Verizon Store had me activated with a new sim card and on my way in 15 minutes. Let's face it though, I have to interact with my wireless carrier 15-30 minutes every two years, so I'm really not that concerned with customer service to begin with.
Unfortunately, for AT&T, T-Mobile (NASDAQ:TMUS), and especially Sprint (NYSE:S), not only does VZ already offer the best network performance, it continues to widen the gap as exemplified by its 5G expansion plans. 5G represents an enormous growth opportunity for wireless carriers as it allows faster speeds over wireless networks, and it will allow them to potentially take share from traditional ISPs.
This creates a very appealing alternative for customers, and VZ is poised to profit. Similar to the way you need steel to construct a building, to construct a 5G network, you need spectrum, and the charts below show VZ owns far more of this raw material than any competitor.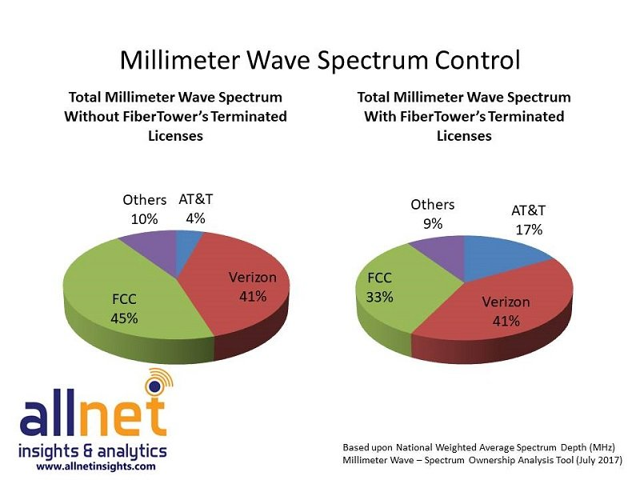 AT&T, Verizon, FCC and the rest: These charts show who controls the nation's licensed millimeter-wave spectrum
While S and TMUS are playing a short-term game competing for customers today through aggressive, often money-losing campaigns, to pull business away from Verizon, VZ is preparing to dominate the future. VZ has partnered with Cisco (NASDAQ:CSCO) to launch a 5G pilot in 11 markets throughout the country, and while the full potential of 5G is years away, this contributes to the basis for a long-term investment in VZ.
Non-Wireless Future
In the previous section, I focused primarily on Verizon's wireless segment because it generates the vast majority of profit and will continue to do so for the foreseeable future. The wireline segment only makes up ~20% of EBITDA, but delivered a healthy 20% EBITDA growth Y/Y according to Verizon's 2017 Q1 earnings release. Verizon's wireline segment provides cash to fund investments and dividends, but I expect wireless to make this segment largely irrelevant over the next decade or two as the technology evolves.
While I don't expect long-term growth in the wireline segment, there is potential for growth, or at least great cash flow, from VZ's carefully accumulated media business. Most following VZ are aware of AT&T's recent merger with TWX, and some were hopeful VZ would follow through with a large media acquisition of its own, potentially CBS (NYSE:CBS) or Disney (NYSE:DIS). Verizon has stated that it is not interested in a similar mega-merger, and in general, VZ's acquisition history has been judicious with smaller purchases like AOL and Yahoo.
Since its Alltel acquisition in 2008, the only large purchase was the 45% of Verizon Wireless stake from Vodafone discussed previously. The majority of this deal was not funded through debt at favorable interest rates but was funded through stock issued at a price of ~$47, above the current value of ~$43.5 making the timing opportunistic.
Verizon's remaining acquisitions over the last decade have been modest yet have allowed it to expand into emerging industries in addition to amassing an online media business reaching ~1B monthly users. Using its past as a guide, I believe we can continue to rely on Verizon to make prudent M&A decisions focused on delivering long-term value beyond its wireless business.
The Perfect Time To Start A Position:
The fundamental reasons to invest in VZ have all been true for a while, but the chart provides a very clear buy signal at the current price.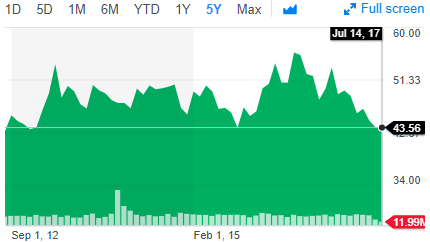 VZ : Summary for Verizon Communications Inc. - Yahoo Finance
A 5-year chart shows support at the current price, and if VZ holds, this is the perfect entry point. Others are certainly fearful, but don't get greedy yet, if Verizon falls through 5-year support, it could have another leg down, and we'll want to keep some powder dry should that opportunity present itself. This last statement cannot be emphasized enough. By starting a position here, we are hoping that VZ's stock price falls through this floor of support to average in for a long-term investment.
Conclusion:
I've addressed recent concerns surrounding debt, ability to fund the dividend, and fierce competition. Verizon's current network leadership is clear, and its investments in the future, specifically 5G, provide a path to future growth. Strong fundamentals and technical support have aligned providing an excellent entry point to a long-term position.
Disclosure: I/we have no positions in any stocks mentioned, but may initiate a long position in VZ over the next 72 hours.
I wrote this article myself, and it expresses my own opinions. I am not receiving compensation for it (other than from Seeking Alpha). I have no business relationship with any company whose stock is mentioned in this article.