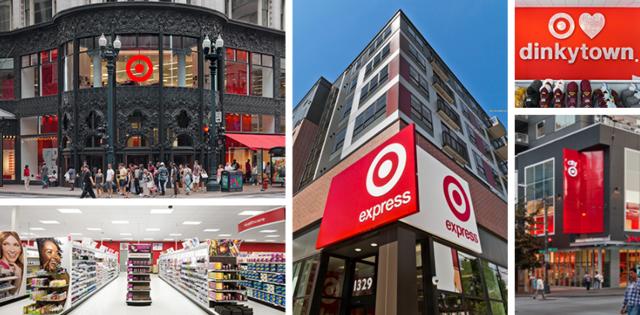 Target (TGT) has been in the crosshairs of the retail-is-dead battle that has been raging for the past couple of years as Amazon (NASDAQ:AMZN) continues to take over the world. Companies like Target that rely very heavily upon foot traffic have been experiencing everything from mild discomfort to bankruptcy as a result of the unstoppable wave of people moving their shopping needs online. But Target isn't taking this problem lying down and in fact, just provided us with a rare guidance boost for the second quarter.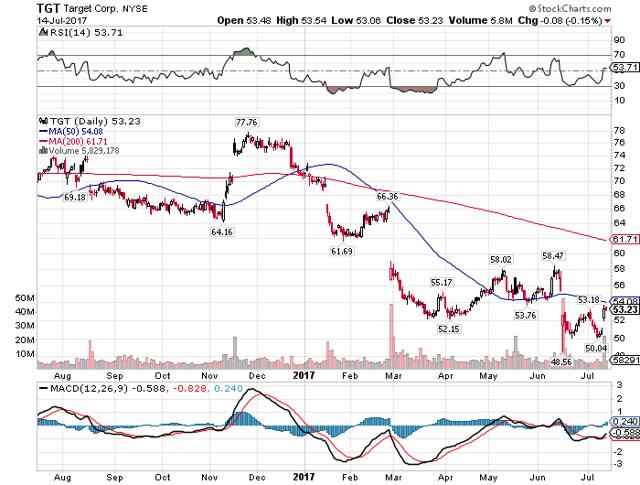 The bump we saw in the stock price last week on the guidance raise was good enough to get Target off of the bottom it was testing. We saw a break of prior support near $52 in mid-June and the shares subsequently bounced twice off of the $50 level, including again several days ago. Is that the true intermediate bottom? It looks like a double bottom to me and given the renewed optimism surrounding the stock, it certainly could be. Obviously we don't know yet but odds look good to me.
What will cement it for me is if it can hold the $53 level or, ideally, move a bit higher and also clear the 50DMA. $52 served as prior support but once that was broken, became resistance. If the stock can hold and/or move higher, the double bottom will be in and Target will be free to continue its path to recovery. The momentum indicators are picking up bullish steam as well so again, the pieces look like they are in place to me and the move higher last week was very bullish.
On a fundamental basis, I think the renewed sense of optimism is warranted, not only because of the tangible boost in traffic and earnings Target came out with, but the way it is being done. The guidance raise means that, again, the intermediate bottom may be in for comp sales. For a business relies so very heavily upon foot traffic, that's critically important and if Target has figured it out, a stock price in the low-$50s is far too little.
The reason I think the bottom may be for comp sales as well is because Target is rolling out some massive new consumer brands on the heels of its tremendously successful Cat & Jack clothing line. The most recent one, seen below, is everything one needs for a nursery outfitting.

Target is already a destination for families for things like groceries, apparel and home goods so moving more of its baby business into a private label should not only drive traffic, but improve margins as well. Cat & Jack has been a huge success in kids' apparel and Cloud Island has the potential to do the same thing for Target's sizable nursery and baby business. We'll have to wait and see but commentary from management has been good and that's terrific for not only comp sales, but margins as well. And keep in mind that Target wants to do 12 brands by the end of 2018 and while it is likely some won't work, it has shown a propensity to cut failures quickly, limiting losses. But letting the winners run has created pockets of brilliance - like Cat & Jack - and Cloud Island is off to a good start.
Finally, the Target Restock program is still under pilot in Target's home market, which provides next-day delivery of ten thousand essential items. The move is a common one among the big retailers to try and compete with Amazon as it treks along on its quest to take over the world. I like the idea of offering consumers a choice to not have to come into the store but programs like this are often quite expensive. You've got to pay employees to pick, pack and ship orders that ordinarily could be doing something else, or just not working that day. Those extra costs can certainly eat into margins and in general, the items that are eligible for this sort of thing are commodities you'd ordinarily buy a lot of, like paper towels, milk, etc. Thus, slimming the margin profile on things that already don't do a lot to boost margin dollars for the consolidated business can be tricky. Target is very early on but I like the fact that it is doing a pilot to see if it is feasible to roll it out on a larger scale. It certainly has the distribution network to pull something like this off; it is just a matter of whether or not it makes sense financially.
While I'm not quite yet enamored with the idea of the Restock program, Target's push to do private label brands all over the Home & Apparel areas is very exciting to me. If the push works it will drive incremental traffic and - even more importantly - margin dollars over and above what is available today. If the majority of the coming brands are successful, Target's stock price in the low $50s will have proven a terrific entry point not only because the stock is still very reasonably priced, but because of the dividend. The stock is going for just over 12 times this year's earnings and expectations are very low going forward, with negative rates of EPS growth for the next couple of years. That's the definition of a low bar to step over so the odds are higher of more upside surprises than not. And a nearly five percent dividend yield never hurts either as Target pays for you to wait. In short, I see a lot to like here and with what looks like a bottom in at $50 or so, I'm excited for Target's future.
Disclosure: I/we have no positions in any stocks mentioned, but may initiate a long position in TGT over the next 72 hours.
I wrote this article myself, and it expresses my own opinions. I am not receiving compensation for it (other than from Seeking Alpha). I have no business relationship with any company whose stock is mentioned in this article.