Microsoft (MSFT) announced that its Azure Stack is ready to order now. The company has already delivered Azure Stack software to its hardware partners, which are Dell EMC, Hewlett Packard Enterprise (HPE) and Lenovo. Customers can order Azure Stack integrated systems to the hardware vendors with shipping starting in September.
Although the news signifies a significant development from long-term investors' point of view, beating Amazon (AMZN) won't be easy in the near term. Will Azure Stack see significant adoption? I believe to a significant extent it will depend on how quickly Microsoft's Project Olympus, an initiative to build the next generation hardware platform, becomes a reality. Let's delve deeper.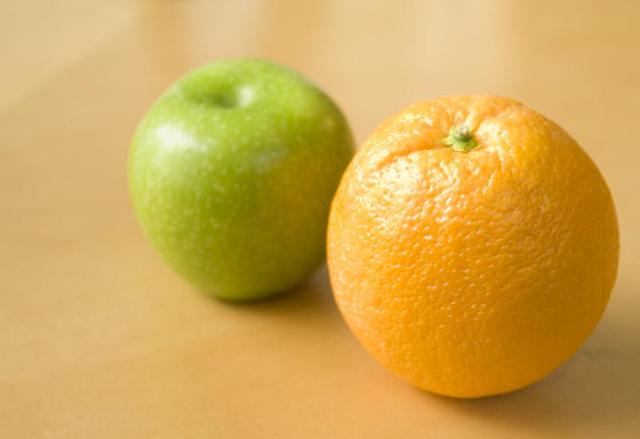 Are we comparing apples and oranges?
Azure Stack: How It Will Compete Against AWS?
Azure Stack has the potential to become the most efficient tool for datacenter administrators to scale their operations. It will help Microsoft strengthen its foothold against AWS while climbing in the cloud, i.e., growing revenue in the cloud business. It's not an easy job for Microsoft to topple AWS immediately. But Azure Stack will allow Microsoft to set the ground for it.
According to Microsoft, its Azure revenue jumped 93% YoY in the quarter ended March 2017 compared to 43% of AWS. However, since Microsoft hides its Azure revenue in its Intelligent Cloud division with several other non-Azure revenues, the Street has no idea what's going on behind the scenes.
That being said, I believe if investors don't get a clue what's going on behind the scenes, they should refrain from buying the stock. Fortunately, the introduction of Azure Stack is providing us a clue that Microsoft's Azure revenue will start rising gradually. What actually is Azure Stack? Well, it's actually the capability of running Azure in a hybrid environment in the same way Microsoft offers Azure to its users. In that sense, via Azure Microsoft is extending its own cloud platform to users.
The Next Platform said:
Amazon Web Services, as the pioneer in infrastructure cloud services and an innovator in platform cloud, has always said that cloud, by definition, means public cloud – and only public cloud.
Despite that, AWS took Azure Stack seriously and introduced VMware (VMW) cloud on AWS last year. It was an effort to prevent Azure Stack from growing before hitting the market. So AWS is already in the race. According to Pat Gelsinger, CEO, VMware:
VMware Cloud on AWS offers our customers the best of both worlds. This new service will make it easier for customers to preserve their investment in existing applications and processes while taking advantage of the global footprint, advanced capabilities, and scale of the AWS public cloud.
I expect Azure Stack to offer users better scalability compared to AWS, if Microsoft can extend hardware-level scalability (more about this later) as well. What does scalability mean in the context of hybrid cloud? If an on-premise datacenter is built without taking into account the future growth of the business, and the business grows afterwards, the solution is either scaling-up the datacenter by adding more processors and memory chips in existing servers or scaling-out the datacenter by adding more servers (without adding processors and memory chips).
In either case, cost rises. Conversely, if an enterprise builds a datacenter to fulfill its current requirements, and subsequently its business goes through negative growth, the remaining extra capacity would result in wastage of money already spent. This is hardware-level scalability. At the software level, scalability is generally termed as elasticity, which refers to offering users resources per their requirements and charging accordingly.
Azure Stack and Scalability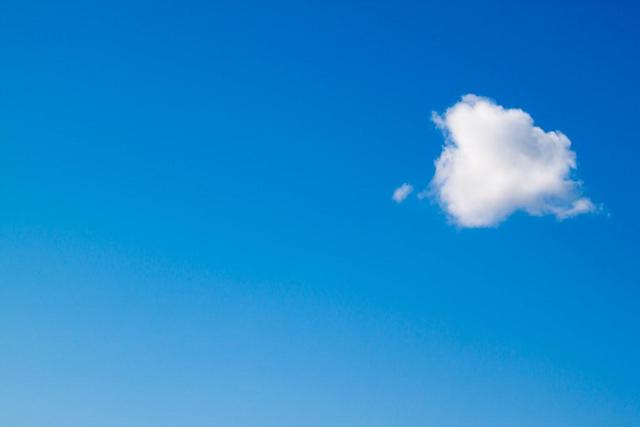 Azure Stack is for two distinct groups of users, viz., (1) the cloud service providers and (2) the tenants who consume their service. Microsoft is offering Azure Stack via its hardware partners including Dell EMC, HPE and Lenovo at the initial stage. Azure Stack will offer scalability to the enterprises via binding it with Project Olympus, its open source hyperscale cloud hardware design.
Azure Stack will offer scalability (read elasticity) at the software level. It will allow cloud service providers to offer their services in Platform-as-a-Service (PaaS) mode to the tenants in the same way Microsoft offers its services to them. Such services include a combination of Microsoft's services and services of other 3rd party providers, including SQL Server databases, SharePoint, Exchange, VMs (virtual machines), and many more. For the tenants, consuming services will be extremely elastic since Azure Stack will help service providers offer them a wide variety of customizable plans.
Despite that, without integrating hardware with software it's impossible to offer really meaningful scalability at the global level. AWS has one of the world's largest custom-made hardware and network, which helps the company save money and in turn offer customers its cloud services at a cost-effective rate. James Hamilton, an AWS VP, said:
We've got, in the same company... digital designers working on (chipsets), hardware designers working on NICs (network interface cards), and software developers.

...

We run our own custom-made routers, made to our specifications, and we have our own protocol-development team. It was cost that caused us to head down our own path, and though there's a big cost (improvement)... the biggest gain is in reliability.
AWS is also offering consumers/tenants the power of FPGAs (field-programmable gate arrays). Recently, AWS has introduced FPGA-driven elastic cloud, known as Amazon EC2 F1. It will allow developers to exploit the power of FPGA hardware accelerators for developing their applications via creating an Amazon FPGA Image or AFI.
To learn more, I would recommend investors watching the Amazon EC2 F1 Instance webinar:
In order to beat AWS at the hardware level, Microsoft's aim is to build the next generation hardware platform for cloud via partnering with the Open Compute Project (OCP). Microsoft's initiative to build a new highly scalable hardware and software ecosystem for cloud consisting of Azure Stack and Project Olympus will help it offer customers cloud services at a cheaper rate.
However, whether Microsoft would be able to beat AWS in price competition will completely depend on how quickly Project Olympus redefines cloud hardware platform in an open source environment. Since AWS is pretty smart in terms of time in rolling out smart products, Microsoft needs to build out a complete cloud ecosystem based on software and hardware as soon as possible. Intel (INTC) will be Microsoft's premier platform partner in Project Olympus. In addition, Nvidia (NVDA) and AMD (AMD) will also contribute to Project Olympus.
With Project Olympus, the Wintel partnership is trying to come back in the world of computing with a vengeance. Microsoft said, "Intel has been a premier platform partner for Project Olympus and the Intel Xeon Scalable Processor will be a cornerstone for this new platform."
Microsoft has also collaborated with Intel in making Intel's Arria-10 FPGAs. These FPGAs will be deployed on Project Olympus servers in order to create a "Configurable Cloud," a term coined by Microsoft.
Since I am optimistic on Intel's Xeon Scalable processors and the associated AVX-512 software platform, I believe Project Olympus will succeed in the long run. This article of mine explained why I am optimistic on Xeon Scalable processors. But investors should note that when I say long run, I mean approximately two years. Creating a full-blown open source hardware ecosystem for supporting software development in the cloud will certainly take time. The question is how much of Microsoft's initiative is factored into its stock price?
Investors' Angle
Despite the availability of Azure Stack from September, I believe AWS will continue to remain the most dominating force in cloud at least in the next two years. That being said, investors should also remember that stock market is forward-looking. I expect that Microsoft will also become an equally dominating force from 2019 onward.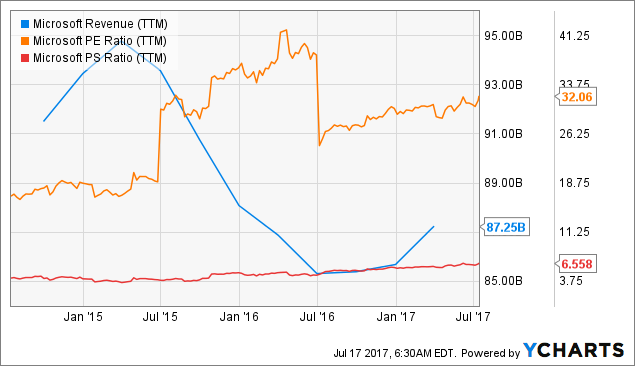 MSFT Revenue (TTM)
data by
YCharts
Microsoft's revenue started to climb up since the middle of last year after falling sharply in the preceding twelve months. However, the revenue growth might not sustain due to severe competition from AWS. I expect the trailing 12-month revenue curve to remain flat to positively sloping in the next four to six quarters.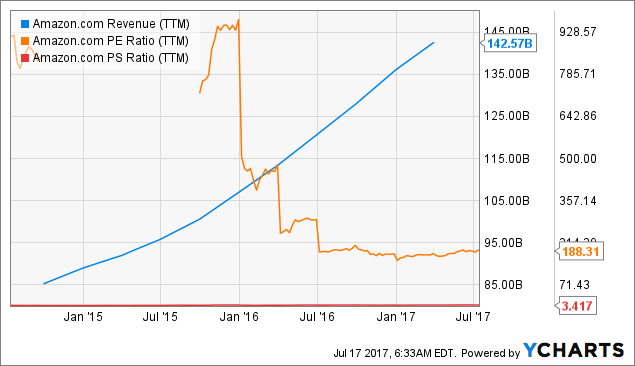 AMZN Revenue (TTM)
data by
YCharts
Microsoft is trading at a P/E multiple of 32x (compared to Amazon's 188x), and P/S multiple of 6.6x (compared to Amazon's 3.4x), which tells me the Street is more interested in focusing on Amazon's P/S multiple, which is lower than that of Microsoft. For Microsoft, though, the Street seems to be considering its P/E multiple. Why, since Microsoft failed to deliver secular revenue growth in the past three years.
Since I believe Microsoft will also deliver secular revenue growth once Project Olympus helps the company build a full-fledged cloud ecosystem, I expect the stock to outperform the market in the next two years.
Conclusion
I expect that Azure Stack will boost Microsoft's revenue modestly in the second half of 2017. However, going into 2018 revenue growth is expected to taper-off before a secular growth in revenue starts sometime in 2019. I would recommend long-term investors buying the stock on dips.
Disclosure: I/we have no positions in any stocks mentioned, and no plans to initiate any positions within the next 72 hours.
I wrote this article myself, and it expresses my own opinions. I am not receiving compensation for it (other than from Seeking Alpha). I have no business relationship with any company whose stock is mentioned in this article.