Welcome to the chart edition of Oil Markets Daily!
The growth-to-value rotation is currently underway in the market, and our main theme for the second half of 2017 is for value stocks to start outperforming again. The value basket includes financials (XLF), materials (XLB), energy (XLE) and cyclicals in general.
Below are some important charts we are watching as we believe many sectors are at key technical turning points.
Chart A - Value ($IVX) to Growth ($IGX): The rotation between the two sectors started in June. While value has sold off relative to growth at the start of July, it appears to be just a technical consolidation trend taking place.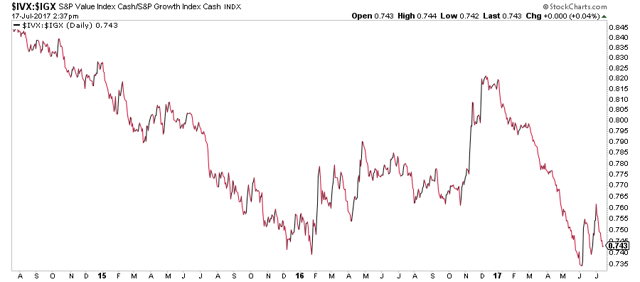 Chart B - S&P Oil & Gas Producers (XOP) to S&P 500 (SPY): The downtrend for the S&P oil and gas producer ETF remains intact, but as the sector tested the 2016 bear market lows, recent price strength has seen the sector perform relatively well to the broader market averages. A failure to break the downtrend will likely see oil and gas producers continue to underperform.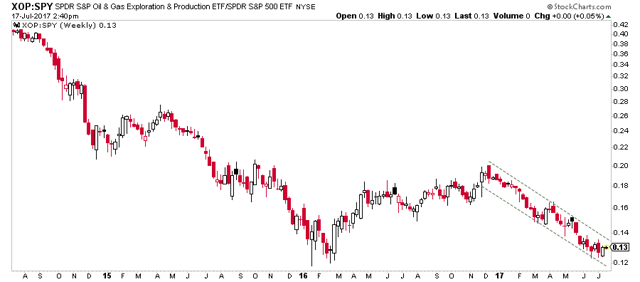 Chart C - Energy (XLE) to Technology (XLK): Energy has managed a slight outperformance relative to tech since the start of June, but, so far, it has failed to hold the gains. We continue to believe that the recent weakness in energy stocks is just a consolidation phase for the sector. This chart will be especially important to watch as it will gauge investor sentiment for the hottest sector in the index vs. the least liked sector.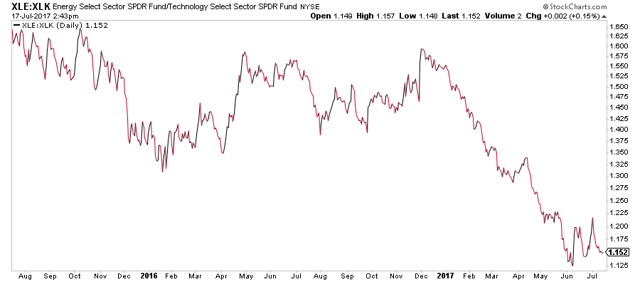 Chart D - Copper to Gold (GLD) Ratio vs. U.S. 10-Year Treasury: The last important chart we are watching is the copper-to-gold ratio vs., the 10-year treasury yield. The ratio has historically had very close positive correlation to interest rates. Higher interest rates indicate better economic growth and with central banks around the world reducing stimulus, yields globally will continue to rise.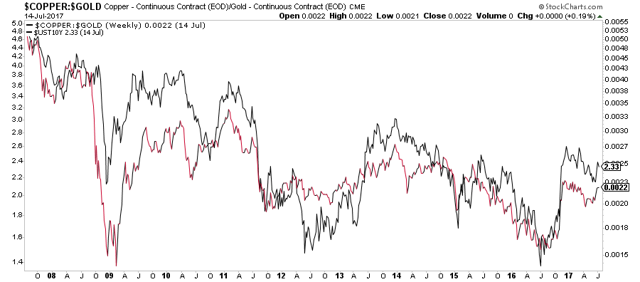 Bottom Line
We will be watching these charts closely as they will give us clues as to whether the growth-to-value rotation, tech-to-energy rotation, and global reflation trends will continue. We think investors should also be on the lookout for these trend reversals in the next several months.
Disclosure: I/we have no positions in any stocks mentioned, and no plans to initiate any positions within the next 72 hours.
I wrote this article myself, and it expresses my own opinions. I am not receiving compensation for it (other than from Seeking Alpha). I have no business relationship with any company whose stock is mentioned in this article.