While gold prices have seen a rise in 2017, there has been a dip back to a level of $1229 at the time of writing. Moreover, gold prices still remain significantly below the peak of $1375 seen in 2016: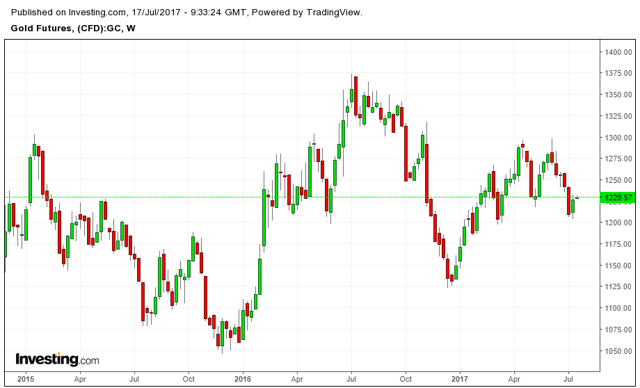 However, the situation surrounding gold seems to be somewhat changing right now. Gold prices have edged slightly higher due to the Federal Reserve taking a more cautious stance regarding raising interest rates in the near future. However, in spite of the dip in gold price levels from 2016, demand from China and India also appears to be revitalising.
While it's not necessarily a given that gold prices are set to go up simply due to potential delays in rate hikes on the part of the Federal Reserve, prices did edge up slightly to a two-week high after lower than expected inflation figures cast doubt on whether a rate hike is in fact still in the cards for 2017.
It is important to remember that gold prices (and commodity prices more generally) are in large part driven by sentiment – with Brexit fears and a significant decline in the USD having sent prices higher in 2016. Indeed, gold did rise for a time after June in the light of Brexit, but any gains had been cancelled out by October.
The US dollar itself has taken a decline in the past year, trading at lows not seen since May of last year.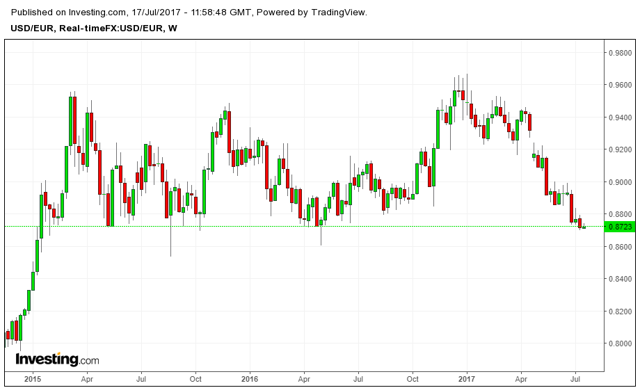 Notwithstanding that Brexit has already taken place, negotiations are indicated to have not gotten off to a good start. In this regard, it is possible that markets may become more risk-averse which would result in a rise in gold prices.
Moreover, the premiums for gold in China have risen to a three-year high, which has been primarily due to significant restrictions on gold imports into the country.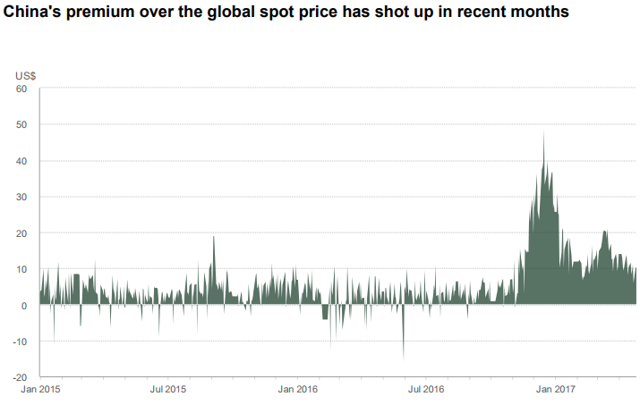 Source: World Gold Council: Gold Demand Trends Q1 2017
However, prices have also been rising due to yuan weakness and concerns over the real estate market. Moreover, while gold demand saw a slump in India last year due to a shock demonetisation, the rebound in remonetisation should continue to support gold demand going forward: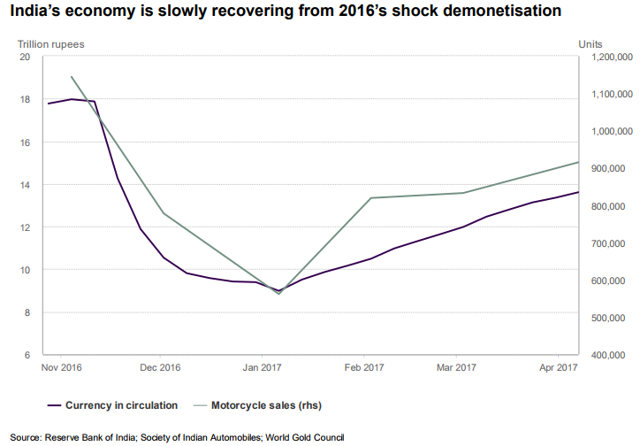 Source: World Gold Council: Gold Demand Trends Q1 2017
In this regard, current economic factors seem to resemble that witnessed in 2016. Should concerns regarding US inflation grow, along with a rising demand from China and India, then it is quite possible that prices could rise from here.
Disclosure: I/we have no positions in any stocks mentioned, and no plans to initiate any positions within the next 72 hours.
I wrote this article myself, and it expresses my own opinions. I am not receiving compensation for it (other than from Seeking Alpha). I have no business relationship with any company whose stock is mentioned in this article.