Shares of KLA-Tencor (NASDAQ:KLAC), the leader in Process Control market and a leading Semiconductor Equipment - Wafer Fabrication company, has delivered impressive YTD returns of 26.64%. This compares with a 17.26% rise in the Nasdaq Composite [INDEX:COMPX], indicating that KLAC stock has beaten the market benchmark comprehensively. The company, backed by strong fundamentals, has returned to growth in the last three years, and revenues in 2017 could be the highest since its inception, set for a 16% YoY increase. EPS could register a much better YoY growth in 2017, coming in at 31%. In Q3 2017, the company reported revenue growth of 28.3% YoY and an EPS growth of 43.75% YoY. The company has strong profit margins, with an operating margin of 36.9% and a net profit margin of 27.2% (ltm).
SEMICON West mid-year semiconductor equipment forecast looks very positive
At the recently concluded SEMICON West, SEMI released its mid-year forecast which states that worldwide sales of new semiconductor manufacturing equipment are expected to see a growth of 19.8% to total $49.4 billion in 2017. In other words, the semiconductor equipment market would beat its previous all-time high of $47.7 billion set in 2000. 2018 is also expected to be another record-breaking year for the global semiconductor equipment market with a 7.7% YoY growth, totaling $53.2 billion. Further, the SEMI mid-year forecast also predicts that wafer processing equipment is expected to see a 21.7% increase in 2017 to come hit $39.8 billion. The other front-end segments consisting of fab facilities equipment, wafer manufacturing, and mask/reticle equipment are also expected to see a big increase of 25.6% YoY to total $2.3 billion.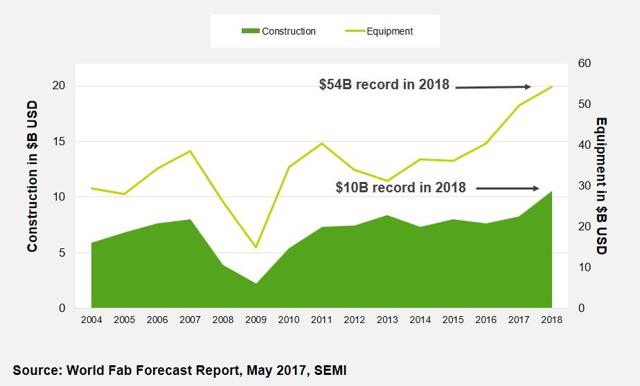 The overall solid forecast for semiconductor equipment bodes really well for KLA-Tencor, especially, the strong growth projections for front-end segments of semiconductor processing. As the company has a special focus on the front end of semiconductor processing, the above projections look very promising. Also, KLA-Tencor dominates the process control sector with a market share of more than 50% placing it in a better position to make the most of the bullish market predictions.
Further, the China opportunity could be a great growth catalyst for the company going forward. The company had also highlighted this during its presentation at the Cowen And Company Conference last month. Although SEMI's predictions about China's semiconductor equipment market's annual growth in 2017 are minimal (about 1%), the 2018 projections suggest China's annual spending in 2018 will grow at over 55%, exceeding $10 billion. China is expected to rank second in worldwide spending in 2018. In 2017 alone, a total of $6.7 billion spending on semiconductor equipment by China is predicted.
What to expect from KLA-Tencor's Q4 2017 earnings?
The semiconductor equipment company is scheduled to report its Q4 2017 earnings on 27th July. The company guided for June quarter revenue to be in the range of $885 million to $945 million with non-GAAP diluted earnings between $1.46 to $1.66 per share. Analysts expect the company to post revenue above the midpoint of its guidance. The average analyst estimate expects the company to report revenue of $923.81 million and an EPS of $1.59. For Q4 2017, KLA-Tencor has very tough comparables to beat. In Q4 2016, the company had delivered revenue of $919.17 million with an EPS of $1.77. The drop in earnings in Q4 2017 could be partly attributed to higher operating costs which were guided to be in the range of $234 million and $238 million, up from $224 million in Q3 2017. The reasons cited for increased operating expenses were higher compensation expenses and prototype materials expenses for current programs. The company has also guided for gross margin to come in between 62.5% and 63.5%. The Q4 2017 shipments are expected to be in the range of $890 million to $970 million. The second half of 2017 is expected to be much better in terms of shipments.
The company is expected to have strong performances going forward with a very positive outlook for the semiconductor equipment market. KLAC stock could be good growth play, having returned to strong growth in the last three years. On top of it, the stock has a decent dividend yield of 2.13%. The company had recently increased its dividend by 9%. The stock had seen a major dip after the Goldman Sachs's tech bubble note on June 9th. However, the stock is building some strong momentum going into earnings. KLAC stock had recently broken above its 20-day and 100-day SMA. KLA-Tencor shares face their next resistance at the 50-day SMA which is a few cents away from its last close (July 14th) at $99.93. A breakout above the 50-day SMA with the Moving Average Convergence Divergence (MACD) indicator trending up could result in the stock testing its all-time highs going into the earnings announcement.
Disclosure: I/we have no positions in any stocks mentioned, and no plans to initiate any positions within the next 72 hours.
I wrote this article myself, and it expresses my own opinions. I am not receiving compensation for it (other than from Seeking Alpha). I have no business relationship with any company whose stock is mentioned in this article.
Additional disclosure: This article was written by Sreekanth Anasa, an equity analyst at Amigobulls. Neither Amigobulls, nor any members of its staff hold positions in any of the stocks discussed in this post. The author may not be a certified/registered investment advisor, and the opinions expressed should not be treated as investment advice. Buying and selling of securities carries the risk of monetary losses. Readers/Viewers are advised to carry out their own due diligence and consult their investment advisors before making any investment decisions. Neither Amigobulls, nor the author have any business relationship with any of the companies covered in this post.