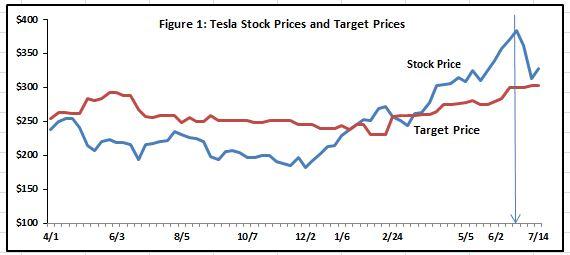 (Source: Bloomberg)
Shares of Tesla, Inc. (NASDAQ:TSLA) have been consistently trading 25% over consensus target prices for last ten months. However, according to the same group of analysts, TSLA is currently fairly priced (Figure 1). The main reason that drove the stock to drop almost 20% from its peak is that the 1H2017 Model S and Model X's delivery will come at the low end of the estimates. The subsequent 6% recovery resulted from the announcement that Model 3 will start production in July and scale up by the end of the year. Despite the bull and bear's routine rhetoric, Tesla stock prices, which are the only relevant issue here, are finally starting to respond to fundamentals. As a result, I am estimating how TSLA will react to forthcoming quarterly announcement.
Stock Reaction to Revenue Miss
Tesla plunged 7.5% on July 5 when the company reported more than 22,000 vehicle deliveries in Q2, down from 25,051 in Q1. This would have put 1H2017 production and delivery at the lower end of the forecast of 47,000-50,000 (see exhibit below).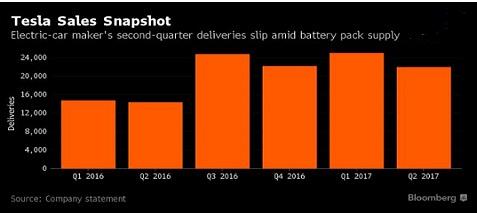 However, the largest one-day stock price drop since June 2016 may appear excessive, unless the market has considered the Q2 delivery miss a signal for either the slowdown in EV demand, or more seriously, a delay in the production of the forthcoming Model 3. This concern has been reflected by the analysts' downward revision of Q2 revenue by about $50 million (Figure 4) in just last two weeks (Source: Bloomberg).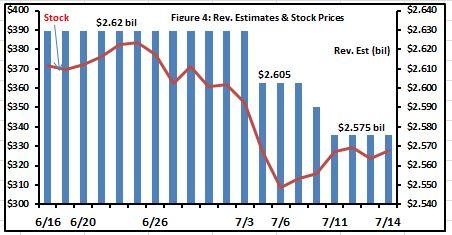 Tesla has been known for missing production and delivery schedule. As Model S, Model X, and Model 3 have been considered potentially "revolutionary" and "disrupting" the automobile industry, the delivery of such a product has been intensely anticipated by the investors. Historically, positive stock returns were associated with the production or revenue beats (see exhibit below). For the last five years, for every $10 million revenue miss, shares of Tesla have dropped 0.15%.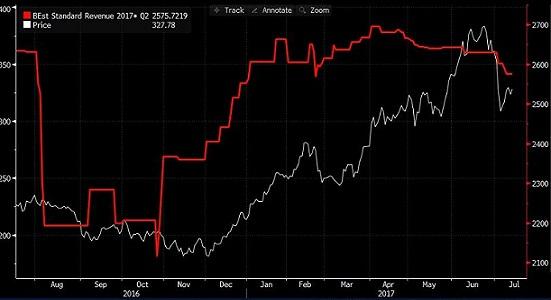 (Source: Bloomberg)
Using this metric, we can estimate the proper market reaction to the Q2 delivery miss. If the market was led to expect close to 50,000 cars 1H2017 delivery, this would suggest a 1,500-2,000 cars miss, or corresponding to a $150 million revenue miss. On this count alone, the stock should have lost 2.25%. Since TSLA has dropped more than 7.5% amid Q2 lower delivery announcement, it is my contention that stock prices have factored in Q2 revenue miss.
Stock Reaction to Earnings Miss
Historically, Tesla has never been profitable for an entire year. The management has stated that significant cost and expenses for the launches of Model S and Model X have been responsible for the historical loss. The Street estimates suggest that the profit margin will not improve materially until late 2018 (Figure 3).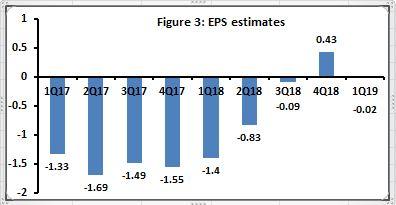 (Source: Bloomberg)
For shareholders, expectation of unprofitability has become "part of the life." This is why, for the last five years, there is no significant relationship between earnings surprise and stock prices (see exhibit below). Though it is in sharp contrast with most other companies, it does not seem likely the TSLA will react negatively to the expected Q2 earnings miss.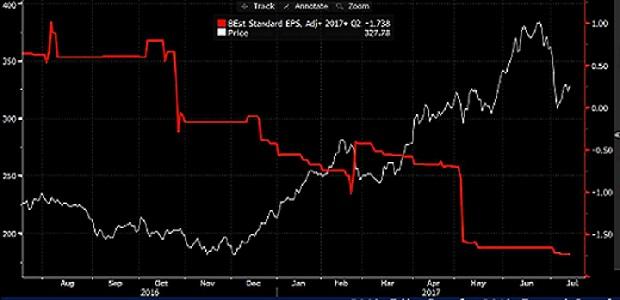 (Source: Bloomberg)
Critical Model 3 Guidance
So, if both revenue and earnings are not market-moving events, what are Tesla shareholders looking for from this point on? As the only wild card on the table is the realistic outlook for the Model 3 production and delivery, the current market expectation needs to be first formulated. Market prices will move to the difference between Q2's Model 3 guidance and the expectation. The following is some of the consideration to produce a reasonable estimate:
In 2016, Tesla estimated that 100,000-200,000 Model 3s will be made in 2017.
Tesla's management had a production target for Model S and Model X combined at 100,000 units per year. For 1H2017, the target is 47,000 to 50,000. With Q1's 25,418 units and Q2's 22,000, 1H2017 ended at the lower end of the forecast. Musk estimated that Model S and Model X delivery in the second half of 2017 will be at the high end of 50,000. As Tesla had projected that the total car sales is 123,500 units for 2017, the unaccounted 25,000-30,000 cars should be Model 3.
Musk had previously announced the "S curve" production schedule saying Tesla will ramp up the production to 5,000 cars a week (vs. 2,118 a week currently) starting last three months of 2017 and 10,000 cars. Using this argument, it may be inferred that 40,000-50,000 Model 3s can be made.
InsideEVs estimated that 25,000-35,000 Model 3s will be made in 2017. Adam Jonas at Morgan Stanley predicted that 2,000 Model 3s will be made in 2017 and 80,000-90,000 units for 2018.
Paulo Santos on SA estimated no more than 2,000 Model 3s will be made in Q3, the full quarter after its launch, and is not optimistic that the production will be enough to first cover the expected shortfall in Model S and Model X.
How Much Model 3 Revenue Has Been Priced in?
Based on the above forecasts, let's say optimistically that 15,000-20,000 Model 3s may be delivered in 2017. This would add $500 million to the revenue, or approximately 6% of the current market capitalization. However, following the announcement of Model 3 launch, TSLA has rebounded about 6%; this means that current stock price has factored in the delivery of 15,000-20,000 Model 3 by the end of 2017.
All hands on deck for Q2's Model 3 guidance!
Disclosure: I/we have no positions in any stocks mentioned, and no plans to initiate any positions within the next 72 hours.
I wrote this article myself, and it expresses my own opinions. I am not receiving compensation for it (other than from Seeking Alpha). I have no business relationship with any company whose stock is mentioned in this article.