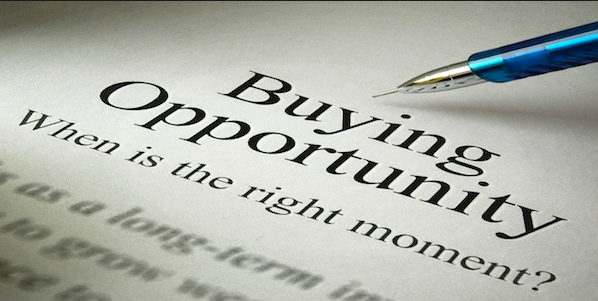 Exxon Mobil's (NYSE: XOM) stock has been bouncing along its 52-week lows for some time now. Nevertheless, we believe a reversal of fortune is in the cards.
Current Chart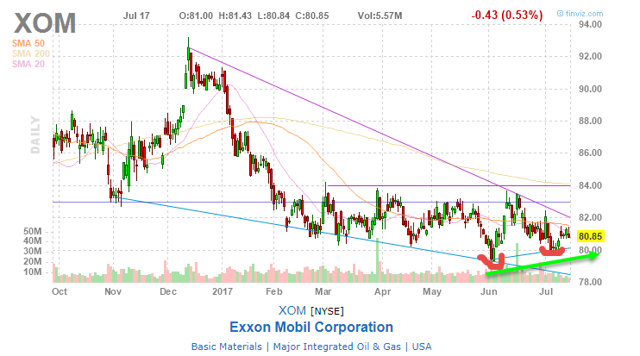 Source: finviz.com
The primary reason has been the bleak outlook for oil presently.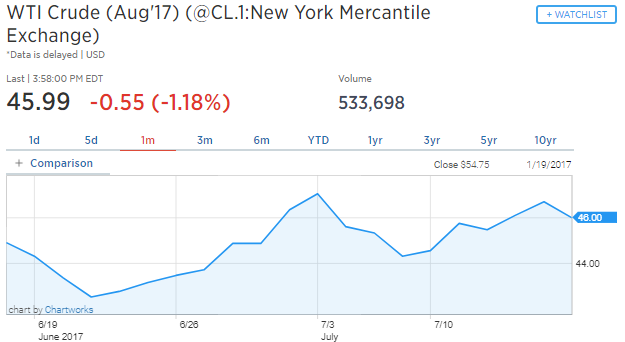 Source: cnbc.com
Nevertheless, oil prices rose 5% last week on signs of strengthening demand according to a recent report by CNBC.com. With oil's price standing at $45.28, investors are debating whether oil will hit $50 or $40 next. We are in the $50 camp. What's more, based on the 14% selloff in the stock, a substantial buying opportunity has been created for potential dividend growth and income investors. Let me explain.
PEG ratio of less than one
The PEG ratio is a broadly used indicator of a stock's prospective worth. It is preferred by numerous analysts over the price/earnings ratio because it also accounts for growth. Similar to the P/E ratio, a lower PEG means that the stock may be significantly undervalued. Many financiers use 1 as the cut-off point for PEG ratios. A PEG of 1 or less is believed to be favorable.
Exxon Mobil's PEG ratio of .89 is a bullish indicator regarding a stock's capital appreciation potential. My 12-month price target on the stock is $95. With the stock trading at $80 presently, that represents an 18.75% capital appreciation opportunity. Couple this with the current yield of 3.81%, and you have a 22.74% total return opportunity over the next 12 months. You have to buy low to sell high.
Contrarian thought process
As a contrarian investor at heart, I am always looking to buy solid companies trading at a discount. Many do not realize Exxon Mobil is probably the best positioned company to navigate the current oil glut. The company is on record stating it can still make money even of oil trades down to $40. Former Exxon CEO Rex Tillerson told CNBC his company's massive energy projects are decade-long investment decisions that have been tested to be successful even "at the bottom of the cycle." Tillerson stated:
"We test across a range all the way down to $40 and up to $120."
I would much rather buy Exxon Mobil at its 52-week low during an oil glut than when it's hitting a 52-week high during an oil shock. The fact of the matter is no one can predict the future price of oil. The only thing you can be sure of is oil's price is due to change.
We have lived in San Antonio, Texas, for the last 45 years. During this time we have seen many boom and bust cycles in the oil patch. One thing we can say for certain is that all oil busts lead to a boom 100% of the time without question. The question is… How long the cycle will last? To gain some historical perspective let's take a look at the history of the boom/bust cycles in oil. The following is a table detailing the every oil boom/bust cycle for the last 40 years.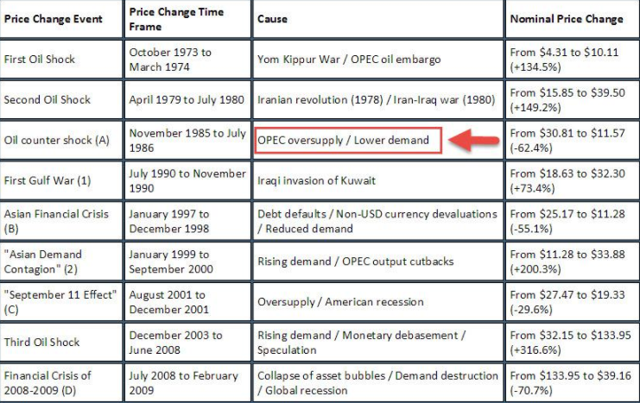 (Source: stlouisfed.org)
We were selling limited liability partnership units in oil and gas ventures as a registered FINRA securities representative during the last oil boom/bust cycle in 2008/2009. Our major takeaway from that experience was the fact that when oil was charging higher to over $133 a barrel, the peak oil theory was all you heard. Then, once the price broke and fell to $39, everyone was saying the peak oil theory was all a sham created by speculators. The fact is oil's crash was signaling that something was very wrong with the equity markets on a macro level. The crash in the price of oil was a foreboding precursor to the great recession.
Even so, we submit the current oil bust actually is more akin to the 1986 oil price crash. The scary thing is oil's price per barrel remained below $50 for the better part of two decades. That is the reason why many are predicting oil prices will stay lower for longer now. Nevertheless, that is why Exxon Mobil offers a solid opportunity at present due to its integrated model.
Exxon Mobil has the financial wherewithal
The company's integrated model greatly reduces Exxon Mobil's exposure to commodity price changes. Exxon's balanced and diversified portfolio of upstream, downstream and chemical business units vastly mitigate the company's commodity related risk. This will allow the company to weather lower oil prices much better than most. Another important point to remember is Exxon Mobil takes the dividend very seriously.
34 years of dividend growth
Exxon Mobil states it can weather a downturn in oil prices even if prices sink to $40 per barrel. The main concern for dividend growth investors is the growth, safety and security of the dividend. Exxon Mobil fits that bill as a dividend aristocrat.

Source: dividend.com
The company has grown the dividend for 34 years straight. The current yield is 3.81%. The annual payout amounts to $3.08 per share. Furthermore, a 4% yield has acted as a noteworthy backstop for the stock price over the past five years.

Source: dividend.com
Only once in the past five years has the yield breached the 4% mark. Moreover, the excursion into the 4% range only lasted for a very short period of time. What's more, whether oil prices go up or down it's a win-win for Exxon Mobil regardless.
It's a win-win scenario for Exxon Mobil
The drop in oil prices has shaken out many weak players. Whenever oil prices drop this drastically in short order there is bound to be carnage in the oil patch. Many companies are simply treading water at current prices. Furthermore, the drastic drop in the value of their proven reserves will crimp their ability to finance new endeavors and pay the bills.
Nevertheless, the super majors will swoop in and pick up assets for pennies on the dollar. Companies with the financial wherewithal to weather the storm, such as Exxon Mobil, will start snapping up assets at bargain bin prices if oil drops any lower. Exxon Mobil will come out on top and continue to grow the dividend regardless of oil's price fluctuations. Of this I have no doubt.
The Bottom Line
Right now, we rate Exxon Mobil a Strong Buy with a $95 12-month price target. As long-term shareholders we plan to stay the course and continue reinvesting our dividends. If you have a low risk tolerance, the most conservative approach would be to wait for the next earnings report to gain a better perspective prior to starting a new position. If you absolutely have the itch to start a position, we would not buy more than a ¼ position prior to earnings being announced on July 28th. We do not expect a huge move out of the upcoming earnings. Those are my current thoughts on the subject. I look forward to reading yours. Please use this information as a starting point for your own due diligence.
Your participation is required!
The true value of my articles is derived from the prescient observations of Seeking Alpha members in the comments section below. Do you believe Exxon currently represents a solid buying opportunity? What are your thoughts on oil's price going forward? Thank you in advance for your participation.
Final Note: If you found this article interesting please click on the follow button below. I would greatly appreciate it.
Disclosure: I am/we are long XOM.
I wrote this article myself, and it expresses my own opinions. I am not receiving compensation for it (other than from Seeking Alpha). I have no business relationship with any company whose stock is mentioned in this article.