When I dreamed of creating my own company, I wanted it to be a channel to help millions of people, and the First World Coffee Producers Forum last week in Medellin, Colombia, was a great opportunity to take another important step towards meeting that challenge.
At the beginning, it could have sounded crazy launching the first Commodity Trading Advisor in Colombia, a top-3 coffee producer country, when considering the extremely high level of difficulty of being a pioneer in a country where just a handful of people know the managed futures industry, where most financial investors use local products only and many people is scared of wiring their money out of the country because of recent Ponzi Scheme scams abroad.
But when you look even further than just the business potential of rising investors' assets to charge a management and a performance fee, but also of transforming your (and much loved) country through financial education and thus, enhancing the coffee sector from your knowledge and experience in financial derivatives, it pays off all the effort and cost of trying to be a game changer.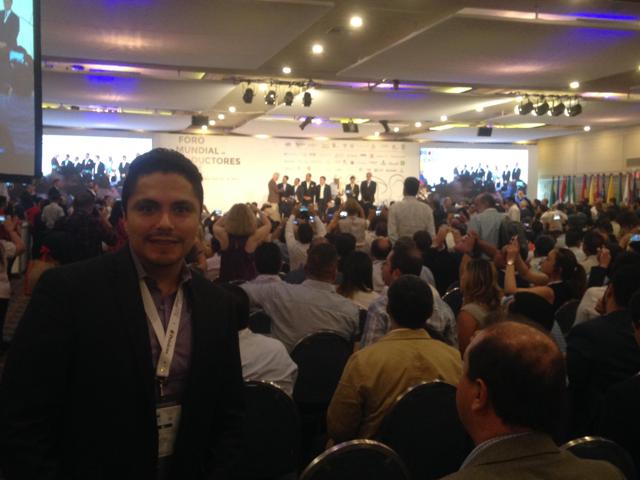 Forum's opening ceremony
"Profitability of coffee farming in many producing countries faces a critical situation even going through periods of losses, due to different factors such as: lower international coffee prices, which have dramatically deteriorated the coffee trade terms (reducing the purchasing power of coffee growers), low agricultural productivity, increasing production costs related to climate change and variability, and rising labor costs of production activities such as harvest". –Taken from Final Declaration of the First World Coffee Producers Forum.
I'll focus on my field of expertise: low prices to producers and excessive volatility.
At the ministerial panel, I had the opportunity to ask Ministers of Agriculture of producing countries: "If we agree that low prices are the main cause of low income, if we agree that a profitable price of coffee would be above $1.90 per pound, and if we know that the price has been above that level due to the same speculation that today has led the price to $1.30, such as in 2014 that was close to $2.40 and in 2011 above $3.00, what did we (the producing countries) do at those times to lock in profitable prices for the future and to protect our industries and growers against potential falls in prices in the future?"
The President of Colombia, Juan Manuel Santos, said on his remarks that one of the alternatives to enhance the whole coffee industry potential is through the promotion of the use of financial instruments as a risk hedging mechanism for producers. So, I continued my question: "Are your governments working in an initiative to educate and to train producers in the use of those financial instruments"?
The Minister of Agriculture of Mexico answered me that it must be clear to the industry the operating dynamics, creating confidence and credibility among growers, between growers and institutions, and between institutions and governments.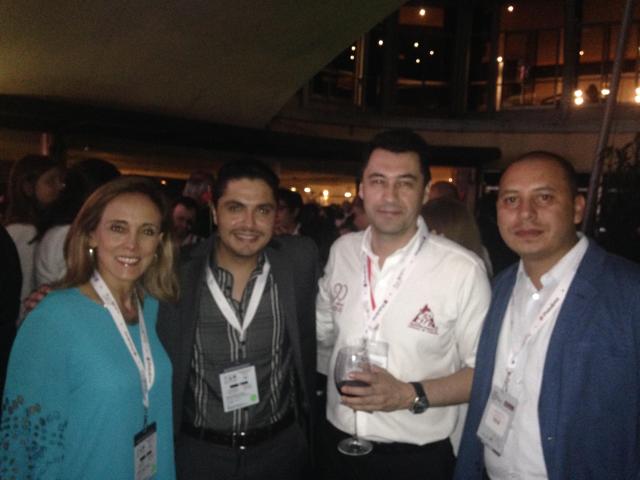 Forum's Welcome Cocktail
The First World Coffee Producers Forum was certainly an opportunity to expand my current network of contacts among Colombian and Brazilian coffee industry to players from India, Costa Rica, Mexico and Nicaragua, and I could realize that just a few players currently utilize forwards contracts and just a handful use futures and options contracts as hedging risk instruments for their businesses.
One of the conclusions at the work group of price volatility was creating new exchange contracts unlinked from the dynamics of financial markets and instead, linked from the reality of commercial chain and cost of production of coffee.
I will leave for another time the discussion about the possibility and rationality of having an exchange traded instrument that -as for every kind of good of services- prices would be affected by the law of supply and demand and thus, they would still be exposed to falls when supply gets stronger than demand. I will also postpone the discussion about a mechanism (if any) to charge the consumers the 5 cents proposed for each cup of coffee to give them to the producers.
While something like that happens (if it happens), a starting point, in my view, should be redefining current issues into potential opportunities.
Price volatility is here to stay and trading volume on the Coffee "C" futures and options contracts have grown significantly since the late 1990s, meaning that an eventual final of them is very far from happening still.
Darwin said: "It is not the strongest of the species that survives but the most adaptable"; this is applicable to the business world, and coffee production is a business; so, we adapt our business to this (just or not) reality or we cease to exist.
The price of a volatile commodity, such as coffee, not only falls too much, it also rises too much. Speculators activity in financial markets not only tends to exaggerate falls in prices, it does in rises as well. And those extreme rallies can (and should) be harnessed by producers for locking in high prices for future crops.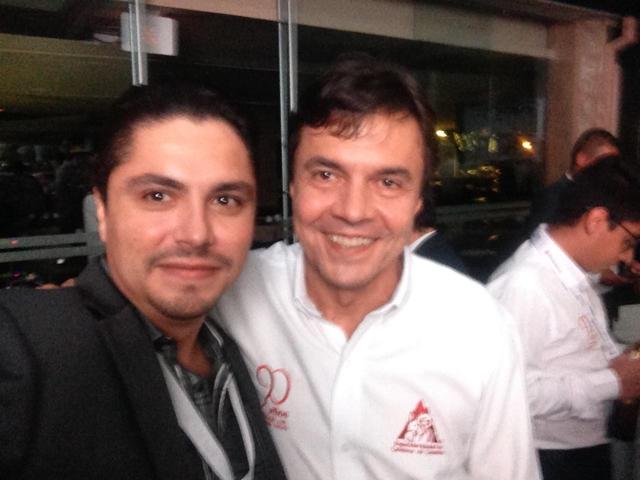 Me and Roberto Vélez, Director of National Coffee Growers Federation
Futures markets exist for the purpose of price discovery and risk transfer. It's our responsibility to start using the Coffee "C" futures and options as hedging risk instruments and not only as a benchmark for domestic prices of the coffee we produce with the highest standards of quality.
We have a great challenge ahead of us, but an achievable challenge: that all coffee producers can take advantage of the benefits of these financial instruments, to protect their business against adverse price moves, to enhance the profitability and capacity of the production side of the coffee chain, to increase the number of labor force through new entrepreneurs and new employees, and this way taking our economies to the next level.
In summary, we Colombians are honored to have hosted the First World Coffee Producers Forum, which was certainly the first step towards a higher level of cooperation among producing countries, to get closer the 125 million people that depend on the coffee industry to find solutions for keeping alive that delicious cup of coffee that makes us happier every morning!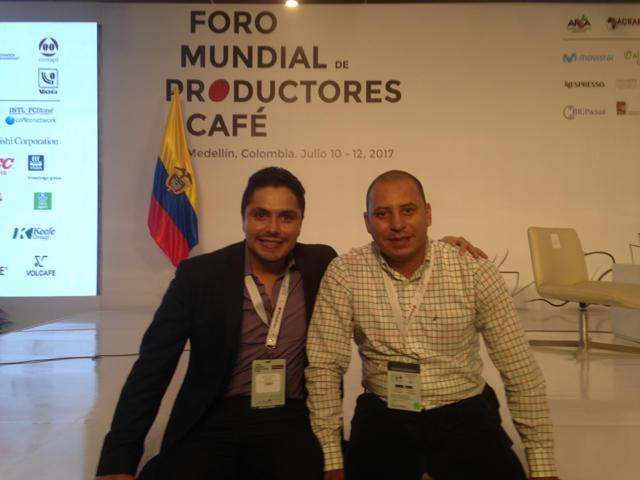 Cafe Trading Advisors team at the First World Coffee Producers Forum
See you at the next post!
(Sourced from: Coffee Insiders Blog)
Andres Agredo, Cafe Trading Advisors @CafeCTA / Commodity Trading Advisor, NFA Member
Disclosure: I am/we are long ARABICA COFFEE FUTURES.
I wrote this article myself, and it expresses my own opinions. I am not receiving compensation for it. I have no business relationship with any company whose stock is mentioned in this article.
Additional disclosure: This material should be construed as market commentary, merely observing economic, political and/or market conditions, and not intended to refer to any particular trading strategy, promotional element or quality of service provided by Cafe Trading Advisors. Cafe Trading Advisors is not responsible for any redistribution of this material by third parties, or any trading decisions taken by persons not intended to view this material. Information contained herein was obtained from sources believed to be reliable, but is not guaranteed as to its accuracy. The risk of loss in trading commodity interests can be substantial. You should therefore carefully consider whether such trading is suitable for you in light of your financial condition. This material is for informational purposes only and should not be construed as an offer or solicitation to buy or sell securities or commodity futures.