There has been a long-running debate on which is the "best" dividend-paying ETF. Offerings from Vanguard (VIG, VYM), iShares (DVY, HDV, DGRO), SSGA (SDY) and Schwab (SCHD) are usually on the short list, often supplemented by offerings from Powershares (SPHD, PEY) and First Trust (FVD). Let's throw in new upstarts from Fidelity (FDRR) and O'Shares (OUSA) for good measure. So far in 2017, there has been a wide dispersion of returns for this elite group of ETFs totaling just about $100 billion in combined assets. What happened so far in 2017, what is the cause, and where do we go from here?
All of the analyses, including my own, often drill down into the specific details of the investment philosophies embedded in the underlying indices that they follow. Whether the NASDAQ US Dividend Achievers Select Index (VIG), the Dow Jones US Select Dividend Index (DVY), or Dow Jones U.S. Dividend 100 Index (SCHD), they all have their own biases and rationales supporting their approach to stock selection. Not unlike choosing an active manager, you need to select an investment approach that you think has staying power through good and bad parts of the business cycle.
It goes without saying that you need to make a good choice! The most important reason is that this class of ETF tends to make up a big part of your long term strategic core holdings, especially if you are using these to generate spendable dividend income. Another reason is that as these holdings grow in value (hopefully!) over time, the embedded capital gains in taxable accounts will make it hard to rebalance to a different strategy since you wouldn't want to pay a large tax bill just to rebalance into another strategy.
The total return performance of these dividend-paying ETFs on a year-to-date basis has been quite disperse, though the returns are much more clustered over the 10-year horizon. Per the table below, you can see that on a year-to date basis VIG has been a big winner (+10.89%) with a moderate level of risk over a short-term horizon and PEY (+0.38%) a big loser so far in 2017. Over the 10-year horizon, FVD has the top return and PEY takes up the rear (again), but returns are much more closely grouped. Coincidentally, over these time horizons, the S&P 500 (SPY) has been one of the top performers, though with a bit more risk! Let's look at how the industry sector and market capitalization exposure weighting figure into the year-to-date performance dispersion.
| | | | | |
| --- | --- | --- | --- | --- |
| Name | Ticker | YTD Total Return 7/14/2017 | 10-yr Total Return 7/14/2017 | 3-yr Standard Deviation |
| Vanguard Dividend Appr. | VIG | 10.89% | 7.16% | 9.55% |
| Vanguard High Div. Yld | VYM | 5.60% | 6.85% | 9.72% |
| iShares Select Dividend | DVY | 5.48% | 6.10% | 9.04% |
| iShares Core High Dividend | HDV | 2.93% | n.a. | 8.98% |
| iShares Core Div. Growth | DGRO | 10.72% | n.a. | 9.95% |
| SPDR® S&P Dividend | SDY | 5.54% | 7.87% | 10.21% |
| Schwab US Dividend Equity | SCHD | 6.09% | n.a. | 9.54% |
| P.Shares S&P 500® High Div Low Vol | SPHD | 4.79% | n.a. | 9.60% |
| P.Shares High Yld Eq Div Achiev™ | PEY | 0.38% | 5.08% | 10.30% |
| First Trust Value Line® Div. | FVD | 5.36% | 8.25% | 8.77% |
| Fidelity® Dividend ETF for Rising Rates | FDRR | 9.08% | n.a. | n.a. |
| O'Shares FTSE US Qual Div | OUSA | 8.31% | n.a. | n.a. |
| SPDR® S&P 500 | SPY | 10.87% | 6.93% | 10.33% |
Within this dividend-paying universe, two major determinants of return are sector allocation and market capitalization. All of these ETFs will rebalance their stock selections within sectors and market capitalizations depending upon what stocks in the current market meet its selection criteria and set of constraints. If the selection criteria finds a best-fit stock within the utilities sector, that is what it will pick. Aside from some generous top-down sector constraints that some ETFs have, most of these ETFS are "sector-" and "market cap-agnostic"; they don't care where a stock "fits" in as long as it meets its criteria, i.e., it has a long history of paying dividends, has an acceptable dividend coverage ratio, or meets some other criteria in its stock selection algorithm and is not constrained to hold it.
Different sectors of the stock market have famously been providers of varied and volatile return profiles over the business cycle. Per the chart below, you can see that over the last 5 years, the finance sector (XLF, purple line ending on top) has been the winning sector with a cumulative price return of 113% compared to the energy sector (XLE, aqua line on bottom) cumulative price return of -4.93%, while the S&P 500 (SPY, bold line in middle) generated 79%. The other sectors shown meander somewhere within the boundaries shown. Clearly, sector choice matters and none of the indicated ETFs have a mandate to avoid any of the specific sectors shown just "because"; if a stock meets the selection criteria, it is in!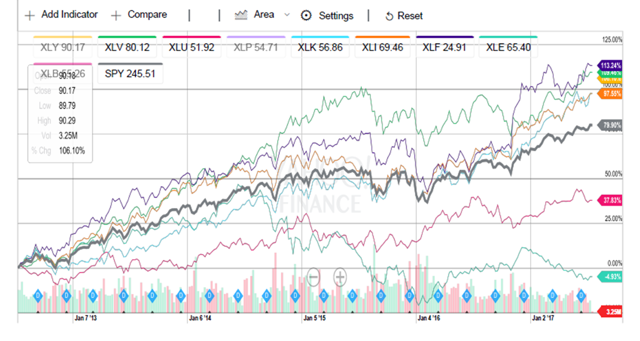 Dispersion of returns by sector on a shorter horizon year-to-date basis is equally wide. Note on the table below the range between the best and worst performing sectors. The best-performing sector year-to-date has been technology (XLK) at 18.51% and the worst performing has been energy (XLE) at -12.06%. Certainly a reason to be right about sector selection!
Name

Ticker

Total Return YTD

7/14/2017

Consumer Discret Sel Sect SPDR

11.47%

Health Care Select Sector SPDR

17.12%

Utilities Select Sector SPDR

8.57%

Real Estate Select Sector SPDR

6.24%

Cons. Staples Select Sector SPDR

7.21%

Technology Select Sector SPDR

18.51%

Industrial Select Sector SPDR

12.62%

Financial Select Sector SPDR

7.98%

Energy Select Sector SPDR

-12.06%

Materials Select Sector SPDR

12.04%
Source: Morningstar
All of the dividend-paying ETFs shown have diverse sector profiles compared to the S&P 500 and some are more diverse than others. From the table below showing sector allocation differences from SPY, you can see that there are many occurrences where sector overweight/underweights exceed 10%. For example, VIG has a significant underweight (yellow shadings) to information technology (-10.15%), like most of the other ETFs, but instead overweights industrials (+17.58%) whereas the others have overweights (green shading) in utilities or consumer staples. The industrial sector (XLI), has been on a tear this year with a YTD total return of 12.62%, and this has translated directly into VIG's significant outperformance compared to the other ETFs. Likewise, PEY and DVY's significant underweights to healthcare (-12.68% and -11.74%) has been a drag on its YTD performance given healthcare's (XLV) stellar YTD performance of +17.12%.

Source: Fidelity
Market cap size is also important. In the current year-to-date market environment where large cap, especially the growth variety, has been a decided winner, any underweights there will be a drag on performance. For example, the ETFs with larger underweights to large cap such as DVY, SDY, SPHD, and PEY (yellow highlights) have all lagged on performance. FDRR, also with a large cap underweight, surprises on the upside with a neutral sector weighting to offset this negative profile.

Source: Fidelity
So what do we do with this information? For some of the dividend-paying ETFs that show an unusual sector or market cap position, some commentators would suggest a complementary ETF allocation to fill a gap in a specific ETF's asset mix. For example, if you hold DVY, buy some XLV to fill in the healthcare gap. Some readers, though, would also view this as folly! Why buy a mix of ETFs to ultimately rebalance back to the S&P?
The best approach is to buy into a strategy that has a sound underlying stock selection basis and stick to it. Over time, if the selection criteria are sound, each of these ETFs will roll into and out of favor depending on the part of the business cycle and how their selection criteria fits into it. Chasing returns is not the approach to follow for this space. The rebalancing approaches followed by these ETFs is gradual and won't respond quickly enough to capture some algorithmic signal of prospective returns (whether right or wrong!) Moreover, trying to pick a dividend-paying ETF that is positioned to outperform based on some perceived underlying trend is not the way a long term strategic holding should be managed, especially since the favored ETF may begin to rebalance away from the asset mix you might favor. After all, isn't that why the market is moving away from active management, to avoid underperformance due to mistaken active positioning?
Over the most recent 10-year investment horizon, all of the listed dividend-paying ETFs generated annualized total returns clustered between 5% and 8%, compared to 7% for the S&P. Other factors like the dividend yield, risk profile, maximum drawdown, and expense ratio come into play, too. Though there were winners and losers, you could not be too far out of the park with any of them. Pick the one that you think has the best combination of factors and has a reasonable stock selection criteria that you believe in and stick with it.
P.S. Thanks to The Monkees for the inspiration for the title of this article from their classic 1960s hit. Take a listen!
Disclosure: I am/we are long DVY. I wrote this article myself, and it expresses my own opinions. I am not receiving compensation for it (other than from Seeking Alpha). I have no business relationship with any company whose stock is mentioned in this article.