Snap (NYSE:SNAP) is running out of ideas, as the company battles for survival in a fresh round of short selling that has plagued the digital marketing play since its IPO.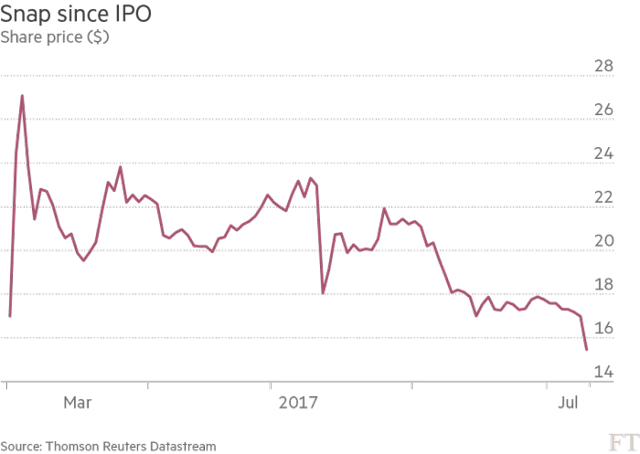 Source: Financial Times
If mal-valuation is a valid word, tagging it to shares of Snap seems perfect given the level of irrationality we are currently witnessing. I've never seen so much unjustified short selling on a company that has barely found its footing in its market niche. True, competition doesn't care, but this isn't about competition. This is about a blatant dismissal and misunderstanding of a growth play which is still in its infancy.
Though, management might have erred on the side of over-promising and under-delivering, regardless, all I see is pure innovation on one side and cynicism on the other.

Those Ads are More Than Ads
The narrative that Instagram will crush Snap is so over flogged and abused that we need to give it a rest. When Snap said it was a camera company, the first thing that came to the mind of naysayers was GoPro (NASDAQ:GPRO). Blatantly, Snap is not a GoPro and it will never be.

Snap is an innovative cross between the future of advertising and social media. However whenever shorts open their eyes, all they see is single-digit share price in a future that is onboarding more internet user, video creators, and consumers than ever before. These fear-inducing tactics that Snap is yet another Twitter (NYSE:TWTR) or GoPro has been echoed so loud that I fear it might be paralyzing the creative frequency across innovative desks at Snap. How so?

Just look at its most recent acquisition. A location-based service (Snap Map) when the plague on the street is screaming a dearth of competitive ROAS on major ad platforms. Twitter got its diagnosis some years back when it became clear that MAU and ad load woes were little compared to the need for advertisers to break even on ad spend. This diagnosis kick-started the death of premium ad inventories on a large scale for ad networks with limited MAU compared to giants like Facebook (NASDAQ:FB) and Google (NASDAQ:GOOG) (NASDAQ:GOOGL). Therefore, making huge investments in intelligence-driven ad serving and measurement APIs was a no-brainer for Snap post-IPO, given the level of impatience on the Street.

Months later, however, it appears bluffing no longer works. The Street is not ready to listen to narratives that don't point to higher ROIC and shares on Snap have suffered in kind.

What Happens to the Short Thesis?
There you have it. Snap handed those shorts the confidence they needed. In the absence of a competitive ad engine, advertisers are not going to buy the narrative for premium-priced ads and will most likely pull out after a few months of advertising on the platform. The best effort post-IPO has been the launch of a self-serving platform. That is a drop in the ocean when compared to the intelligence and data driven capabilities of bigger platforms like Google and Facebook. Interestingly, Snap can't even blame it on lack of content given that Snapchat has one of the fastest growing engagement rate and average session duration per user. Whatever Snap is doing with all that content, one thing remains clear, the platform is still under monetized.

Right now, all that is needed is the confidence to make the big leap by investing in a more competitive ad platform. Further acquisitions or product feature release will only be conceived by the Street as an effort to distract investors from the big issue; a competitive ad engine.
Going Forward
Every passing day knocks more strength into the spine of short sellers as time plays a critical factor in the willingness of advertisers to stick with Snap's ad platform.

In seasons of economic prosperity with bloated marketing budgets, expanding valuation multiples will suffer a minimal hit. However, from a macro level down to internal survival strategies being adopted by 21st century brands, using data and analytics to drive valuation remains key in the mind of global leaders. We are in the era of big data, an era in which survival depends strongly on the ability to channel user-generated feedbacks to create better innovation or lose market share to competitors that are antifragile to change. Snap seems to be a slow innovator in this trend.
The Sauce and the Secret
In one of the numerous success stories, it appears Wall Street actually believes the story as highlighted by Goldman Sachs' appearance in the list of successful brands that have leveraged the viral nature of Snap's ad assets. A lot more brands have also recorded massive success stories. The only roadblock going forward will be discipline executing in the face of competition. Snap's little history doesn't provide much signal to be strongly bullish.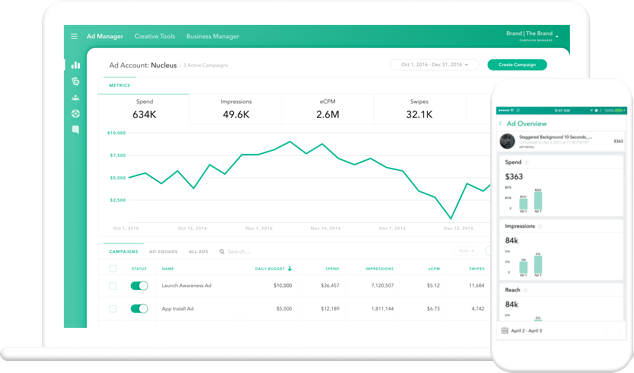 Going forward, Snap needs to move fast from the basic measurement and analytics ad engine depicted in the image above or naysayers will continue to have a solid reason to back their short thesis, which is Snap's confidence taking a knife to a sword fight.
Disclosure: I/we have no positions in any stocks mentioned, and no plans to initiate any positions within the next 72 hours.
I wrote this article myself, and it expresses my own opinions. I am not receiving compensation for it (other than from Seeking Alpha). I have no business relationship with any company whose stock is mentioned in this article.