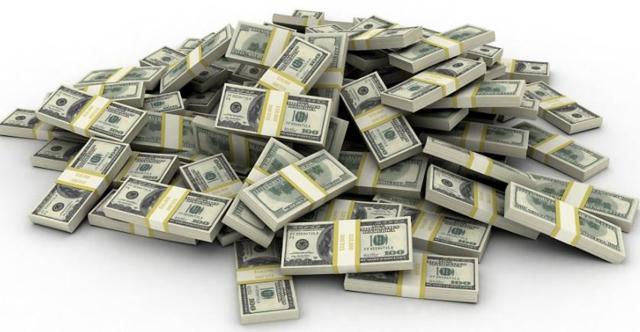 As a value oriented, high-yield, contrarian investor, my strategy is simple: buy the best names in whatever industry Wall Street hates most.
In other words, something is always on sale, so that's where I'll deploy my capital.
Right now, REITs are one of the most undervalued sectors. Skilled nursing facility, or SNF REITs in particular, have languished over the years, due to market uncertainty surrounding potential changes in government healthcare spending and now the risks surrounding the GOP's attempts to repeal ObamaCare.
Which is why, when I heard that Sabra Healthcare (NASDAQ:SBRA) was buying one of my SNF REITs, Care Capital Properties (NYSE:CCP), I was excited to see what the combination of these two high-yielding REITs would mean for the future of their combined dividend growth potential.
After a careful examination of the deal, I concluded that while the new Sabra will indeed be a solid high-yield dividend growth choice, it still can't beat the industry's best name, Omega Healthcare Investors (NYSE:OHI).
So let's take a closer look at this SNF merger to see what investors in both Sabra and Care Capital Properties need to know, but also why Omega Healthcare is still likely to offer the industry's best total returns in the coming years.
Sabra + CCP Merger Is A Very Good Idea...
On May 8th, Sabra Healthcare announced it was buying Care Capital Properties in a $7.4 billion all-stock deal.
CCP shareholders will receive 1.123 shares of Sabra, however, when the deal closes in Q3 2017, will end up owning 59% of the new REIT, which will retain the Sabra Healthcare name and ticker.
Of course, what matters to long-term dividend investors is what the deal will mean for future dividend safety and growth potential.
Fortunately, from those perspectives, the deal is a big win for shareholders of both REITs. That's because the new Sabra Healthcare will now be the nation's second-largest SNF REIT, with 564 properties across 43 states and Canada, and leased out to 70 tenants.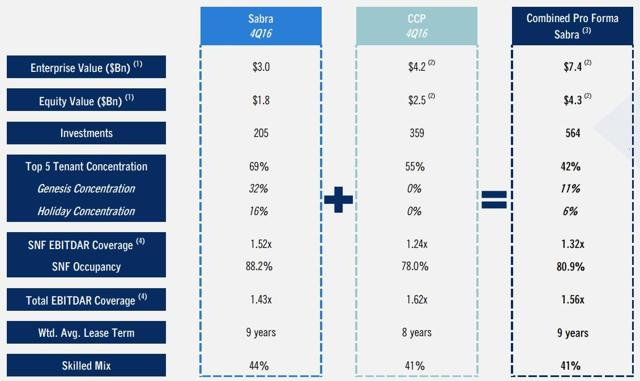 (Source: Sabra Healthcare Merger Presentation)
More importantly, the combined REIT will benefit from a far more diversified collection of triple net lease rental contracts (tenant pays maintenance, taxes, and insurance) with an average remaining lease of 9 years.
This will ensure very good cash flow predictability with which to pay the generous dividend and hopefully grow it in the future.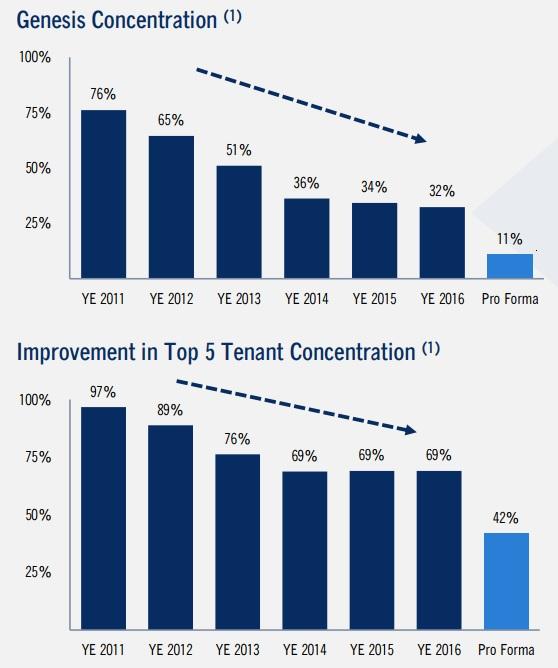 Another important benefit to the deal is that it helps Sabra in its long-term goal of decreasing dependence on Genesis Healthcare (NYSE:GEN), the troubled SNF operator that bought out the REIT's single tenant back in 2012.

In recent years, Genesis has suffered from a declining fixed charge coverage ratio due to excessive debt levels, rising costs, declining government reimbursement, and several DOJ settlements.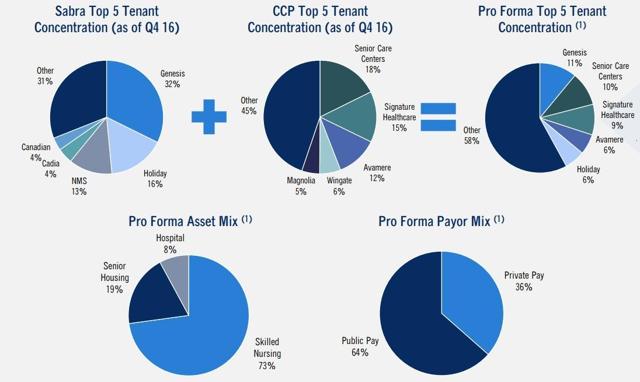 Finally, the deal also diversifies Sabra's properties away from its focus on SNF facilities and into more stable revenue sources, such as private pay retirement homes and hospitals.
This is a big advantage in an industry where the US government, via Medicare (SNF facilities) and Medicaid (retirement homes), is usually the single largest source of cash flow for a tenant.
... But Omega Healthcare Remains The Gold Standard Of SNF REITs
The SNF industry is highly fragmented, but Omega Healthcare has proven itself a master of well-executed industry consolidation.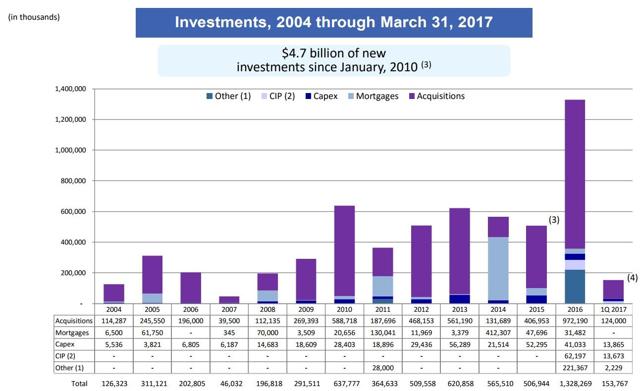 (Source: Omega Healthcare Investor Presentation)
In fact, thanks to $4.7 billion in acquisitions of its own in the past seven years, Omega Healthcare has grown into the largest SNF REIT, with 972 properties in three countries on two continents.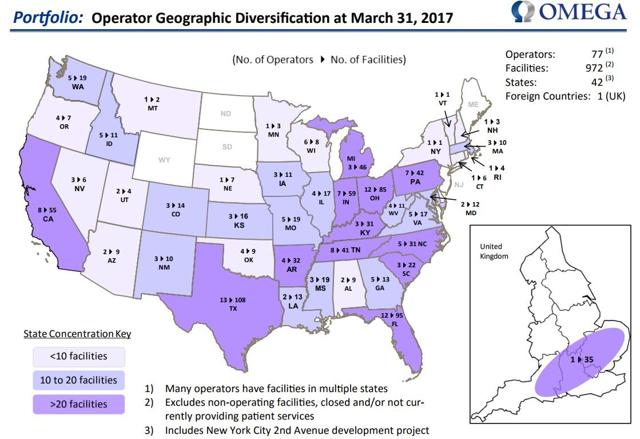 And like Sabra, Omega Healthcare's bread and butter cash flow source is triple net lease rent from SNF operators, with a small amount of retirement homes thrown in for good measure.

However, what has set Omega Healthcare apart from its peers, who it has left in the dust in terms of total returns, is its industry-leading management team, which has proven both highly capable of achieving impressive growth and also adaptable enough to steer the REIT through even the worst doomsday scenario as occurred in the early 2000s.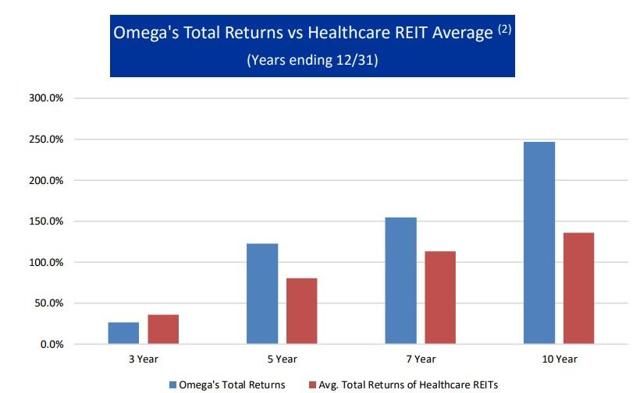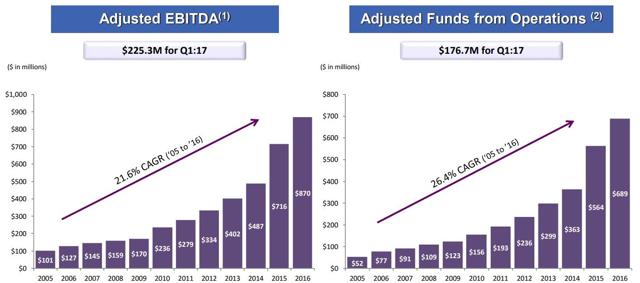 This was when changes to Medicare, specifically the expiration of an SNF add-on payment provision, resulted in numerous bankruptcies in the SNF industry and posed an existential threat to the entire SNF REIT sector.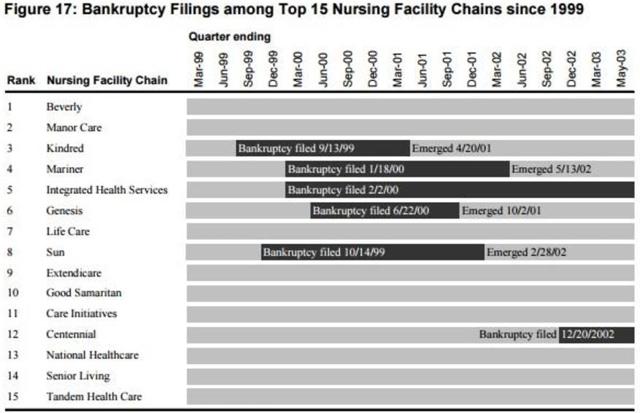 Not only did Omega survive the early 2000s, but company management has spent the years since working to ensure a safe dividend even should such an event occur again.

That means maintaining a low (for a healthcare REIT) adjusted funds from operations, or AFFO (the REIT equivalent of free cash flow and what funds the dividend), payout ratio.
Not just does this ensure a strong safety buffer for the current dividend, but it also helps to ensure consistent dividend growth, including 19 consecutive quarterly dividend hikes.

(Sources: Earnings Releases, Management Guidance, GuruFocus, F.A.S.T. Graphs)
More importantly, by retaining a large amount of cash flow to invest in further growth, Omega Healthcare is able to maintain very low costs of capital, much lower than both its returns on invested capital, and the 7-9% AFFO yields on new properties it's been buying in recent years.
This is very important, because the REIT business model requires a company to be constantly raising new debt and equity capital, which dilutes existing investors and can make it difficult to tell whether or not management is growing long-term shareholder value or lighting money on fire.

(Source: Morningstar, Earnings Release)
But because Omega's cost of capital is so low, and management is very disciplined with only buying accretive properties (AFFO/share grows with each acquisition), shareholders have not just benefited from one of the industry's highest profitability and returns on capital but also very strong and consistent dividend growth.

(Source: Simply Safe Dividends)
Both Have Strong Balance Sheets
| | | | | | |
| --- | --- | --- | --- | --- | --- |
| REIT | Debt/EBITDA | Interest Coverage Ratio | Fixed Charge Coverage Ratio | Debt/Capital | S&P Credit Rating |
| Sabra Healthcare | 5.0 | 5.1 | 4.5 | 42% | BB- |
| Omega Healthcare | 4.7 | 4.8 | 4.8 | 50% | BBB- |
| Industry Average | 5.7 | 4.9 | NA | 51% | NA |
(Sources: F.A.S.T. Graphs, Investor Presentations)
One of the most important aspects to successful dividend investing is avoiding overly leveraged companies. For REITs, this is especially important given the external capital focus of the business model and the highly capital-intensive nature of the industry.
Fortunately for shareholders of both Sabra and Omega Healthcare, both REITs enjoy below-average leverage ratios, strong interest coverage ratios, and strong fixed charge coverage ratios (EBITDA minus unfunded capex/interest payments).
That being said, Sabra currently lacks an investment grade credit rating (BBB- or above), meaning it must borrow in the higher-cost junk bond market.
The good news is that all three credit rating agencies have placed Sabra's debt on review, with positive indicators. In fact, S&P and Fitch have said that they will likely upgrade Sabra to investment grade upon review of the combined REIT. That would be a big advantage for Sabra going forward, because it will mean greater access to lower costs of capital with which to grow the property portfolio - and the dividend with it.
Meanwhile, Omega's fixed charge coverage ratio is the stronger of the two REITs, thanks to management's impressive goal of raising this important metric over the past few years.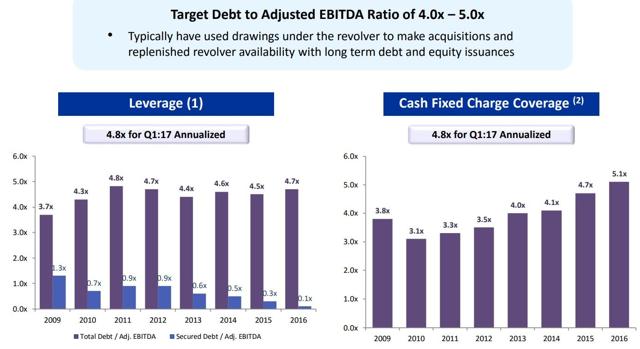 This helps to ensure the REIT has plenty of cash flow to fund its short-term liabilities without risking the safety of the dividend, even if changes in government healthcare policy should induce even more industry stress.
The Dividend Profile For Both Is Strong, But Omega Offers Stronger Total Return Potential
| | | | | |
| --- | --- | --- | --- | --- |
| REIT | Yield | Forward AFFO Payout Ratio | 10-year Projected Dividend Growth | 10-year Projected Annual Total Return |
| Sabra Healthcare | 7.4% | 59.5% | 3% to 4% | 10.4% to 11.4% |
| Omega Healthcare | 7.7% | 75.4% | 5% to 7% | 12.7% to 14.7% |
| S&P 500 | 1.9% | 39.5% | 5.7% | 9.1% |
(Sources: GuruFocus, F.A.S.T. Graphs, Earnings Releases, Management Guidance, FactSet Research, Multpl.com, Moneychimp.com)
And speaking of the dividend, which is the primary reason for owning any REIT, there are three important factors to consider: current yield, payout security (AFFO payout ratio and balance sheet strength), and long-term dividend growth potential.
This is because historical studies show that, at least for dividend stocks, long-term total returns generally follow the formula yield + dividend growth.
In other words, if you can build a portfolio of stocks that offer generous, secure, and steadily growing payouts, you maximize your chances of achieving market-beating total returns and optimizing your long-term income and wealth compounding.
Both Sabra and Omega offer very nice yields. In fact, the yields alone are nearly enough to match the market's 9.1% annual total return since 1871 on income alone.
However, in order to grow the dividend over time, growth in AFFO/share is paramount.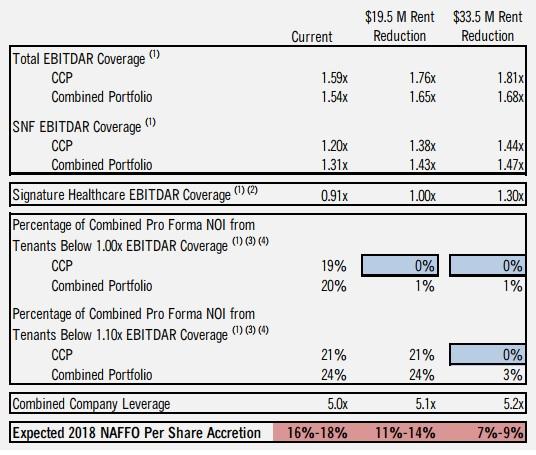 (Source: Sabra Healthcare Merger Presentation)
Fortunately, the terms of the Sabra Healthcare/Care Capital Properties merger are highly beneficial, resulting in an expected 17% immediate boost in 2018 AFFO/share (the REIT equivalent of FCF/share and what funds the dividend). That also means Sabra's forward AFFO payout ratio drops to a highly conservative 59.5%, setting it up for continued growth in 2018.
However, note that Sabra's dividend growth has been slowing in recent years, due to management's desire to retain extra AFFO - both to increase the security of its payout as well as lower its cost of capital and boost long-term growth potential.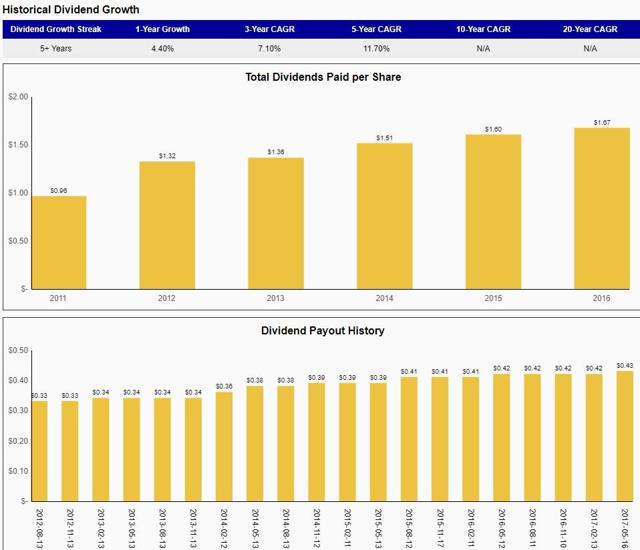 (Source: Simply Safe Dividends)
In a rising interest rate environment, when both debt and equity costs increase, this is a trend that investors should expect to continue, meaning that Sabra will likely generate consistent, but slower-growing, 3-4% dividend increases over the next decade.
Omega Healthcare, meanwhile, has become famous for its quarterly $0.01/share increases, which would mean 5% payout growth over the next decade should they continue.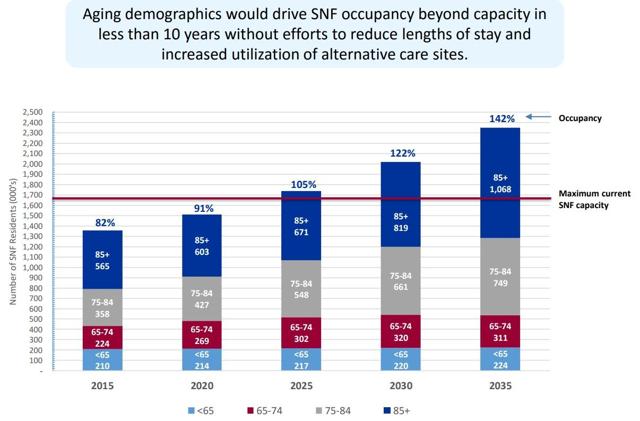 Of course, the rapid aging of America's baby boomers, and the huge demand surge in SNF and retirement homes that are coming in the next 10-20 years, might allow for slightly faster growth from both REITs, especially given that economies of scale are so critical in this industry as it further consolidates.
Valuation: Both Are Trading At Fire Sale Prices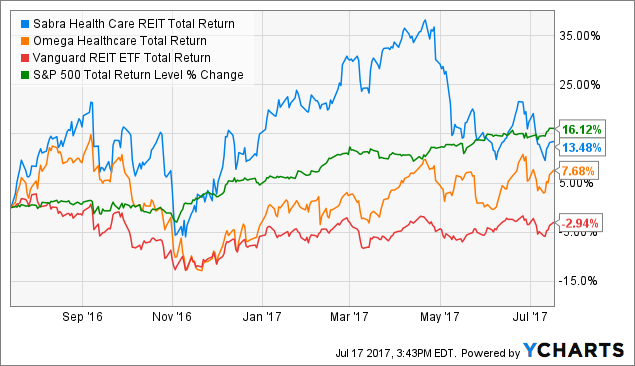 SBRA Total Return Price data by YCharts
It might surprise you to find out that both Sabra and Omega Healthcare have outperformed REITs in the past year. However, that doesn't mean both aren't still excellent long-term values.
| | | | | |
| --- | --- | --- | --- | --- |
| REIT | P/AFFO | Historical P/AFFO | Yield | Historical Yield |
| Sabra Healthcare | 8.1 | 13.9 | 7.4% | 6.1% |
| Omega Healthcare | 9.8 | 11.8 | 7.7% | 6.4% |
(Sources: Earnings Releases, F.A.S.T. Graphs, GuruFocus)
After all, from a price/AFFO perspective (the REIT equivalent of P/E ratio), both REITs are trading much lower than their historical averages.
Note that Sabra's ratio assumes the merger is completed and achieves the 17% accretion in AFFO/share that management expects.
Meanwhile, as regards the most important valuation metric, dividend yield, we find the same thing - that both REITs are trading at significant discounts to their 13-year median values.
| | | | | | |
| --- | --- | --- | --- | --- | --- |
| REIT | Forward Dividend | 10-year Projected Dividend Growth | Fair Value Estimate | Growth Baked Into Current Share Price | Margin Of Safety |
| Sabra Healthcare | $1.72 | 3.5% | $35.87 | -11.5% | 35% |
| Omega Healthcare | $2.56 | 6.0% | $53.92 | -5.8% | 38% |
(Sources: Earnings Releases, F.A.S.T. Graphs, GuruFocus)
And from a longer-term, 20-year perspective, using a discounted dividend model, we find that both REITs are trading at ridiculously undervalued levels.
Note that a discounted dividend model calculates the value of future payouts discounted at the market's historical rate of 9.1% to give the price at which total returns will likely beat the S&P 500.
As you can see, the market is currently pricing both REITs as if their dividends were at high risk of getting cut repeatedly over the next 10 years. That results in a very low bar to clear, meaning some of the highest margins of safety you can find in this overheated market.
Risks To Keep In Mind
By far the biggest risk to any SNF REIT is how changing government healthcare policy will affect their tenants.
Specifically, Medicare is currently undergoing a transition known as CMS reform, away from pay per service to an outcome-based model. This has resulted in shorter stays, 20% lower reimbursement (to SNF operators), and higher compliance costs that have been causing such distress to the SNF industry.
In fact, according to David Kaplan, a S&P credit rating analyst, it will likely be a few more years (2020+) before the growing demand from aging boomers is enough to offset these policy changes.
Meanwhile we have the huge uncertainty revolving around the potential repeal of ObamaCare that the Senate is currently considering. The latest version of the bill is similar to the one the House of Representatives recently passed, in that it would greatly reduce Medicaid funding to the states by moving from a 1:1 match to a fixed block grant model.
The good news for SNF REIT investors is that Medicaid doesn't fund SNF facilities (that's Medicare) but helps seniors pay for retirement home living. That means, while both Sabra and Omega would be exposed to such potential changes, it would represent a small fraction (about 10-15%) of their revenue.
In addition, any changes would be phased in over many years, giving the industry time to adjust (unlike in 2000). For example, the Senate version of the healthcare bill would start phasing in the Medicaid cuts in 2021 and finish at the end of 2024. The House version calls for the phase out to occur between 2020 and 2023.
Until then, both Sabra and Omega are likely to continue diversifying their property bases, away from public funding and towards a private model.
Of course, Sabra's private pay portfolio will be much larger after the merger, representing 36% of its rent, compared to just 11.6% for Omega Healthcare.

(Source: Omega Healthcare Earnings Release)
This means Omega is likely going to need to make some big acquisitions of its own in order to acquire enough private payer facilities to move the needle in terms of revenue coming from non-government sources.
Bottom Line: The New And Improved Sabra Is A Solid High-Yield Choice, But Omega Remains The Slightly Better Option
Don't get me wrong, I'm not saying Sabra Healthcare isn't an excellent high-yield REIT, especially after the merger with Care Capital Properties closes. After all, it will be a larger, more profitable REIT with a rock-solid dividend and improved growth prospects in an industry with a very strong future growth catalyst.
However, given that investing is never done in a vacuum, I'd be remiss if I didn't point out that Omega Healthcare Investors - with its greater economies of scale, superior dividend growth potential, and stronger total return potential - isn't a slightly better choice at today's share price.
Disclosure: I am/we are long OHI.
I wrote this article myself, and it expresses my own opinions. I am not receiving compensation for it (other than from Seeking Alpha). I have no business relationship with any company whose stock is mentioned in this article.