Late last week, I penned some thoughts about Netflix (NASDAQ:NFLX). More specifically, I penned a response to Jim Cramer's thesis that subscriber growth was the only metric that really mattered to the market right now and would drive NFLX shares higher or lower regardless of its fundamentals. I agreed, only cautioning that there will come a time when a lack of actual GAAP profits would matter. Until then, trade away.
Cramer's thesis was proven right after Monday's closing bell rang. NFLX shares jumped 9% post-close after the number of last quarter's subscriber additions soared past expectations. The pros were only calling for 3.2 million new members, but the company brought 5.2 million new subscribers to the fold. The current headcount of 99,036,000 million paying members is 24% better than its total from a year earlier. The market clearly loved it.
As I feared and warned on Friday though, while the top line and headcount are getting bigger, the losses - GAAP losses - along with liabilities are getting bigger at a much faster clip. The question remains: When and how does Netflix get off accelerating expense wheel and start raking in more than it has to dish right back out.
The light at the end of the tunnel seems further away now than it ever has before.
Most Measures Moving in the Wrong Direction
Along with the 24% increase in its paying user base, last quarter's revenue of $2.78 billion was 32% stronger than the year-ago top line of $2.1 billion. Operating income of $127.8 million was up 81% on a year-over-year basis. Between all those metrics, investors just didn't care about the earnings miss. Analysts were collectively calling for a profit of 16 cents per share, but the company came up a penny short.
As I argued back in April though, the nature of Netflix's business model does - or at least should - mean you don't analyze its results the way you would review other companies. See, a huge swath of its non-operating expenses should be viewed as operating expenses, as they ARE the crux of sustaining its operation. Namely, the addition and amortization of the company's video content don't show up (as they arguably should) on the income statement but rather the cash flow statement. And it's on this front we learn that Netflix is not only not profitable in a meaningful GAAP sense, but it's also moving in the wrong direction operationally. Last quarter's operating cash burn of $534 million was 136% greater than the year-ago negative cash flow.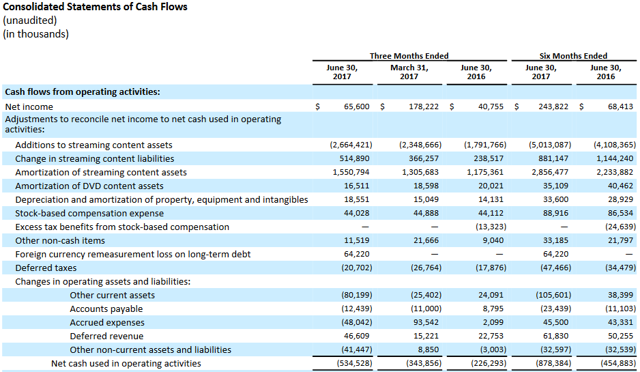 Source: Netflix's Quarterly Report Letter, July 17th, 2017
Remember, Netflix's content costs are never going to go away. They're only going to expand as with the company's revenue and with its member base. And the net cost - non-cash or otherwise - isn't a small figure.
Be that as it may, the bigger red flag still waving on Netflix's books (the growing cash burn is nothing new at this point) is the growing mountain of liabilities, including its long-term debt.
Last quarter's current content liabilities expanded 12% to $4.09 billion while total current liabilities expanded 11%, a palatable enough change. Long-term debt, however, soared 43% to $4.83 billion; Netflix took on some new obligations to fund the purchase or development of new material. Non-current liabilities jumped 23% to $13.4 billion. That debt creates a real interest expense while the content liabilities force amortization. The amortization is booked on the cash flow statement, but interest expense is taken off the top line; it shaved $55 million off the operating income tally last quarter, a figure that was 57% greater than the company's interest expense in the same quarter a year earlier.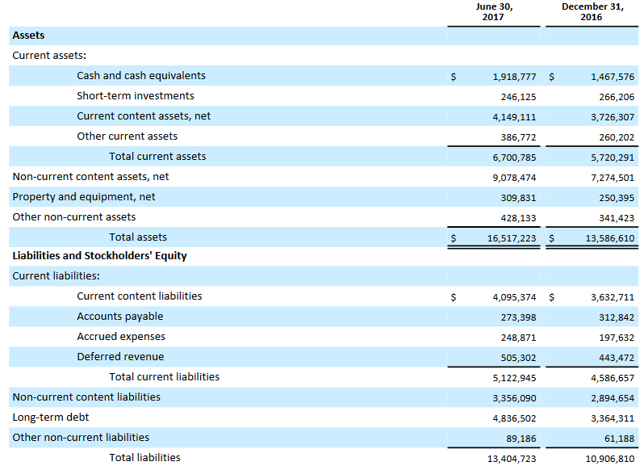 Source: Netflix's Quarterly Report Letter, July 17th, 2017
Fans and followers will argue that total assets expended by more than total liabilities expanded for the quarter in question, and those investors are exactly right. What that investors have to embrace for better or worse is total liabilities grew a heck of a lot more than revenue did last quarter, as has been the case for years now.
And at least the debt portion of those new liabilities will translate into a real cash expense going forward.
The chart of all the key financial metrics below paints the picture from the right perspective: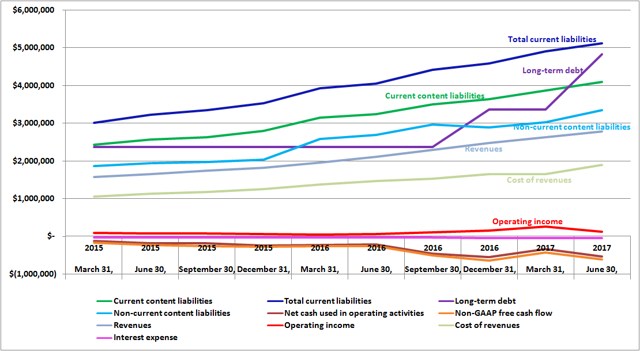 Source: Netflix's Quarterly Report Letter, July 17th, 2017 - Image made by author
Or maybe this will make the point in a different way: Not only does the company continue to burn more cash the bigger it gets, but it also continues to burn more cash on a per-user basis the bigger it gets. Last quarter, it suffered per-subscriber negative free cash flow of -$6.14, up from Q1's -$4.47, and up from Q2-2016's per-member negative free cash flow of -$3.18. On a purely operational basis, the per-member loss grew from Q2-2016's -$2.82 to -$3.64 in the first quarter of 2017 to -$5.39 last quarter.
We should be seeing greater scale help, not hurt, Netflix by this point.
Looking Ahead for Netflix
I still stand by my thoughts (and Cramer's thoughts) from Friday that none of this really matters as long as most investors think there's some sort of end game, or that the heavy spending now is going to bear a lot more fruit in the future than it does now.
Nevertheless, it's not too soon or too rude to start asking questions of CEO Reed Hastings beginning with one along the lines of when might Netflix be able to turn a real GAAP profit and put an end to this string of negative cash flow? There's got to be an end game sometime. Q2 clearly wasn't it, but the current trajectory suggests things are going to get worse before they get better.
His early-2015 promise of "material profits" in 2017 is looking increasingly out of reach.
Again though, don't fight the tape. If traders want to be bullish, you have to let them. Just be ready to pounce when they finally look at the math.
Disclosure: I/we have no positions in any stocks mentioned, and no plans to initiate any positions within the next 72 hours.
I wrote this article myself, and it expresses my own opinions. I am not receiving compensation for it (other than from Seeking Alpha). I have no business relationship with any company whose stock is mentioned in this article.