The big news last week was that Fed Chair Janet Yellen resumed her "Fairy Godmother" role when she testified before Congress and made it clear that any future interest rates increases would be (1) gradual, (2) data dependent, and (3) probably few and far between, i.e., key interest rates would not need to rise much further. Specifically, Chairman Yellen acknowledged the recent softness in inflation and said that the Fed could alter its policy if inflationary weakness proves to be more stubborn than the Fed expects. As a result, the next key interest rate hike by the Fed may be postponed until as late as December.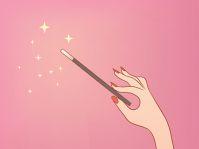 This was a big surprise and a very dovish statement by Fairy Godmother Yellen, who is a labor economist who seems convinced that a tight labor market will eventually nudge inflation higher. On Wednesday in her testimony before Congress, Yellen said that she believes the slowdown in inflation is "temporary." However, this does not seem to fit the current pricing realities, where Amazon (NASDAQ:AMZN)* is taking over the retailing world as price-conscious consumers shop for the best prices on their computers, tablets, and cell phones.
Before Janet Yellen spoke last Wednesday, she had to notice that the inflationary barometers were all pointing down. Amazon.com is leading the trend toward ever-lower prices combined with rapid free delivery in their "Prime" service. In Amazon's third annual Prime Day last Tuesday, sales soared 60% vs. 2016. Furthermore, Amazon said that "tens of millions of Prime members" participated and 50% more members rang up purchases compared with 2016. Amazon Prime is expected to be used by more than 50% of U.S. households by the end of this year, which is important for Amazon.com's aggressive expansion into video streaming, cloud computing, food retailing, and other business ventures.
After she spoke, the June inflation indicators were released. On Thursday, the Labor Department said that the Producer Price Index (PPI) rose 0.1% in June. On Friday, they added that the Consumer Price Index (CPI) was unchanged in June. Gasoline price declined 2.8%, while food prices were unchanged, so the "core" rate (excluding food and energy) rose 0.1% in June. Economists were expecting the CPI to rise 0.1% in June and for the core CPI to increase 0.2%, so both the CPI and core CPI came in below expectations. In the past 12 months, the CPI has risen 1.6%, while the core CPI has risen 1.7%.
The Fed's favorite inflation indicator - the Personal Consumption Expenditure (PCE) index - dropped to only a 1.4% annual rate over the past 12 months, so no matter how you slice it, inflation is decelerating on the consumer level, which is why the Fed is now reluctant to raise key interest rates any time soon.
In addition to Amazon suppressing retail prices, low crude oil prices are also contributing to a lack of inflation. On Wednesday, the Energy Information Administration (EIA) announced that crude oil supplies declined by 7.6 million barrels in the latest week, but they also reported that total crude oil production rose by 59,000 barrels to 9.397 million barrels a day. Since non-OPEC crude oil producers are boosting their production and OPEC is not abiding by its self-imposed quotas, the oil glut should grow. The next big drop in crude oil prices will most likely come in September, when demand plummets after Labor Day.
On Wednesday, the Fed released its Beige Book survey, which showed that economic growth was "slight to moderate," which was less upbeat than its previous Beige Book Survey. The Minneapolis Fed pointed out that "Employment was held back by tight labor availability" in its district. The Philadelphia Fed also discussed labor problems and said that in its district "workers appear to have less loyalty to the job, and more job-hopping is showing up." The Atlanta Fed said that some businesses are "seeking out retirees to return to work" due to a labor shortage. The Beige Book survey also revealed that with wages rising only modestly, some senior Fed officials believe inflation is likely to remain on the low side for a longer period than previously forecasted. Specifically, the Beige Book survey revealed that the Fed clearly wants to take a cautious approach on raising interest rates until more evidence of inflation emerges.
The other reason that the Fed should hesitate before raising key interest rates is that retail sales have declined for two consecutive months. On Friday, the Commerce Department announced that retail sales declined 0.2% in June, substantially below economists' consensus expectation of a 0.2% increase. Sales at department stores declined 0.7% in June, while online sales rose 0.4%, but I think the government is underestimating online sales. As Amazon takes over the retailing world, retail sales may continue to be understated until the Commerce Department begins to incorporate a higher proportion of online sales.
The disappointing retail sales report caused the 10-year Treasury bond yield to decline to 2.33%. Due to Fed Chairman Yellen's testimony, the Beige Book survey, and the PPI, CPI, and PCE all confirming that inflation is ebbing, government bond yields in the U.S., Europe, and Japan all meandered lower last week.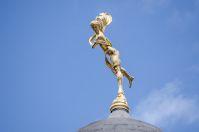 Since government bond yields rose in previous weeks on the perception that the Bank of England would raise key interest rates and the European Central Bank (ECB) might wind down its quantitative easing, the fact that government bond yields have now stabilized somewhat is good news for dividend stocks and other interest rate sensitive stocks. The Federal Open Market Committee (FOMC) will meet again next week and then the Kansas City Fed's annual conference in Jackson Hole, Wyoming in mid-August will most likely be the next key event that will impact government bond yields in the upcoming weeks.
Interestingly, ECB President Mario Draghi will attend the Fed's Jackson Hole conference this year for the first time in three years, so there is speculation brewing that Draghi may provide further clues to how long the ECB will continue with its 60 billion euro (about $68.5 billion) per month quantitative easing program to buy back bonds. Interestingly, Draghi announced the ECB's quantitative easing program three years ago at Jackson Hole, so another August surprise may be forthcoming!
China's Exports Soar - Especially to North Korea!
I should add that China received some criticism last week since its exports to North Korea rose 29.1% in the first half of 2017. China's General Administration of Customs on Thursday said that it is abiding by U.N. sanctions "comprehensively, carefully, accurately and seriously." Translated from China-speak, they allege the Chinese goods exported to North Korea were largely textiles and other products not covered by U.N. sanctions. China is North Korea's largest trading partner and accounts for more than 80% of the hermit state's external trade in the past five years. China's Foreign Ministry is resisting global criticism that it's not doing enough to pressure North Korea to abandon its nuclear and ballistic missile programs by saying that Beijing plays an "indispensable" role in trying to denuclearize that rogue state.
China's exports are also rising to other nations. On Thursday, China's General Administration of Customs announced that exports rose 11.3% in June (vs. June 2016). This was the fourth straight monthly gain, significantly higher than economists' consensus estimate of 9% and a substantial acceleration from May's 8.7% annual rate. Strong demand from Europe and the U.S. helped to boost China's exports and Apple's upcoming iPhone 8 is expected to further boost exports in the upcoming months.
Additionally, China's imports surged 17.2% in June compared to the same month a year ago and were substantially higher than economists' consensus estimate of 12.4%. The surge in imports also represented a significant acceleration from May's 14.8% annual pace. Since both exports and imports are booming in China, there is a lot of optimism about their second-quarter GDP announcement coming out this week.
*Louis Navellier currently holds positions in AMZN. Navellier & Associates, Inc. currently holds positions in AMZN for some of its clients.
Disclosure: *Navellier may hold securities in one or more investment strategies offered to its clients.
Disclaimer: Please click here for important disclosures located in the "About" section of the Navellier & Associates profile that accompany this article.