Rethink Technology business briefs for July 17, 2017.
Tesla welcomes Linda Johnson-Rice and James Murdoch to the Board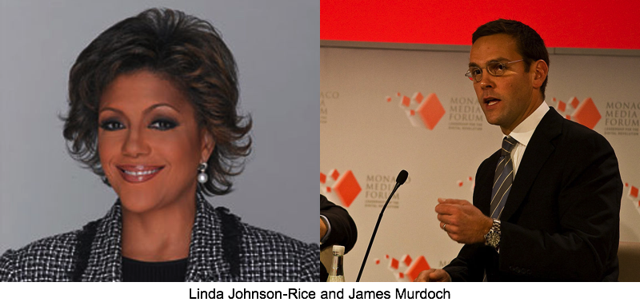 Sources: NRKbeta, Black Entrepreneurs & Executives Profiles
Tesla (NASDAQ:TSLA) has announced the appointment of two new independent directors to its Board, Linda Johnson-Rice and James Murdoch. The appointees are complete outsiders to the Silicon Valley tech scene, but they are notable for inheriting media empires created by their fathers.
James Murdoch is the son of Rupert Murdoch, and is currently CEO of 21st Century Fox (NASDAQ:FOXA), one of the companies spun off from Rupert Murdoch's immense News Corporation (NASDAQ:NWSA). Fox received most of the media assets of the spin-off, including Fox Entertainment Group, which included the 20th Century Fox film studio and Fox television.
Linda Johnson-Rice is the daughter of John H. Johnson, who founded Johnson Publishing Company in 1942, the largest African-American owned publishing company in the US. Johnson publishes Ebony magazine and has a book publishing division. The company created a nationally syndicated TV show, Ebony/Jet Showcase, and also has a line of cosmetics. Linda Johnson-Rice is the CEO.
I doubt that the inclusion of two notable media scions was an accident. Instead, it probably heralds a new phase for the company, a phase in which marketing and interactions with mass media will assume much greater importance. Apparently, Musk has realized that it's not enough to build great electric vehicles, the company has to sell them as well.
Most likely we'll begin to see a shift from the minimalist marketing approach that was suitable for boutique cars like the Model S and X to a mass merchandising approach necessary to sell Model 3 in the volumes Musk envisages.
As much as Musk has enjoyed playing down the importance of advertising, if Tesla is to graduate to the big leagues of the automotive world, it will have to accept advertising as a necessity. The new board members indicate that it already has.
Another Tesla automobile accident that Autopilot didn't cause
Local media in Minneapolis, Minnesota, were more than happy to report that a Tesla Model S went into a ditch and flipped over while on Autopilot. The accident occurred on July 16 in a rural area of Kandiyohi county. The owner, David Clark, and four passengers received only minor injuries.
Only, it doesn't appear that Autopilot was engaged after all. The following day Clark sent an email to the Kandiyohi County Sheriff's office clarifying what happened:
To the best of my recollection I had engaged the autopilot system but then I had disengaged it by stepping on accelerator. I then remember looking up and seeing the sharp left turn which I was accelerating into. I believe we started to make the turn but then felt the car give way and lose its footing like we hit loose gravel. That was the feeling that I was trying to describe to you that I had lost control of the vehicle. The next thing I know tall grass is whipping past the windshield and we were traveling at an odd angle in the ditch and then flipped over the right side and ended up on the roof.
Doubtless, the vehicle's data recorder will settle the matter, but I don't doubt that Clark is correct in his recollection. Just another incident that emphasizes the importance of having media savvy people at Tesla. Welcome again, Linda and James.
Tesla sends out invites for the Model 3 delivery event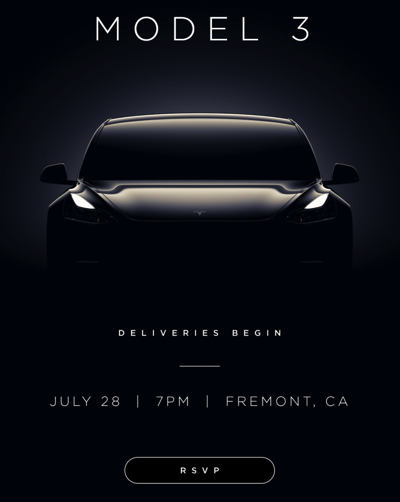 Source: Electrek
Tesla is sending out invitations for the July 28 Model 3 delivery event. Doubtless, most of the invitations are going to media outlets, but some are also going to winners of the company's referral program. At the event, it will deliver the first 30 units to owners, which will include Elon Musk and other employees of Tesla.
Many have criticized the unorthodox way that Tesla has handled the testing of release candidates and the preparations for full production. I do consider the start of production with so little time to test the release candidates to be fraught with risk.
Indeed, the initial sales to employees seems to be a sort of beta test for the Model 3, and we can only hope that employees know what they're getting into. Many of the problems will be in software, but many will be in assembly quality, fit and finish, and reliability.
Software can be fixed fairly painlessly, but assembly and reliability problems will take longer, and this is something that Model 3 early adopters will have to live with even after Tesla begins deliveries outside of its employee base. The speed of the production ramp, which Tesla hopes will be 5000 vehicles/week by the end of the year, also suggests that there won't be enough time to fix mechanical problems that the employee beta testers find.
I can only hope that I'm being overly pessimistic, and that somehow, it all works out for the sake of Tesla, its shareholders, and our shared vision of an electric vehicle future. Whatever befalls, the Model 3 delivery event will be historic.
Disclosure: I/we have no positions in any stocks mentioned, and no plans to initiate any positions within the next 72 hours.
I wrote this article myself, and it expresses my own opinions. I am not receiving compensation for it (other than from Seeking Alpha). I have no business relationship with any company whose stock is mentioned in this article.