In the first week of July, there were two Flash Crashes. First, while markets were closed for the July 4th holiday, a computer glitch priced three large stocks at precisely $123.47 per share on the major electronic quote boards. This represented a 14% drop for one stock but a huge (86% or more) drop in price for two other big stocks. Thankfully, this happened during a holiday break. If this had happened during regular trading hours, it likely would have caused a panic that would have spread far beyond these three stocks.
The second Flash Crash came on Thursday, July 6, in the silver futures market. I'll cover that event below, but first let's look at the most recent stock market Flash Crashes and see if they are primarily a chilling example of what can go wrong - or a great buying signal for those looking for an entry point.
The term "Flash Crash" was coined on Thursday, May 6, 2010 after a 30-minute free fall of near-epic proportions. The carnage began at 2:32 pm Eastern time, when the Dow Jones Industrial Index plunged almost 1,000 points (998.5, to be exact) in about 15 minutes, only to recover that loss just as rapidly. The electronic bid prices for dozens of stocks and exchange-traded funds (ETFs) fell to a penny a share. Investors who had placed "stop loss orders" or other automatic sell orders could have been wiped out.
The S&P 500 fell 100 points (-8.6%) at one point, then it closed the week at a promising binary alignment of 1111. A year later (May 6, 2011), the S&P closed over 1340 for a 20% gain after the first Flash Crash.
Wall Street established some safeguards after that scary day, but not enough to prevent another Flash Crash on Monday, August 24, 2015, when prices of many ETFs collapsed, becoming technically worthless for minutes. Once again, the S&P 500 fell over 100 points (-5.3%), closing at 1867, and once again, that was a great buying opportunity. The S&P 500 rose over 15% in the following year.
After the latest (July 4, 2017) statistical glitch, the S&P 500 dropped under 2,410 the next two days, but the S&P recovered quickly to reach an all-time high of 2459 last Friday, up over 2% in barely a week.
Going back further, we're coming up on the 30th anniversary of "Black Monday," October 19, 1987, when the Dow fell over 508 points (-22%) in one day, mostly in the last hour. Even in those pre-Internet days, the electronic computer trading systems (the "computer cowboys") were blamed for the crash. On the 25th anniversary of that crash, the New York Times (in "A Computer Lesson Still Unlearned," by Floyd Norris, October 18, 2012), said the villain was "portfolio insurance," in which traders "would simply sell ever-increasing numbers of futures contracts, a process known as dynamic hedging." But there were no fundamental reasons for selling stocks in 1987 - earnings were rising and there was no recession in sight.
Once again, October 20, 1987 was a great time to buy stocks. The Dow rose from a closing low of 1738.74 on October 19, 1987 to new highs by July 1989 and within a whisker of 3,000 (2999.75) less than three years later, July 17, 1990 - and up nearly seven-fold before the bull market ended in 2000.
If you can block your eyes from the dates in this logarithmic chart of the Dow Jones index below, try to find the blip that represents the 1987 crash. It was traumatic then, but the move looks trivial in hindsight.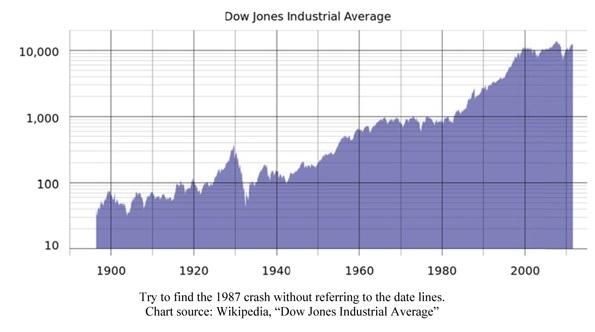 Graphs are for illustrative and discussion purposes only. Please read important disclosures at the end of this commentary.
Precious Metals Also Tend to Bounce Back After Panic-Selling Events
Getting back to current threats, a Flash Crash in the silver futures market took place shortly after 7:00 pm on Thursday, July 6, at a time of evening when trading is generally very light. One trader apparently sold 5,000 contracts (25 million ounces), then another 5,000-contract sale came through minutes later. With few bids to cover these huge sale orders, silver fell to $14.30 before recovering to $15.40 early on Friday.
A similar Flash Crash in gold took place on June 26, 2017 at 4:01 am (Eastern time), just as the European gold market was opening. Gold plunged $18 in just a minute in a single trade of 18,149 gold contracts.
After the Flash Crash in gold on June 26, Wall Street traders turned bearish on the metals. Trading trends often resemble mob behavior or, to use a more polite term, trend-following. The Commitment of Traders report for the latest week shows that net long positions in gold and silver dropped for the fourth straight week. According to Seeking Alpha ("Traders Increased Gold Short Positions at the Fastest Clip in Almost 2 Years - is it Time to Buy?" July 10, 2017), "Both gold and silver look extremely oversold."
Commerzbank said that net longs were "at their lowest levels since February 2016 [for gold] and August 2015 [for silver]. Short positions in silver are currently at a record high…. In the past, such extreme positioning by speculative financial investors has often sparked a pronounced countermovement in prices" (MarketWatch, "Gold prices claw back from their lowest level in four months," July 10, 2017).
In both cases, the metals recovered smartly after these cyclical lows in sentiment. The previous low in net-long gold contracts was February 2016, when gold traded below $1,100. Gold promptly shot up to $1,365 by July 2016. The previous low in net-long contracts for silver was in August 2015, when silver was under $15 per ounce. The price of silver reached $20 within a year of that low in sentiment.
The basic theory of contrarian investing is that when most big traders line up on one side of the trade, there are few big traders left on the other side of the trade, so a move in the other direction is more likely. In this case, the big sellers have nearly all sold their gold and silver, so even a small amount of buying pressure can push the metals back up. When selling pressure is exhausted, greater profits are possible.
Traders tend to sell and then find a "reason" (excuse) after the fact. Traders often say they are selling gold or silver because the Fed might raise interest rates again - since (for instance) a jobs report is better than expected - but historically gold has risen after most of the previous 20 Fed interest rate increases.
In short, smart investors can use Flash Crashes in most markets as a strategic time to place a buy order.
Disclosure: *Navellier may hold securities in one or more investment strategies offered to its clients.
Disclaimer: Please click here for important disclosures located in the "About" section of the Navellier & Associates profile that accompany this article.