The initial inclusion of China A-shares into the MSCI Emerging Markets Index and the implication that the weighting will be progressively ramped up over the next few years is a seismic event that, in effect, greenlights the $7 trillion China A Shanghai and Shenzhen stock markets, the second biggest stock market after the US. The sheer inflow of active and passive funds that will need to flow into these shares offers a virtual guarantee of a substantial revaluation of the included shares. This offers investors a unique opportunity for portfolio gains with little commensurate risk.
Background
For more background on the China A-shares inclusion, see our article "China A Shares - Potential Multibagger" (which focuses on the KraneShares Bosera MSCI China A ETF (NYSEARCA:KBA)), and also for further background information "MSCI To Add China A-Shares To Emerging Markets Index: What Does It Mean For Investors?"
Krane Funds Advisors, LLC ("KraneShares"), which is possibly the foremost China A-shares experts in the US, has just been acquired by China International Capital Corporation Limited, one of China's leading investment banking and financial services firms, which confirms its leading position in the market.
Here is an edited version of Krane Funds' take on the MSCI China A announcement:
"Global index provider, MSCI, has announced they will include Mainland Chinese equities (A-shares) tracked by the MSCI China A International Index to their Global Standard Indexes starting in May 2018. These indexes include the MSCI Emerging Markets, AC Asia Ex Japan, and ACWI Indexes#. We believe this historic news will have far reaching implications for global investors in the years to come.

While the MSCI China A International Index is MSCI's definition of the fully integrated Mainland Chinese equity market, MSCI has reduced the overall number of stocks for the initial inclusion from 448 in 2016, to 222 this year. This reduces the initial weight of China A-shares within the MSCI Emerging Markets Index from 1.0% to 0.73%. In terms of actual assets, that means about $12 billion in anticipated net inflows; a small amount compared to the total market size of $7 trillion. We believe that while the initial value is small, the symbolic value is enormous. The first inclusion begins a process that should see China's weight rise dramatically in the years to come as a larger number of MSCI China A International securities are added.

Upon full inclusion, which we estimate could take up to five years, the securities tracked by the MSCI China A International Index should grow to represent an additional 17% of the MSCI Emerging Markets Index. This should bring China's weight overall (including Mainland, Hong Kong, and US listed Chinese stocks) to over 40%. This could translate to several hundred billion dollars in total inflows from both active and passive managers.

Inclusion will not begin until May 31, 2018. The one year period between announcement and inclusion provides MSCI clients time to adequately prepare for the first inclusion. This initial first step should lead to subsequent increases in A-share exposure in the years to come.

Upon inclusion, many MSCI clients will add securities tracked by the MSCI China A International Index to their portfolios in some shape or form. Passive investors will try to replicate the index as close as possible while active investors must at least consider allocating to the securities in the benchmark. While there may be some overlap with other China A-share indexes, the MSCI China A International Index follows MSCI's index methodology and represents the definition of full inclusion."
Less than a week after its landmark decision to include Chinese stocks in its key benchmarks, the WSJ reported that MSCI is considering nearly doubling the number of stocks it admits. It could admit 195 midsize companies, in addition to the 222 companies announced last week, MSCI Chief Executive Henry Fernandez told Shanghai Securities News in remarks confirmed by an MSCI spokesman.
China A-Shares - Reasonable Valuations
The inflow of funds into China A-shares will literally grow from a trickle to a torrent over the next few years, which will provide both a base and springboard for stock prices, particularly as the average P/E for China A-shares is currently around the historical average at 16.0.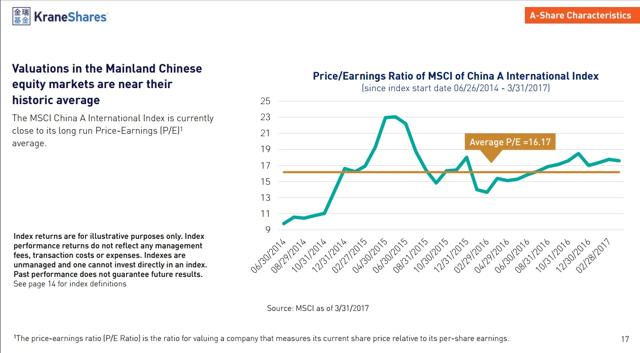 (Source: Krane Shares)
Past ETF performance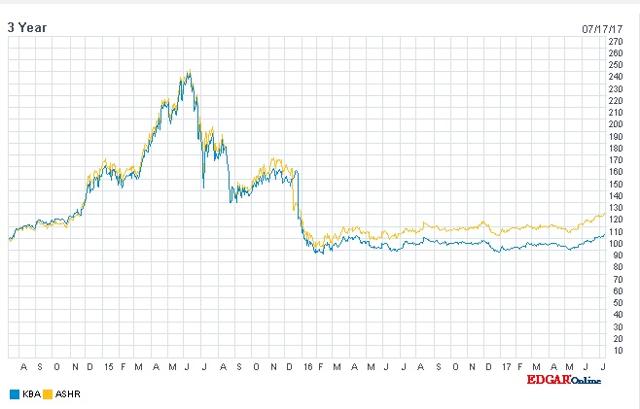 (Source: Nasdaq charts)
The Deutsche X-trackers Harvest CSI 300 China A-Shares ETF (NYSEARCA:ASHR) tracks an index of the 300 largest and most liquid Chinese shares traded on the Shanghai and Shenzhen exchanges. The fund holds physical China A-shares. This ETF literally doubled in early 2015 when (inter alia) it was anticipated that China A-shares would be included in the MSCI index, but collapsed when that didn't transpire. The same is true for KBA. However, it illustrates the potential market forces at play.
Playing the China A-Shares
Clearly, ASHR and KBA are low-risk investments which are virtually certain to return steady growth over the next few years.
However, we now favour the Direxion Daily CSI 300 China A Share Bull 2x Shares ETF (NYSEARCA:CHAU).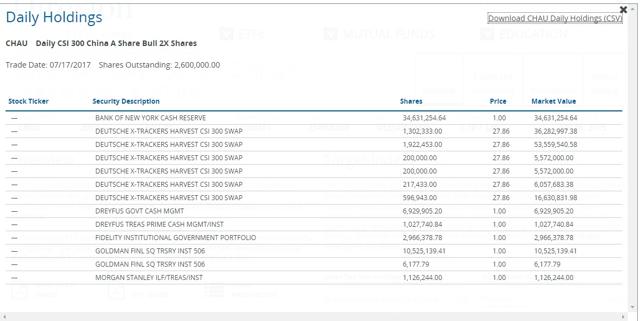 (Source: Direxion)
This fund gets 2X exposure to the China A-shares market by holding ASHR swaps.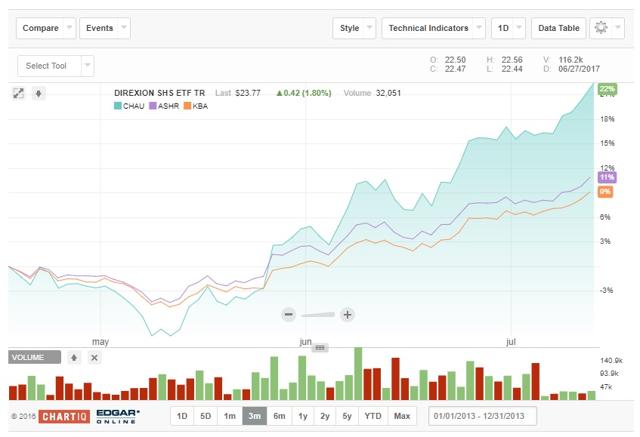 (Source: Nasdaq charts)
Since the announcement, CHAU has gained about 22%, versus 9% for KBA and 11% for ASHR, and the process has barely got started. Whilst leverage, of course, always poses a risk, the reality must be that in the light of such a huge market development, this risk is an entirely acceptable one, in our opinion.
Takeaway
The decision by MSCI to start the ball rolling on China A-shares is a ground-breaking market event, as it will mean huge sums will flow into these shares from active and passive managers. CHAU, which represents a 2X levered bet on growth in the valuations of the key China A-shares, offers investors the biggest potential gains.
Disclosure: I am/we are long CHAU.
I wrote this article myself, and it expresses my own opinions. I am not receiving compensation for it (other than from Seeking Alpha). I have no business relationship with any company whose stock is mentioned in this article.