Renault (OTC:RNSDF) is a leading European car manufacturer headquartered in Paris with a market value of $27B. It has a P/E of 6.5, a P/B of 0.77 and a P/S of 0.47 and a dividend yield of 3.9%. Which is cheap in absolute terms but not uncommon for car companies. The partial ownership of Nissan (OTCPK:NSANY) however distorts the picture and in reality Renault is even cheaper. This means Renault is almost too cheap to ignore while also being the leading manufacturer of electric vehicles with more than 350,000 vehicles sold.
Through an alliance and investment in Nissan in 1999 Renault currently holds 43% of Japanese car manufacturer Nissan. Since 1999 Nissan has performed well and currently Nissan is worth $43B. Nissan is attractively valued with a P/E of 6.9 a P/B of 0.92 and P/S of 0.41 and a dividend yield of 4.2%. Renault's stake of 43% in Nissan is worth ($43*0.43=) $18.5B. This means that the other operations of Renault including its 73.3% stake in leading Russian car manufacturer AutoVaz and 1.55% stake in Daimler are valued at only $8.5B. The market value of AutoVaz is $644M which means Renaults stake is worth approximately $472M. Daimler (OTCPK:DDAIF) is worth $77.4B which leads to a value of 1.2B for the 1.55% piece owned by Renault.
Resulting in a market value for Renault's business of only $6.8B.
For this $6.8B you get:
Automotive revenue for Renault of €49B.
Automotive operating profit of €2.4B with an operating margin of 4.9%.
Sales finance with a contribution of €896M to profit leading to an operating profit of €3.3B. The financing profit is created by financing car loans totalling which have a total value of €36B and are primarily financed with debt. Total operational free cash flow is €1.1B.
Equity value of the Renault operations is 11.7B (total equity of €30.7B - equity of JV's of 19B)
Renault sold 3.18M vehicles which is more vehicles than French rival PSA Peugeot which sold 3.15M vehicles. But is PSA Peugeot is a standalone company and is valued at valued €16.5B.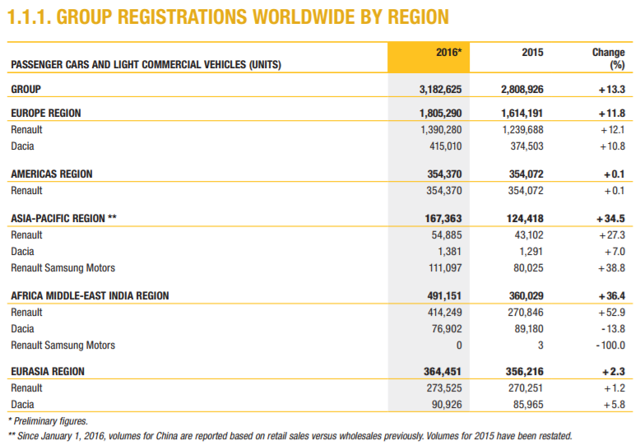 Source: Annual report Renault 2016
Sales are increasing nicely and are coming predominantly out of Europe. The US is missing because Renault does not sell any vehicles there which is an advantage because sales in the US are peaking. These number might look dated rest assured that performance in 2017 so far has been great.
Renault should be valued higher than PSA Peugeot because of its superior operating history, stronger sales growth and leading position in electric vehicles. Comparing the numbers of Renault's operations to its competitors it seems that a valuation of 13.5B is quite conservative because of its nice 8.1% free cash flow yield fair book value and a p/e of 6 using a tax rate of 30%. This leads to an upside of around 100% for Renault's operations.
Risk
The car business is cyclical and so is the business of Renault. While operations work well today business can be volatile and an investor has to recognize this risk. Furthermore a loan portfolio can be quite risky while car loans held up well in the financial crisis they are still risky especially because the risk of a drop in the price of secondhand cars is influencing the value of the loan portfolio. Having a portfolio of €36B is quite large especially since it is combined with a cyclical business but given the size of the company and its cash position of €13.8B this risk is bearable especially because the low valuation allows for quick repayment of the investment.
Conclusion
The performance of Renault's core operations is strong but masked by it being the owner of other assets like Nissan. Nissan itself is a reasonably cheap company to invest in especially because of its leading position in electric car manufacturing. Renault's core operations however are just too cheap to ignore. From my calculations the core Renault operations are at least 100% undervalued meaning that the shares of Renault are undervalued by 24%. If one wants to invest in Renault my advice investors to buy shares directly in Paris because it is more liquid.
Disclosure: I/we have no positions in any stocks mentioned, but may initiate a long position in RNSDF over the next 72 hours.
I wrote this article myself, and it expresses my own opinions. I am not receiving compensation for it (other than from Seeking Alpha). I have no business relationship with any company whose stock is mentioned in this article.
Editor's Note: This article discusses one or more securities that do not trade on a major U.S. exchange. Please be aware of the risks associated with these stocks.