You could be forgiven if you thought the chart below of PennantPark Investment Corporation (PNNT) was actually that of an oil & gas stock.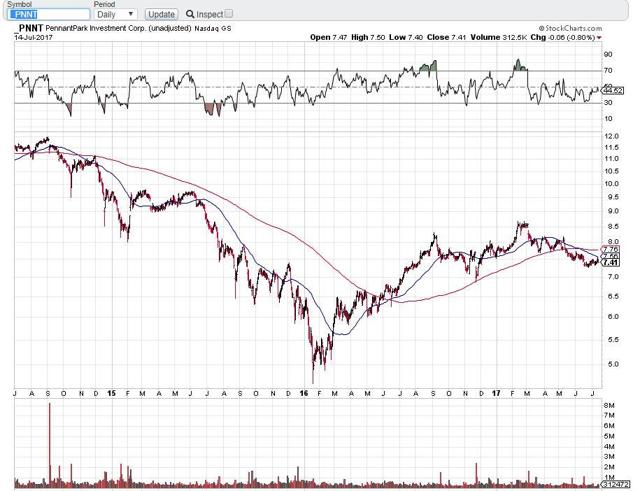 Source: Stockcharts.com
With a large decline all through 2015 and a bottom in the first quarter of 2016, this Business Development Corporation (BDC) has been oscillating with oil due to its oil and gas debt exposure. Although oil and gas exposure never got above 10% of its portfolio, most of PNNT's portfolio losses, NAV markdowns and dividend reductions can be traced to this troubled sector. However things have held up quite well over the last year, in spite of the well telegraphed and necessary dividend cut. PNNT's investment income now comfortably exceeds its dividends. The use of their credit line to reduce interest costs, should further support the dividends.

Source: PNNT March 31, 2017 Presentation
After making an exceptional recovery through 2016 and early 2017, PNNT sold off again from March 2017. In fact the peak in PNNT stock price matched the peak in oil price as well. However, it appears that the market maybe overreacting this time. Currently bulk of the issues seem accounted for in PNNT's portfolio . With oil and gas making up only 6% of the total portfolio, the next quarterly results should be fairly resilient to the recent oil price decline.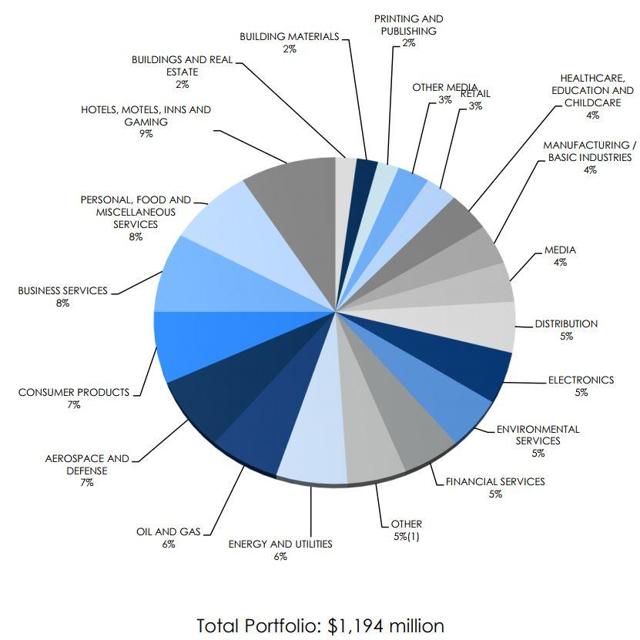 Also, although energy stocks have declined markedly since their December 2016 peak, the high-yield energy debt markets have been fairly resilient.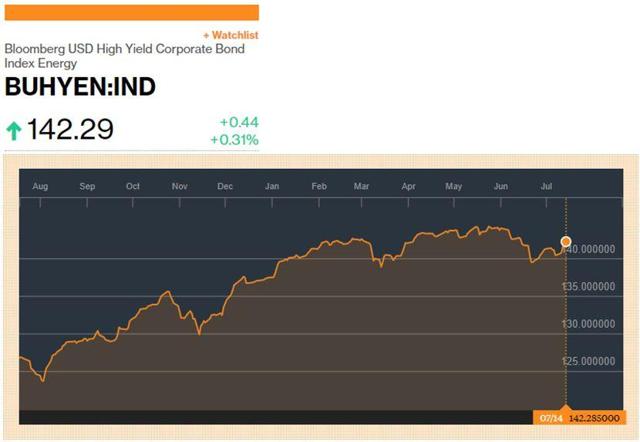 Source: Bloomberg
Considering that PNNT is debt provider to companies, its NAV should hold up quite well, barring unique company specific issues. Also, whenever the debt markets and equity markets disagree, the debt markets are usually right. That would mean that even energy stocks and oil are due for a big catch-up rally here to high-yield energy bonds. The CEO and founder of PennantPark, Arthur Penn, certainly thinks the current stock price undervalues his company.


Source: Nasdaq
Conclusion:
We see PNNT as a BDC that should trade in a 5-10% discount range. At a 18% discount to its NAV, PNNT appears a bit underpriced. Coupled with a 10%, sustainable yield, shares have the potential to return 20% over the next year. On our now famous scale of 1-10 where 1 would be "Avoid like the bubonic plague" and 10 would be "Buy like this is Apple in March 2009," I would rate PNNT a 6.0. While not the return potential that we saw and partly realized in Fifth Street Finance (FSC), PNNT is definitely worthy of consideration.
If you enjoyed this article, please scroll up and click on the "Follow" button next to my name to not miss my future articles.
If you did not like this article, please read it again, change your mind and then click on the "Follow" button next to my name to not miss my future articles.
Disclosure: I am/we are long PNNT, FSC.
I wrote this article myself, and it expresses my own opinions. I am not receiving compensation for it (other than from Seeking Alpha). I have no business relationship with any company whose stock is mentioned in this article.