American Axle and Manufacturing (NYSE:AXL) provides various services for driveline and drivetrain systems, which include everything from the design and engineering phase to the manufacturing phase. Last year, it was the principal supplier of driveline components to GM, which accounted for about 67% of the company's total revenue. Its second-largest revenue source was Fiat Chrysler (NYSE:FCAU), which accounted for about 18%. Specifically, AXL created driveline systems for heavy-duty Ram pickup trucks and the AWD Jeep Cherokee.
As you know, it's never a good idea to rely on one company for your revenue. The fact that two-thirds of its revenue came from a single source should be scary, because if something bad happened to GM (as seen in 2008), it would almost certainly take AXL down with it. To solve this issue, as well as others, AXL acquired Metaldyne Performance Group on April 6, 2017. I believe the stock is now a much more worthwhile investment for two main reasons:
Product Mix Diversification
Before the merger, AXL was mainly focused on making Axles and Driveshafts; these two products made up almost 90% of its sales. Again, such as small range of products, no matter the demand, is bound to decline as technology improves. The other products in its portfolio were forged products, engines, and transmissions. Not only did the acquisition expand these product lines from 12% to 37% of total expected revenue, it also added an entirely new product line to the company - i.e., castings - which is expected to contribute 12% of sales over the next year, or about $800 million. With this new product mix, 90% of vehicles produced in North America now have an AXL product in them.
Customer Base Diversification
As I stated before, AXL was extremely dependent on GM for most of its business prior to the MPG acquisition. That was a primary concern for investors, and rightly so, but this chart shows management's response:

There is an immediate projected 25% drop in GM's revenue to total revenue after the acquisition, and in a few years, AXL expects to have less than half of its business with GM. This doesn't mean it'll be cutting GM from its customer base at all - it just means that in addition to GM, the company will have a much broader customer base, reducing its overall risk.
AXL also currently has about $1.5 billion in backlog orders, over 70% of which is non-GM business, due to the new business brought in with MPG. Another sign that the company is diversifying its customer base is that 70% of that backlog is for passenger cars and crossovers instead of its typical business which is tailored to larger trucks, SUVs, and vans.
The Future of AXL
Trucks, SUVs, crossovers, and vans are expected to make up a 2/3rd majority of North America's production mix as soon as 2020.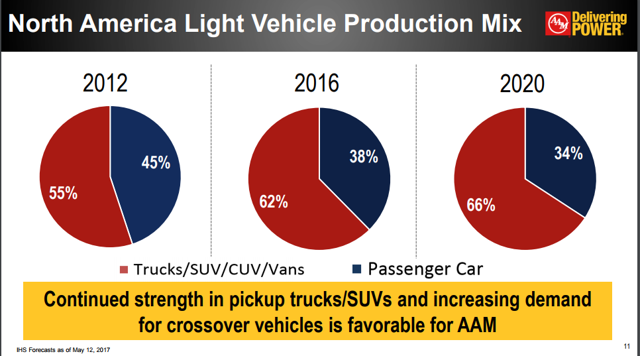 Now this may seem like a contradiction to what I just wrote, but the projected rising demand for these bigger vehicles is actually good for the company's business. The primary business of AXL relies on these larger vehicles. Its future in smaller cars is good because it diversifies the client base, but the company does not expect this to outgrow its larger vehicles business.
Along with its push to create value for smaller cars, AXL also recognizes the trend in hybrids and electric automobiles, and the company currently has several technologies which are specifically designed for such vehicles:
EcoTrac
EcoTrac is AXL's new all-wheel drive system which can actually sense the vehicle's environment and disconnect when the situation does not warrant AWD. This is the first such AWD system in the industry. When it becomes disconnected, the driveshaft stops spinning, which consumes less fuel for the vehicle and reduces the output of emissions. This system made its debut in 2013, and since then AXL has sold over 600,000 units. In 2019, this product is expected to generate revenues of $700 million, compared to the $55 million it generated in 2013.
e-AAM
AXL's e-AAM is a driveline system made specifically for hybrid and electric vehicles which improves fuel efficiency up to 30% and also reduces CO2 emissions. This is the company's showcase product to break into the hybrid/electric car market, and it is currently working with numerous automakers in collaboration projects to integrate this system into their vehicles. In fact, next year, AXL expects to launch its first electric all-wheel drive axle program with a "premium electric automaker."
Financial Outlook
Due to the MPG acquisition, AXL expected to earn almost $7 billion in revenue over the next 12 months. Of course, with its innovative technologies that bring the company into the hybrid and electric automobile market, this number could see steady growth for years to come.

Although the internal combustion engine (ICE) is projected to make up a smaller percentage of the overall powertrain market, it is still expected to be the primary one 11 years from now. The drop in ICE market share could be seen as a negative when looking at AXL's future, but keep in mind that the company is getting a head start on these new hybrid and electric technologies before they become the dominant product. Analysts project sales to drop off over the next couple of years, but AXL has the technology now to capture new markets and generate sales. Remember, its EcoTrac technology jumped from $55 million in 2013 to $265 million in 2015, and is projected to be $700 million in 2019. The demand for this technology is going to be growing rapidly, and AXL is positioning itself to meet that demand in just the next couple of years. The above chart shows just a slight increase in hybrids by 2019, but the company projects over $200 million in extra revenue just from that.
While I believe revenues will continue to grow, AXL's earnings might not necessarily follow. As the company is entering a growth phase in these new markets, it expects to spend $400 million this year in capital expenditures - a number that will probably increase going forward. This shouldn't be taken as a bad thing, as all companies in growth phases need to spend money in order to position themselves to dominate their respective markets later.
Disclosure: I/we have no positions in any stocks mentioned, and no plans to initiate any positions within the next 72 hours.
I wrote this article myself, and it expresses my own opinions. I am not receiving compensation for it (other than from Seeking Alpha). I have no business relationship with any company whose stock is mentioned in this article.