We believe that the current drop of L'Oreal (OTCPK:LRLCF) stock is a good entry point for long-term investors.
L'Oreal is known for its continuously strong stock and dividend. Since the company announced its first quarters' results by the end of April, the stock was up 8% in two months. By the end of June, the stock fell sharply due to rumors of the sale of L'Oreal by Nestle (OTCPK:NSRGY). We believe that the company can sustain the growth it achieved in the first quarter throughout the second half of 2017.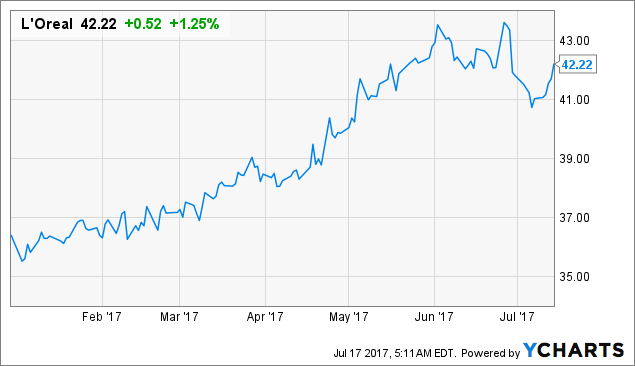 LRLCY data by YCharts
Why enter now?
We believe that now is a good time to enter into L'Oreal because of a price drop that was unjustified. The rationale behind the sharp price drop was a rumor that Nestle would sell its stake in L'Oreal as a consequence of the influence of activist investor Dan Loeb, who has said many times that it makes no strategic nor financial sense for Nestle to keep L'Oreal. If Nestle actually were to divest its position, L'Oreal would have to buy back the shares that Nestle wants to get rid of. The total position of Nestle amounts to a staggering €28.4 billion. For L'Oreal to be able to buy back this amount of shares, it would be a huge undertaking.
A known option (and an ongoing speculation) for the company is to sell its stake in Sanofi (NYSE:SNY), which is currently 9.4% of the biotech company, good for about €10. The sale of this stake would make up for about a third of the financial gap that the buyback of the Nestle shares would make. However, given Sanofi is one of L'Oreal's best investments, it would not make any more financial sense than that. In the long term, L'Oreal would lead serious dividend and capital losses.
After reading the above, most investors would ask: Then why should we enter? If the market acts so heavily on this rumor, what would happen if the Sanofi sale would actually go through? Well, we believe that L'Oreal is perfectly able to manage the worst-case scenario, and there are several reasons why.
Firstly, cash is rather strong in this company. L'Oreal's total cash position is currently at €1.75 billion. Including current assets, that would be roughly €10 billion. The full year net cash flow is at €481 million, or about 5.8% of 2016 revenue. Debt is pretty well covered with a current ratio of 1.09, a quick ratio of about 80% and debt/equity at only 5.2%. These numbers suggest a strong company that could potentially deal with a buyback of € 28 billion of its own shares.
Next, there are several indications that the company's growth is very sustainable. A good example is the company's very strong first quarter result. L'Oreal achieved a sales growth of +7.5% overall, and a sales growth of +12.2% for L'Oreal Luxe. Even with constant exchange rates, the company still grew +5.1%. All operational divisions could increase growth, except for Professional Products, which declined slightly with -1.8%. Next to the established markets of Europe and North America (both performed very well), the group also profited from a strong increase in its newer markets: Asia Pacific, Latin America and Eastern Europe all performed strongly. The fact that these new markets grew so well is another case to be made for the company's future potential. L'Oreal also acquired three brands from Valeant (NYSE:VRX) in the first quarter: CeraVe, AcneFree and Ambi, which further diversified the already well-established product portfolio of the company. These strong results also allow the company to pay out a generous dividend. For 2016, the dividend is at €3.3 and yields 1.8%. L'Oreal pays out about 60% of its profits to investors and has been growing the dividend at about 10% per year to maintain an average yield of 2%.
Furthermore, we see a company that is focusing and thriving in an increasingly more digital world. In the first quarter, the cosmetics group established a growth of +27% in e-commerce through the brand's websites and retailers' websites. Currently, digital accounts for only 6.8%, which is a number that could only expand given the strong growth rate and the digitalization of market-conditions.
Lastly, there is also the sale of the Body Shop which will probably even further increase the company's cash position. In June, L'Oreal sold the Body Shop to Natura for €1 billion. The Body Shop has never been performing up to the company's standards, ever since L'Oreal bought it for €940 million in 20016. The sale and cash income will only further strengthen L'Oreal's balance sheet.
We believe that all of the above factors contribute to the fact that L'Oreal is still a strong company that could potentially deal with losing an investor like Nestlé. Admitted, it won't be easy to deal with, yet the company's balance sheet and growth potential are strong enough to handle such a situation.
Takeaway
Don't shy away from a good company such as L'Oreal. The group has historically been a solid performer and we believe that this will continue to be so in the future. The current drop in stock price is just induced by rumors and does not pose a threat to the company's financial integrity. The company has solid first quarter results, a strong dividend, an increasing product portfolio and a strong cash position. All of these factors lead us to believe that even if the sale would actually be carried out, L'Oreal would be strong enough. We believe that the current price drop offers opportunities and might even be a good entry point.
Disclosure: I/we have no positions in any stocks mentioned, and no plans to initiate any positions within the next 72 hours.
I wrote this article myself, and it expresses my own opinions. I am not receiving compensation for it (other than from Seeking Alpha). I have no business relationship with any company whose stock is mentioned in this article.
Editor's Note: This article discusses one or more securities that do not trade on a major U.S. exchange. Please be aware of the risks associated with these stocks.