Written by Trevor Lowenthal, Arrow Loop Research
We twice warned our readers of the significant risks of an investment in Inotek Pharmaceuticals (ITEK) (articles are accessible here and here). In those articles, we expressed our skepticism about ITEK's surge in share price following its Phase 3 Trabodenoson discussions with the FDA, and our concern that ITEK management failed to diversify its pipeline to mitigate risk. Specifically, we wrote:
If the top line results from the Phase 3 trial are negative, the shares will selloff. We suspect the stock will lose most of its value due to the loss of investor confidence both in Trabodenoson and in its management. Enormous pressure will be placed on the company to prove Trabodenoson is effective in combination with Latanoprost in ocular hypertension. Results from the Phase 2 trial of the combination therapy are expected later this year. However, we doubt the hope for a positive Phase 2 study will mitigate the damage if Trabodenoson monotherapy fails in Phase 3.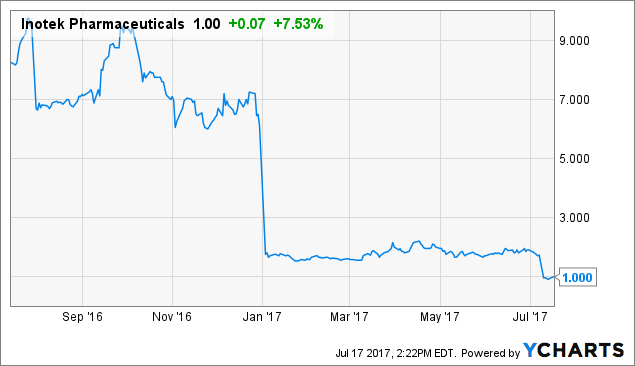 ITEK data by YCharts
In early January, 2017, ITEK announced negative topline Phase 3 results. The final straw, however, occurred on July 10, 2017, when ITEK announced the Phase 2 failure of Trabodenoson in combination with Latanoprost for glaucoma. Following this news, ITEK announced that it is exploring strategic alternatives in an apparent attempt to salvage whatever shareholder value might remain.
This article summarizes our take on where ITEK stands and why investors should stay clear of ITEK despite a possible sale.
Negative Phase 2 Results (Trabodenoson/Latanaprost)
The Phase 2 study that prompted the final exodus out of ITEK evaluated Trabodenoson in combination with Latanoprost for glaucoma. Although the combination therapy demonstrated a positive safety profile, it did not produce any meaningful improvement in efficacy as compared to Latanoprost alone.
Management has given us no reason to believe that the Phase 2 combination study was conducted improperly. If Trabodenoson actually improved the efficacy of Latanoprost, it would have done so at the various periods of analysis during the trial.
Negative Phase 3 Results (Trabodenoson Monotherapy)
The Phase 3 trial of Trabodenoson, which ITEK announced on July 23, 2015, was called MATRx-1. It was a randomized, double-masked, placebo-controlled trial in approximately 335 patients with primary open-angle glaucoma or ocular hypertension. MATRx-1 was designed to assess the safety and efficacy of Trabodenoson over three months of treatment. The primary endpoint was the reduction of IOP.
According to William McVicar, PhD, Executive Vice President and Chief Scientific Officer of Inotek,
Trabodenoson was developed with the objective of restoring the natural pressure-regulating process that occurs in the healthy eye, and thus lowering IOP. The compound specifically targets the adenosine A1 receptor, one of four known receptors for this naturally occurring purinergic regulator. Stimulation of the A1 receptor on human trabecular meshwork cells in culture releases proteases, which can digest and remove hydrolyzed proteins that can clog the trabecular meshwork obstructing the eye's drainage system.
[The trabecular meshwork is an area of tissue located around the base of the cornea; it's responsible for draining the aqueous humor from the eye.]
Topline results announced in early January 2017 left investors with no hope that the drug is a viable monotherapy for glaucoma. According to the company, the drug did not produce a significant benefit in reducing eye pressure in glaucoma patients at each of 12 different time points over the course of 84 days, compared to placebo.
Strategic Alternatives
Just because management is exploring strategic alternatives does not necessarily mean that it will generate meaningful shareholder value. After all, what is ITEK's sales pitch? Trabodenoson is (or perhaps was) its sole drug candidate and the drug failed both as a combination therapy and as a monotherapy.
Consequently, we believe a potential buyer would not come to the table in order to acquire rights to Trabodenoson, but instead to capitalize on ITEK's $109 million cash position, tolerable debt, and its access to capital as a NASDAQ-listed enterprise. It is unclear whether or not an acquisition will manifest itself in a traditional merger or a reverse-merger, and we have no basis upon which to speculate.
Indeed, it is possible that ITEK could pursue the rights to a new portfolio of assets with cash on hand and/or a share conversion; however, we do not believe that investors would prefer this option given management's poor track record in clinic. We believe that investors would greatly prefer the outright sale of ITEK.
Conclusion
For the reasons above, we continue to avoid ITEK. However, we will not short ITEK because of the various uncertainties in respect to management's pursuit of strategic alternatives.
Disclosure: I/we have no positions in any stocks mentioned, and no plans to initiate any positions within the next 72 hours.
I wrote this article myself, and it expresses my own opinions. I am not receiving compensation for it (other than from Seeking Alpha). I have no business relationship with any company whose stock is mentioned in this article.
Editor's Note: This article covers one or more stocks trading at less than $1 per share and/or with less than a $100 million market cap. Please be aware of the risks associated with these stocks.