Warren Buffett often says he likes to "buy good quality merchandise when it is marked down"; I believe Dart Group is the merchandise on sale now.
Dart Group PLC (OTCPK:DRTGF) announced preliminary results for the year to 31 March 2017 last week. I believe that the market overreacted to a decrease in profit without properly assessing the drivers behind it.
Dart Group is the owner of both a travel business consisting of Jet2.com, an airline and Jet2Holidays as well as a logistics business called Fowler Welch. The leisure travel business comprises over 90% of revenue and an ever bigger proportion of profit in comparison with the steady logistics business, so the travel operation is where the investor should focus.
Profit before tax reduced 14% (2017: £90m, 2016: £104m) in comparison with last year, so how can we explain that this is not a true reflection of the prospects of the business and this is the time to buy and not sell?
Firstly, when the foreign exchange loss is stripped out, profit only fell 4% on an underlying basis. The foreign exchange loss of £10.9m distorts the actual operating results, the weakening pound due to Brexit the reason. Foreign exchange results can go either way, so I am confident this will not be a recurring event.
Secondly, margins slipped 1.5% in the travel business combined to hurt the bottom line in comparison with last year. This occurred due to discounting in the second half of the year to achieve the planned growth in customer volumes, as well as the money spent on promoting Jet2 in their Southern bases and the hiring of employees to match this growth. Jet2 is expanding quickly and if, judging by forward bookings increase revenue by 40% next year combined with a margin recovery from 6% back to 7.5% they would increase profit in the travel business from £103m to well over £170m. This would give a forward P/E of around 5 for a fast-growing, profitable company.
Therefore I look at money spent on the 2 new bases as an investment and not an expense. Their new bases as part of their strategy to move further South to London Stansted and Birmingham. is expensed now but benefits will be reaped over many years. This will open up more potential customers to Dart and give a platform for growth.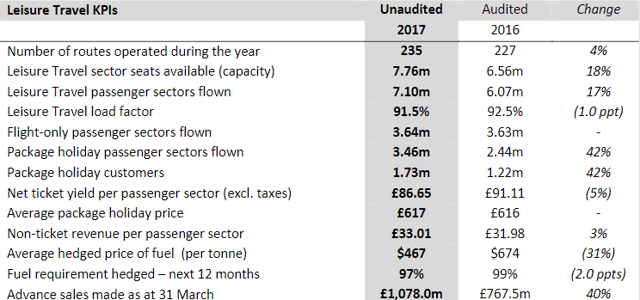 If we look at the Key Performance Indicator's from the report (Dart-Group-Preliminary-Results-2017.pdf) for the travel business we can see that passengers flown are up 17% with the load factor quite consistent at 91.5%, an achievement for a growing airline. Package holiday customers, which are more profitable than just selling airline seats, increased 42% and now make up an increasing share of the sales mix and account for 49% of customers. These customers generate a lot more revenue, averaging £617 rather than the £86 ticket for the flight only product. The advantage of the package holidays is unlike the airline seats, they are unique, unlike the seat which is a commodity. I think this gives Dart a decent moat. If package holidays continue to be half of sales or even increase, this combined with the expansion, seen through the 40% increase in advance sales will result in more revenue and higher profit for Dart Group.
Balance Sheet and Valuation
Dart Group increased shareholder equity by 35%, to £431m. The current market cap of Dart at a price of 515p is £763m. This means Dart is trading at a P/B ratio of 1.77 which I believe is quite cheap for a fast growing company. For a company that has had around £100m of profits for the last 2 years and which should be much higher next year, I think it is quite cheap, providing a good margin of safety.
The company has lots of cash, and has a negative cash flow cycle, receiving money for tickets and holidays before having to deliver the service. The company has increased debt but still only has a Debt/ Total Capital ratio of .45 which they should be able to pay down quickly as they expand.
The company is a cash flow machine generating £331m from operating activities, this company has little risk of going out of business anytime soon.
Conclusion
In summary, while I have to acknowledge there are some risks in Brexit and what it will mean for the travel industry etc. as well as the risk that the expansion plans for Jet2 do not run as smooth as possible, Dart Group is still in a much better position than its competitors such as Thomas Cook (OTC:TCKGF) who are struggling with a high debt load. This may yet produce opportunity for Dart in the British travel space.
I am confident that the combination of high inside ownership, little to no dilution, negative cash flow cycle, cheap valuation, manageable debt, a clear expansion platform competent management, good relationships with customers and suppliers as well as the continuing urge for British people to go on holidays in the sun will mean Dart will produce good results going forward and Mr. Market will realize it overreacted to last weeks' results and got it wrong!
Follow me for more on Dart Group and others!
Supporting Documents
Disclosure: I am/we are long DRTGF.
I wrote this article myself, and it expresses my own opinions. I am not receiving compensation for it. I have no business relationship with any company whose stock is mentioned in this article.
Editor's Note: This article discusses one or more securities that do not trade on a major U.S. exchange. Please be aware of the risks associated with these stocks.