I haven't written about Pandora (P) since early May. While I expected to see the internet radio company undergo an event-filled year (equity investments, BoD changes, potential takeover, etc.), I can't help but be surprised by how much has happened to Pandora and its stock in such a short period of barely two months.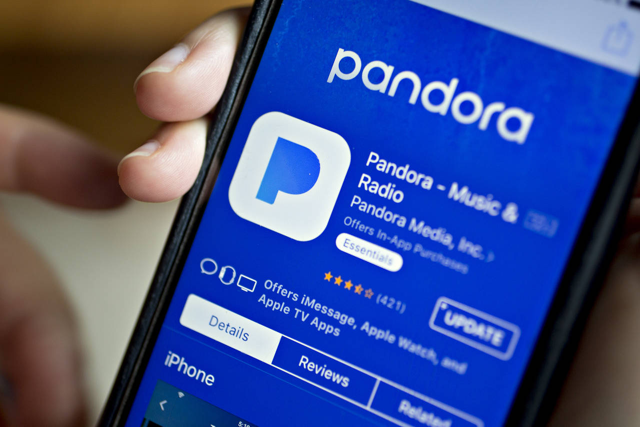 Credit: Barron's
Maybe the company's recent story can best be told with the aid of the three-month stock chart below.
On May 9th (marked by the red "A" circle), Pandora delivered an EPS beat coupled with soft guidance that I believed contained good early metrics on the company's new Pandora Premium service. In addition, private equity firm KKR (KKR) had committed to investing up to $250 million in the internet radio company, a relief given Pandora's fast-depleting cash reserves. Lastly, there was a possibility that Pandora could have been sold within just one month, suggesting potential short-term upside to the stock price.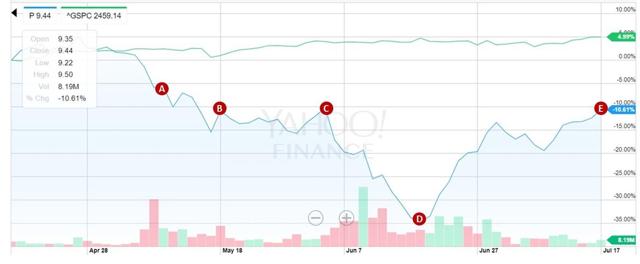 Source: Yahoo Finance, adapted by DM Martins Research
While I expected the early May news to bode well for P as they provided hope that the company's 2020 financial and operational targets could be reached, the share price continued its gut-wrenching descent to all-time lows. Before reaching $6.91 by June 19th (marked by the red "D" circle above), takeover and capital infusion speculations fueled short-lived spikes in share price between mid-May and early June (marked by the red "B" and "C" circles).
By the end of June, an important CEO seat change met a stock that had already started to move towards the current six-week high of $9.44 (marked by the red "E" circle on the graph). As Seeking Alpha contributor Max Greve presented eloquently, the Street welcomed what seemed to be a returned focus to making money, possibly with an emphasis on Pandora's ad business in detriment to the Premium subscription services that departing CEO Tim Westergren had helped to create and launch over the past several months.
Amid all these changes, it seems to me like Pandora's original 2020 plan (see below) shared with analysts in October 2016 may have become all but obsolete in a matter of only a few weeks. While many skeptics might have never believed that the plan was viable to begin with, given the competitive landscape and how late Pandora had come to the subscription service party, I considered it the best road map against which the company's performance could be measured over the next 3 years. Were Pandora to deliver on its stated goals, I estimate that the stock could have been worth $20/share by 2020.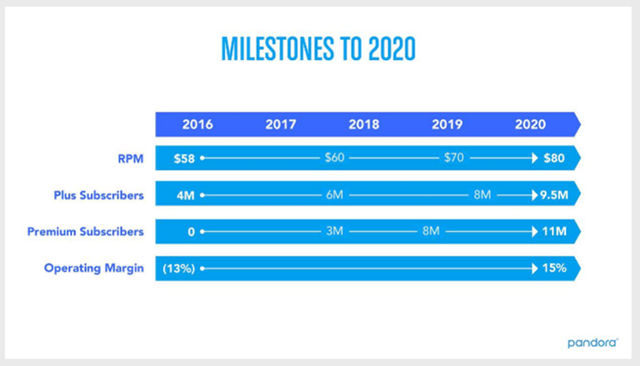 Source: Analyst Day presentation from October 2016
Against this backdrop and with an interim CEO at the helm, Pandora will report 2Q17 results on July 31st, after the closing bell. In my mind, little will it matter whether consensus expectations of $369 million in revenues and ($0.24) in EPS will be met. Much more important will be Pandora's new vision, if one exists, for the path forward.
Until a new road map is created and communicated, I find it speculative to invest in P, especially following the +37% stock price recovery of the past 4 weeks. There are just too many questions left unanswered in the wake of a complete overhaul in the company's leadership team and board of directors. Will Pandora continue to focus on the Plus and Premium services? Will there be a renewed focus on the free service platform? Is there a path to sustainable, mid-teen (at least) operating margin in the foreseeable future?
Some of these questions could start to be answered when Pandora reports its 2Q17 results later this month. I'll stay tuned in.
Note from the author: If you have enjoyed this article and would like to receive real-time alerts on future ones, please follow D.M. Martins Research. To do so, scroll up to the top of this screen and click on the orange "Follow" button next to the header, making sure that the "Get email alerts" box remains checked. Thanks for reading.
Disclosure: I/we have no positions in any stocks mentioned, and no plans to initiate any positions within the next 72 hours.
I wrote this article myself, and it expresses my own opinions. I am not receiving compensation for it (other than from Seeking Alpha). I have no business relationship with any company whose stock is mentioned in this article.