Restoration Hardware (RH) has just completed one of the biggest share buyback programs in history. Within less than five months, it bought back 49.6% of total shares outstanding ($1B). The impact of the buyback on RH's stock is tangible. Since its initiation (Feb. 23rd), RH's share price has appreciated by 171%. In that same period, the total shareholder return of its closest competitor, Williams-Sonoma (WSM), is -5%.
RH and WSM are currently trading at a 52-week high and 52-week low, respectively. The table below shows total shareholder returns for both stocks in the last 12 months.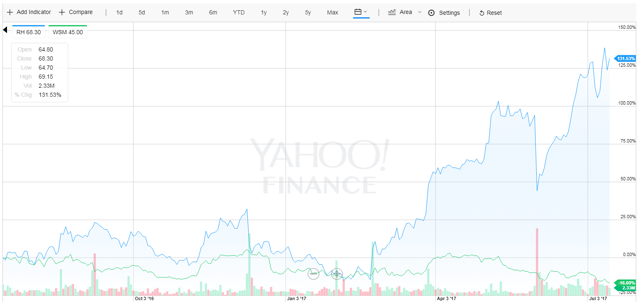 Remarkably, consensus estimates for RH's operating profitability (EBIT) have dropped to a 52-week low.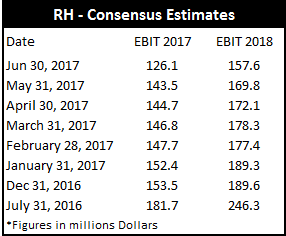 Why the Buyback does not Add up
The typical reason for the execution of a share buyback program is the presence of an undervalued stock. However, the RH stock is no bargain. On the contrary, a comparable multiples valuation analysis could attribute even zero value to the RH stock as its projected year-end Debt/EBITDA (6.4x) is lower than WSM's EV/EBITDA (5.9x). In addition, RH is the only home furnishing company with a negative book value.
Sometimes, though, companies with excess liquidity may initiate share buybacks as a way to return cash to their shareholders in a tax efficient manner and for lack of any better alternative use of cash. It is clear, though, that this is not the case here. While the other brick-and-mortar home furnishing retailers have maintained very low leverage in view of the challenges presented by the aggressive Amazon's and Wayfair's push in the space, RH has a very aggressive capital structure.

In fact, RH is in a league of its own when it comes to risk management. It is not only the most leveraged home furnishing retailer but also the one with the riskiest business model; signing 40-year leases at stores with massive footprint (40,000-45,000 square feet) to satisfy demand for high-end furniture, prone to the economic cycle, is a very tricky value proposition.
Under the above circumstances, the size of the recently completed buyback program appears utterly inexplicable.
Some other puzzling questions
Why did RH execute the buyback program at such a rapid rate? If the share purchase was spread over a longer period of time, the company could have achieved a lower acquisition cost, benefiting its shareholders.
Why did RH borrow at 9.48% marginal interest rate as indicated by the terms of its second lien term loan? How can this transaction be justified? In its most recent press release, RH claimed to have an average pre-tax cost of debt of 1.9%, but such a calculation is based on the assumption that the cost of the two convertible bonds is zero (because of the absence of coupon payments) and conveniently ignores both the option value of the instruments and the real money RH has paid to hedge these transactions. It also ignores the elevated costs of landlord financing. Most importantly, RH's debt calculation is backward looking as the annual cost of the new debt to refinance the existing convertible issues would be north of 8% today.
Why did RH totally exhaust its debt capacity given its ambitious, capital intensive growth plan to convert all its small stores (7,500 square feet) to large format stores (45,000 square feet)?
Why is RH cutting down its SKU count to such an unprecedented extent while the management claimed until late last year that the large format stores would showcase RH's product depth as a point of differentiation?
Solving the mystery
There is only one scenario that provides a plausible answer to all the above questions; Gary Friedman, CEO of RH and owner of 29% of RH stock (approximately 6M shares), is making a bold attempt to sell the company at the highest possible price before reality kicks in. That would fit well with the thesis that:
EPS are heavily massaged in many ways as thoroughly explained in the SA article "Massaging Returns".
The rapid execution of the buyback program is an effort to manipulate the share price by creating a transitory demand for the stock and force short-sellers to close out positions. The share price appreciation seemingly strengthens the case for a higher sale price.
The extensive inventory liquidation and the utter exhaustion of RH's debt capacity signals management's hidden admission that the growth story is over and the business model of building large format stores is not working.
A sale seems to be the only viable option for a company that will become toast as the promotional environment further intensifies and customer demands value for money. Remember that RH management declared the end of promotions in 2016 (with the simultaneous introduction of a loyalty card) only to lower its implicit guidance for operating profitability (EBIT) twice so far in 2017 on increased outlet sales…
The case of an attempted sale fits well with the recent rumors that Amazon and Williams-Sonoma have already turned down RH's approach. Author's strong conviction is that there is a small probability that RH can be sold for anything more than 50% of its current share price.
Final thoughts
When Gary Friedman was in a difficult position ten years ago, he was bailed out by a private equity firm that bought out RH at 0.35x Revenues and injected new capital into the business. With the current RH's Debt/Revenue ratio at 0.49x, Gary may have overplayed his hand. Completing such an enormous buyback program to get a marginal EPS improvement could prove to be the ultimate textbook example of poor capital allocation. Even the mildest US recession could plunge RH into bankruptcy as RH's convertible debt comes due within the next three years.
The market reception on RH's bullish announcement could be a precursor of the things to come. With the exhaustion of the firepower of the most important buyer of the stock in the last five months, RH's stock could soon be re-rated.
Footnote: Some thoughts concerning SA contributor "Courage & Conviction Investing" who recently argued that RH is not a good short candidate because of its high short interest and its heavy institutional ownership.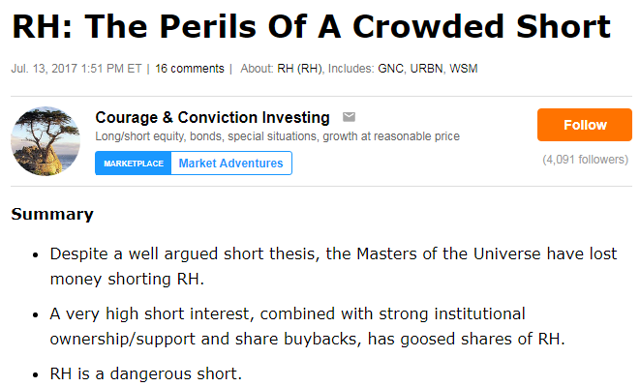 I would agree with Courage &Conviction Investing that both factors add an extra layer of risk to a short position. But this is an idiosyncratic risk that can be managed through position sizing and through manner a trade is executed (sale of in-the-money call options/ purchase of put options). They are not factors of systematic risk that calls for a higher rate of expected return. In addition, there is no evidence that heavily shorted stocks outperform the market. In fact, there is some academic research in the area of behavioral finance that shows that small cap stocks with high short interest materially underperform their benchmark indices. Moreover, a high level of institutional ownership works both ways and it could make the exit door look too narrow when everyone is trying to escape. On March 31st, institutional shareholders owned approximately 30M shares and currently the free float of the stock is just over 14M shares. Even accounting for potentially another 10-12M shares that are sold short, one has to assume that Institutional shareholders were heavy sellers in Q2 to reconcile these numbers. Selling could accelerate as institutions realize that the firepower of the marginal buyer of RH stock has been exhausted.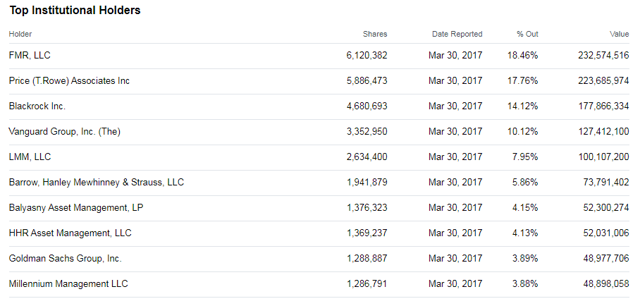 In his attempt to corner the market, Gary Friedman has given his own investors a compelling opportunity to sell at the expense of his own company. He might have dug a too deep of a hole.
"He who digs a pit will fall into it". The Bible.
Disclosure: I am/we are short RH.
I wrote this article myself, and it expresses my own opinions. I am not receiving compensation for it (other than from Seeking Alpha). I have no business relationship with any company whose stock is mentioned in this article.
Additional disclosure: Short position consists mainly of the sale of long dated in-the-money call options.