AutoZone (AZO) shares have plunged this year, falling from $800 to just $500 this summer; that's their steepest drawdown dating back to 1997.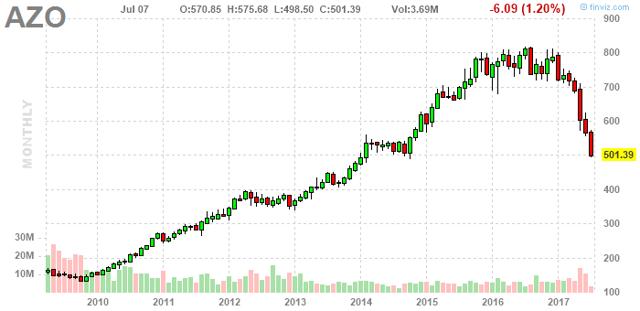 This is the sort of decline that grabs one's attention, particularly in a company whose stock has been such a star performer over the decades (traded at just $19 in 1997, making in a more than 40x at the peak).
The company's stock has been hit by several factors. One of these is that the auto industry as a whole is slowing; new car sales are tailing off, and concerns are mounting about the state of the used car industry and excessive debt levels there as well. While auto parts are somewhat removed from this – people still have to repair operational cars, an overall downturn in spending on autos is viewed as a negative for AutoZone and its competitors. And if the used car market continues to see falling values, people won't service used cars as long, reducing AutoZone's total addressable market to some degree.
Next up, sales are slowing, both at AutoZone and competitors such as O'Reilly Automotive (ORLY). In fact, it was ORLY's poor results that caused the latest 10% decline in AutoZone stock earlier this month. AutoZone itself put in a clunker in its most recent quarter; though management blamed delayed tax refunds, this is the sort of tenuous excuse (see: blaming the weather) that retailers often use for poor results.
Finally, Amazon's move into grocery stores has sent a general chill throughout the sorts of brick and mortar stores (such as auto parts) that are thought to be largely internet-resistant. Sure, some online auto parts stores, such as RockAuto, have been quite successful. However, the combination of expediency and making sure the part is compatible has tended to keep this sort of retail from going digital.
Advance Auto Parts (AAP) and O'Reilly stock are both down about 40% from their 52-week highs, so the general industry headwinds are evenly-distributed. AutoZone's decline is almost entirely a result of its industry, not its own individual corporate performance. With that said, why am I interested in AutoZone here, and not the others so much?
Simple answer: The buyback. AutoZone is one of those classic companies that relentlessly buys back stock. Management has an unwavering commitment to spending 100% (or more) of earnings on repurchasing its own shares. This has resulted in the company buying back more than 80%! of its own stock since 1998. A 150 million share count then has been vastly consolidated – only 29 million AZO shares remain today.
Since 2002, the oldest year for which I have detailed data, AutoZone's revenues have only doubled, while net income has tripled (thanks to higher margins). However, since share count is down almost 75% over that stretch, a mere doubling of revenues led to a 1,000% increase in EPS, from around $4/share to $45/share today.
Why has AutoZone's buyback been so effective? That's because the market didn't believe in it. AZO stock routinely traded around 11-13x earnings in the early 2000s, despite management widely communicating that there'd be an infinite bid under the stock. If you take 100% of earnings to buy back stock at 11x earnings, you can buy back 9% of your total share count every single year. It doesn't take advanced math to see that if you can eliminate almost 10% of your shares annually, earnings are going to explode, even if the base business is only growing slowly.
Management took this another step further, leveraging up to buy back stock at opportune moments. The company borrowed money heavily when the stock was cheap to buy more. Between 2007 and 2010, the company doubled its buyback authorization to gobble up more cheap shares (under $200 each). As shares soared from 2011-onward, the company has refused to up its buyback authorization any further, and in some years, has even taken its foot off the gas pedal when it comes to buybacks.
As a result, the company's indebtedness ratios have actually fallen modestly in recent years, as management bought back far fewer shares at $750 than they were buying at $150. The company presumably will now scale the buyback back up to benefit from the newly-cheap shares. We already saw the beginning of this, last quarter, the company retired 320,000 shares versus 180,000 in the prior quarter when the stock was much higher.
Some Models For Thinking About AZO Stock
AZO stock, due to the confluence of headwinds it faces this year, is now back to 11x earnings, near the bottom of its historical range. Assuming management spends 110% of earnings on buybacks (quite in line with past behavior when the stock was cheap), management will buyback 10% of the company's outstanding stock annually. The company's current 28.2 million shares would drop to under 25 million by the end of 2018, and down to 20 million by the end of 2020 if the P/E ratio remains so low.
Here's a 10-year simplified model of what happens if AZO stock stays at an 11 P/E ratio the whole time (should we be so fortunate), management buys back stock with 100% of earnings, and net income grows at a paltry 3%/year (all tables are my work).
That's more than a triple in stock price in 10 years, thanks to two-thirds of the share count disappearing with the low P/E ratio, even at net income just marginally advance.
Now let's imagine net income growth rebounds to 7%/year (in line with history) but the P/E ratio also moves sharply back up. With net income doubling in this example, you'd expect to make far more money, right? Yet, in fact, the difference isn't all that great; higher market expectations (P/E ratio) causes the share buyback to have much less power (almost 4 million shares less). Net EPS barely ends up with any difference. Buying back stock at 10-12x P/E makes up for a LOT of other issues.

Now let's imagine a bearish scenario where AZO income only grows 2% now, and trails off and turns single-digit negative after 2020 as Amazon invades. The market punishes AZO, treating it as a dead business walking a la Gilead, and sends the P/E ratio into the single digits. Disaster right?

In this bearish scenario, AZO stock still more than doubles over the next decade (+140% in fact) despite net income outright declining thanks to digital threats. However, given that the company manages to buyback 75% of its outstanding stock (a 7 P/E ratio gives you so much bang for your buck), the company can still triple its EPS.
How does an investor lose buying AZO stock today? If the market decides to overpay for a business that in fact keeps declining. Let's leave the same net income glide path from above, but imagine that the market sends AZO's P/E ratio back up to a high multiple for awhile before realizing that it's a terminally shrinking business (if it is – I doubt it, but we'll assume for a second):

Even this is hardly a fiasco, though you'd rather sell around the turn of the decade than hold into the second P/E ratio contraction phase. Point is, as long as you don't think net income is about to collapse, you'll make money buying back your own stock hand over fist at 10-11x earnings. Though if net income can continue to grow (see the first two scenarios) the returns can be breathtaking.
Given the various scenarios laid out above, there's clear value at $500/share if net income merely stays flat, let alone continuing to grow at a middle single-digit pace. Why do I think that will occur?
Conclusion: Market Overstating Risk
AutoZone and the other parts stores are still continuing to expand store counts. Given AZO's hyperfocus on capital efficiency, I'd be surprised if management was opening stores that had significantly worse returns on capital than simply buying back more stock. Unlike, say, clothing retailers, this industry is still expanding even in the US, suggesting that we're well away from the stores' economics heading significantly south. The market is panicking over same-store sales figures this year, but revenues are still growing, and there is a decent reason to think much of the slowdown is one-off. Given how little has to go right for a company to deliver strong results from 11x earnings, the market's fear is overblown.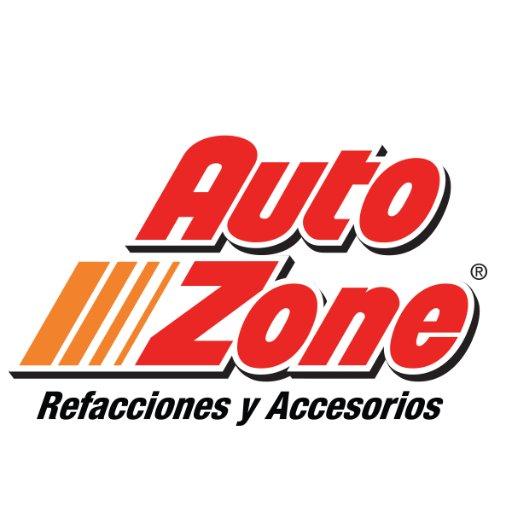 AutoZone's Mexican logo.
Also, consider AutoZone's Mexican business. The company derives about 10% of its profits from Mexico and is growing nicely there. Profits have slowed down, though, due to the weak Mexican Peso. With the Mexican Peso rebounding almost 20% this year, FX effects alone can add a couple of points to earnings, and going forward, stronger Mexican growth prospects should help offset the slowing automotive cycle in the US.
Yes, there are some very long-term risks to AutoZone stock, such as a potential deluge of EV cars that reduce the need for spare parts. In a similar vein, self-driving autoshare car fleets could substantially reduce the number of vehicles in operation in the country. That said, these trends are still largely beyond our investment radar – cars purchased today and on into the early 2020s (when self-driving and EV cars may really go mainstream) won't be abandoned immediately – given the average US car stays on the road for a decade or more, you're unlikely to see much real impact from newer technology on auto part demand out to 2030 at the earliest.
Is the bottom for AZO stock? To be frank, I have no idea. These sorts of plunges on changing investor sentiment can go on longer than you'd expect. AZO is a low-volume stock, with much of the stock sat on by long-term passive holders, allowing for large short-term swings due to the modest amount of real float.
However, in the case of AutoZone stock, as long as net income stays flat or better, the lower the stock goes the better the long-term investment results. Not only does the buyback become more effective, but management has shown that they will deploy all available cash and credit into their stock when it becomes particularly cheap. Should AZO stock spend a couple of years at or below $500/share, expect the buyback to be ramped up dramatically, allowing for potentially even more upside than the two bullish cases I outlined above.
This isn't without risk. If the internet suddenly obliterates AutoZone's business, the company's stock would plunge with it, given the high amount of leverage management has used to buy back stock. If you're going long here, you have to think AutoZone is a viable business in the US for the next 10-15 years at least. But if you do believe that, then the stock is highly interesting around $500. Given the unprecedented scale of the buyback, the share count will continue to plummet given the currently depressed P/E ratio. He who owns the last share of AZO stock could be a very wealthy man.
This is an edited/updated excerpt of an Ian's Insider Digest report.
Disclosure: I am/we are long AZO.
I wrote this article myself, and it expresses my own opinions. I am not receiving compensation for it (other than from Seeking Alpha). I have no business relationship with any company whose stock is mentioned in this article.