Banks can't seem to impress the Street. At least not this quarter.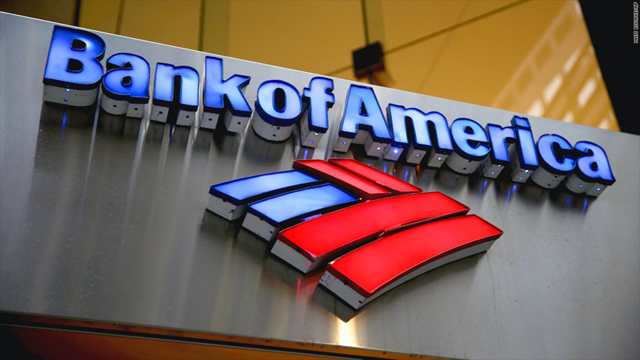 Credit: CNN Money
Bank of America (BAC) posted a top- and bottom-line beat early this Tuesday. On the revenue side, $22.8 billion was a whole billion dollars better than expectations on the back of solid NII (net interest income) ex-global markets. Net income, on a YTD basis, is up for each of the bank's business segments (see charts below), with global banking maintaining 1Q17 momentum and performing particularly well. Return metrics look robust, with ROA of 0.93% coming in 5 bps higher YOY and ROE of 8.0% better than last year's metric by 60 bps.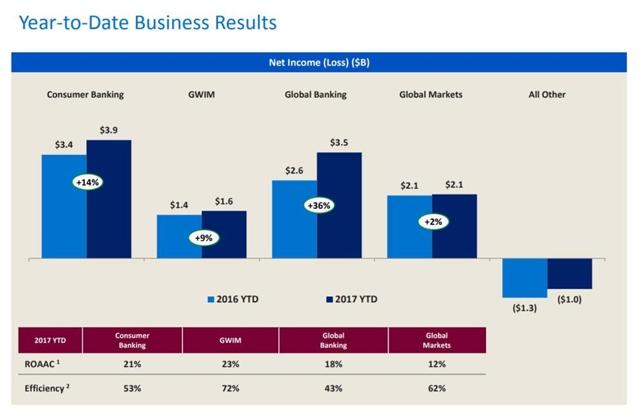 Source: Company's earnings presentation
Not unlike last time, the institutional client business on the banking side was largely (although not solely) responsible for another outstanding quarter. This segment, responsible for only 23% of total segment revenues in 2Q17, accounted for nearly two-thirds of YOY segment net income growth (excluding net DVA). On the consumer side, a 21% YOY increase in net income was paired with improvements in key operational metrics, including an efficiency ratio of 52% that was better than last year's 57% and lower cost of deposits. The weak spot this quarter came in global markets, down nearly 10% YOY as emerging markets and secondary markets underperformed.
Credit quality is an important topic in my view, as I have repeatedly stated my concerns over increased household debt load in the U.S. On that front, Bank of America once again improved across the board, with credit loss provisions dipping -26% YOY, net charge off ratio decreasing 4 bps, and non-performing loan ratio down a sizable 20 bps (see table below). Part of the improvement, however, can be attributed to lower energy exposure, while lower losses in consumer real estate accounts for a good chunk of the rest.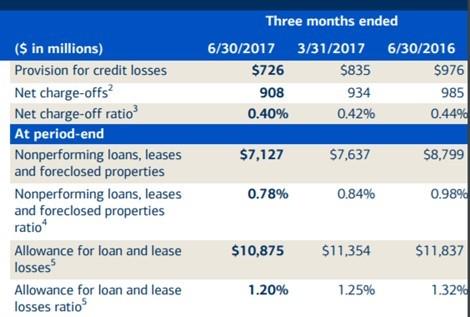 Source: Bank of America's press release
Yet, despite the robust performance described above, BAC is down slightly in pre-market trading. The mildly bearish reaction reminds me of how the Street behaved last week to a solid print by peers Citigroup (C) and JPMorgan (JPM). Unlike those of its competitors, however, Bank of America's shares have not performed as strongly in the past month (flat) or so far this year (up +6% vs. C's +10%).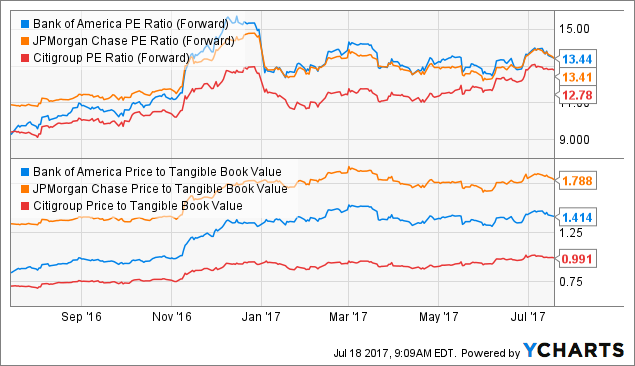 BAC PE Ratio (Forward) data by YCharts
With the so-called "Trump trade" fueling strong stock appreciation late in 2016 and into early 2017, it is possible that investors are now taking advantage of strong 2Q17 results to scale back on their financial services exposure. But aside from technicals and profit-taking tactics, I continue to believe that Bank of America's fundamentals support the case for an investment in the stock. The company continues to deliver while, in my view, valuations (see graphs above) remain within the realm of reason.
Note from the author: If you have enjoyed this article and would like to receive real-time alerts on future ones, please follow D.M. Martins Research. To do so, scroll up to the top of this screen and click on the orange "Follow" button next to the header, making sure that the "Get email alerts" box remains checked. Thanks for reading.
Disclosure: I/we have no positions in any stocks mentioned, but may initiate a long position in BAC over the next 72 hours.
I wrote this article myself, and it expresses my own opinions. I am not receiving compensation for it (other than from Seeking Alpha). I have no business relationship with any company whose stock is mentioned in this article.