It's hard to find quality stocks on sale in 2017. Much of the market is rallying to all time highs on the backs of improved consumer confidence and spending. That should be (and is) a boon for AMC Holdings (NYSE:AMC), yet the stock keeps creating new 52 week lows. Concerns about the future viability of movie theaters in an online age abound and have led to an excellent buying opportunity.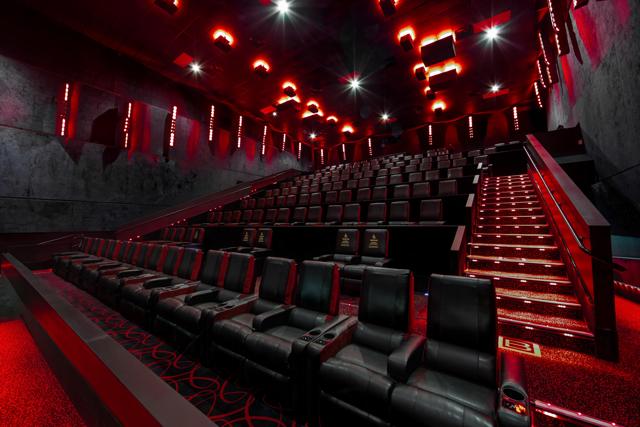 Are

theaters really in trouble?
There is a lot of pessimism baked into the share prices of theater stocks in the US right now, and I have a hard time understanding why. Obviously, behemoths such as Amazon's (AMZN) Prime Video and Netflix (NFLX) are having a disruptive effect on much of the entertainment industry. But since when are people skipping the theater for Netflix? There has been TV and video rental for decades, yet people still go out to see the silver screen. I'd question if online streaming is stealing any market share from theaters.
Yes, that was very anecdotal, but let's look at some statistics that back that up.

Although by no means on fire, the Box Office has been able to roughly keep up with inflation over the past decade and a half. What's more, it held up valiantly through the '09 financial downturn.
I think there's a pretty simple reason for this. The theater also remains the most affordable choice for a family outing or date night. AMC pegs the cost of taking out a family of 4 to their theater is $34.

It's not particularly fair to compare the cost of a Netflix subscription with going out to the movies. They fall into two separate categories. In the out-of-home entertainment category, movies are far and away the most affordable.
Financial results are not showing up in stock performance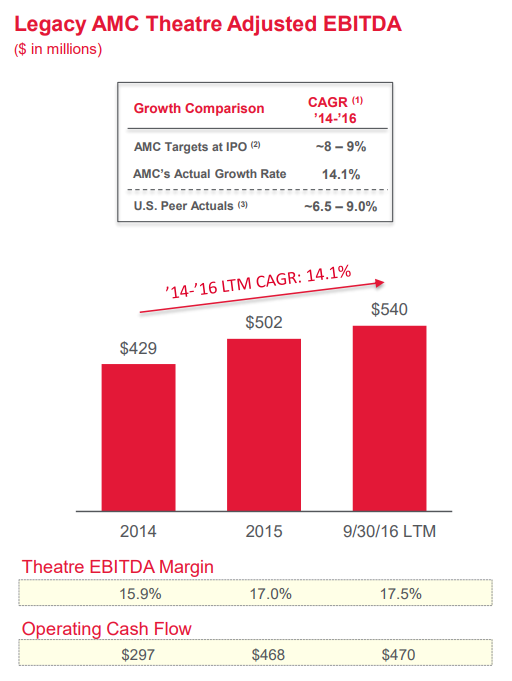 Source: AMC June 2017 Investor's Presentation
AMC's financial performance since IPO, in fact, has been quite good. The company's EBITDA is growing at a respectable 14% CAGR since IPO.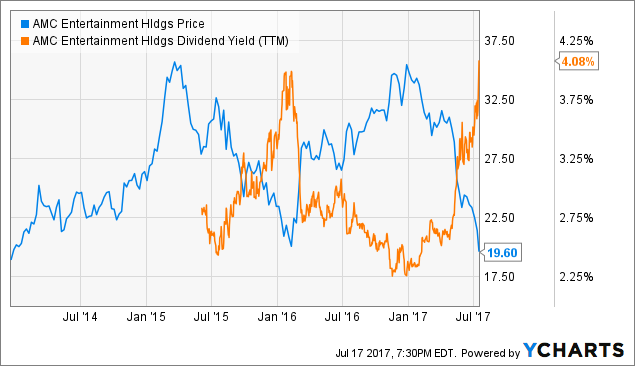 AMC data by YCharts
The stock is also trading at an all time high dividend yield, now above 4%. It is also important to keep in mind that AMC was able to issue significant amounts of stock around $34 (page 13) to fund its major transactions. The stock trades at almost half that now, while results continue to remain strong.
The bear case
The more legitimate concerns about AMC arise when we begin to tear into the company's balance sheet and growth plan...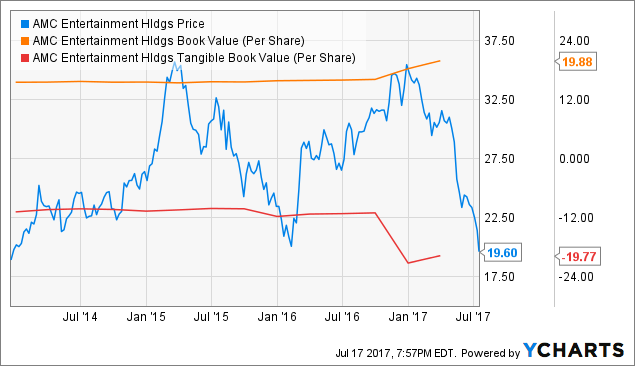 AMC data by YCharts
Either line shows AMC is trading at about $19 per share in book value, though one includes a negative sign. Bears point to once one subtracts goodwill and intangible assets, AMC's stock has no real assets. However, this is the norm in the theater business. AMC does not own the theaters they operate in, and such valuation should be based on price/free cash and on the dividend.
Great time to pick up stock
Recently, AMC's stock dropped to a multi-year low on the news that China was tightening up regulations on loaning to companies that make foreign investment. AMC's was IPO'd in 2013 by a Chinese investment firm. The odd thing about this is AMC has not received any loans or funding by its former Chinese parent, Dalian Wanda. As I'm writing this article, AMC released a statement reaffirming this. Below are their statements regarding the news.
Dalian Wanda has never been a source of acquisition funding for AMC. AMC has completed four circuit-wide acquisitions and bought numerous individual theaters since being purchased in 2012 by Dalian Wanda Group Co. Ltd. ("Wanda"), including most recently Starplex Cinemas ("Starplex") in 2015, ODEON & UCI Cinemas Holdings, Ltd. ("ODEON") in 2016, Carmike Cinemas, Inc. ("Carmike") also in 2016 and Nordic Cinema Group Holding AB ("Nordic") in 2017. At no time was Wanda ever a source of funding for any of these acquisitions or individual theater purchases. Additional information on the individual acquisitions is provided below.

Mainland China-based banks have never been a source of any funding for AMC. AMC has never received committed financing from any bank headquartered in mainland China for any purpose, including for acquisitions. All committed debt financing for AMC's three most recent acquisitions were funded by a syndicate of U.S.-based banks with AMC as the borrower without financial guarantees or credit enhancements from Wanda. The fourth acquisition was funded by AMC's available cash on hand.

Intercompany transactions between AMC and Wanda are de minimis. As previously disclosed on March 10, 2017, on Form 10-K, Wanda routinely reimburses AMC for general administrative and other expense in what are typically immaterial amounts incurred on behalf of Wanda. Total reimbursements of expenses received in the calendar years 2016, 2015 and 2014 respectively from Wanda were $461,000, $738,000 and $1,423,000. Total reimbursements of expenses from Wanda for the twelve-months ending December 31, 2017, are expected to be less than $600,000. Also previously disclosed in the 2016 10-K was Wanda's capital contribution of $10 million to AMC received during February 2017 (without any increase in Wanda's economic interest or voting rights in the Company) for one-time payments to certain officer, directors, and other personnel for extraordinary services rendered in connection with merger and acquisition activity in 2016.

Wanda has no special claim to monies generated through AMC's operations. The only current vehicle for making payments by AMC to Wanda is through the issuance of dividends, which are offered equally on a per share basis to all AMC shareholders. However, AMC does make normal film rental payments some of which indirectly go to Legendary Entertainment, a Wanda affiliate, in conjunction with AMC's showing films made by Legendary Entertainment and distributed by other studios, on what AMC believes to be arms-length market terms.
It is also important to note, that all three of AMC's theater acquisitions were funded by debt and stock, not by Wanda...
Conclusion
The bottom line is this, with the 3000 screens acquired recently, a manageable debt/EBITDA and irrational market fears lead to an excellent buying opportunity. In the meantime, while investors wait for capital appreciation, a 4% yield makes it worth sticking around. In short, the decline of the movie theater has been greatly exaggerated.
Thank-you for reading. If you enjoyed the article, please scroll up and click the orange "FOLLOW" button next to my name to receive future articles.