Introduction: The Tesla Freight Network
Following its strategy in passenger cars, I predict that Tesla (NASDAQ:TSLA) will begin by selling semi trucks to customers before transitioning to an on-demand self-driving service. I believe that Tesla will launch a Tesla Network for freight like its planned Tesla Network for passengers. I anticipate that this service, which I call the Tesla Freight Network, will probably launch sometime in the early 2020s. Using some rough back-of-the-envelope math, I find that the Tesla Freight Network could eventually generate tens of billions or even hundreds of billions in revenue for Tesla.
This is not a new idea. Uber (UBER) already has launched a similar service, Uber Freight, although for now it still uses human drivers rather than self-driving trucks. Uber also acquired Otto, a self-driving truck startup, and continues to work on developing self-driving for long-haul freight trucking. Uber has made clear its service for passengers will go autonomous. Taking Uber Freight autonomous seems like a given.
In October, Tesla announced the Tesla Network for passengers, an autonomous ride-hailing service that will compete with Uber. With Tesla now working on self-driving freight trucks, the logical next step is to develop a competing service to Uber Freight. Tesla will have an edge over Uber, as well as over other competitors, if the all-electric Tesla semi can achieve a cost per mile than semi trucks powered by diesel engines. This should be achievable thanks to the lower energy cost, lower maintenance cost, and longer lifetime of electric powertrain technology. Tesla will have an additional advantage in machine learning for self-driving freight trucks if can build up a large fleet of primarily human-driven trucks with Autopilot that collect driving data.
Contrary to popular belief, Tesla is not already priced for perfect execution of its strategy. That could only possibly be true if Tesla's strategy did not include self-driving, which CEO Elon Musk has stated is the company's No. 2 priority, behind only the Model 3 launch. Self driving for passengers would likely grow Tesla's market cap several times over. Self driving for freight represents another opportunity for growth that ranges from around a 20% increase in market cap at 1% market share and a several-fold increase at higher market shares.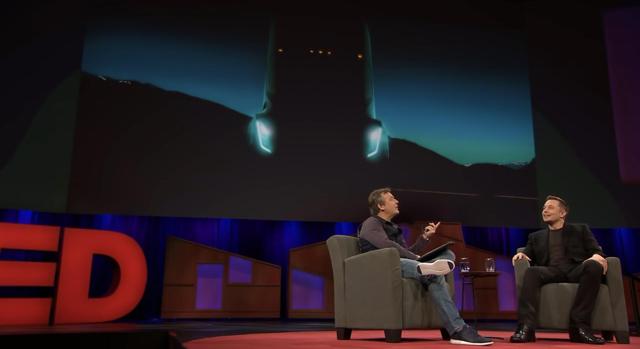 Tesla CEO Elon Musk talks about the Tesla semi truck at TED.
How big is Tesla's opportunity?
Let's spend a moment indulging in the dangerous game of linear extrapolation. If Tesla is successful in quadrupling its production volume in 2018, its share of the U.S. passenger vehicle market will be roughly 1%. At a 1% share of the freight trucking industry, Tesla would generate $10 billion in revenue. At the S&P 500's historical average price/sales ratio of 1.45, this revenue would add $14.5 billion to Tesla's market cap. That's about 20% growth from Tesla's all-time high market cap of $63.6 billion.

By comparison, as of late last year Tesla's share of the U.S. large luxury sedan market is around 30%. It's a segment that includes the BMW (OTCPK:BMWYY) 7 Series and the Mercedes-Benz (OTCPK:DDAIF) S-Class, based on a combination of price, performance, and interior passenger volume. At a 30% share of the freight trucking market, Tesla would generate $300 billion in revenue and add $435 billion in market cap (at the same price/sales ratio).
However, I don't believe either of these precedents are a good guide to predicting Tesla's market share in the freight trucking industry. Freight trucking is purely about cost per mile, not about qualitative factors such as aesthetics, brand, or driver experience, which are important for car buyers. As such, Tesla's market share will be a function of 1) its cost per mile relative to the current industry average, 2) the degree of competition in the self-driving electric freight truck space, and 3) its production volume.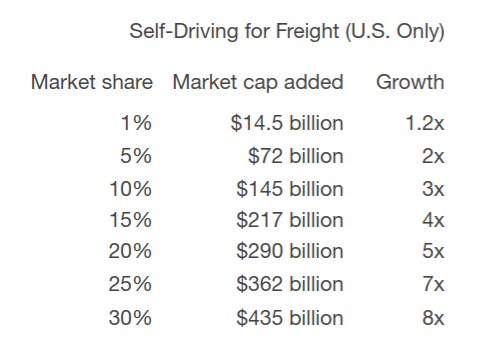 Right now, Tesla has no competition
The economic rationalism of the freight trucking industry and the anticipated dramatically lower cost per mile of self-driving electric freight trucks means these vehicles will dominate the freight trucking industry. No other company is known to be developing this kind of vehicle.
Competition will no doubt arrive eventually, but right now it looks like Tesla might be the only company working on a self-driving electric freight truck. Until other manufacturers launch competing vehicles, there is theoretically no limit to Tesla's share of the freight trucking market. The only limiting factor will be its production volume.
It's worth considering the following. At a 5% share of the U.S. freight trucking market, Tesla would generate $50 billion in revenue and add at least $72 billion to Tesla's market cap. That added $72 billion alone is more than 110% of Tesla's market cap at its all-time high of $63.6 billion. As long as the Tesla Freight Network is successful, Tesla could lose revenue from all other sources and still grow 10% from its all-time high.
Tesla also will capture market share internationally. While statistics on the global freight trucking industry are not readily available, the U.S. has a 25% share of the overall global transportation industry. The international opportunity, then, may be several times larger than the opportunity within the U.S.
Self-driving for freight: a $1 trillion U.S. market
U.S. freight trucking already was a $726 billion industry in 2015 and it's growing. The American Trucking Associations forecast a 35% increase in freight tonnage moved by trucks from 2016 to 2027 as its baseline scenario. A 38% increase in revenue would push the industry past the $1 trillion mark.
I anticipate that self-driving electric freight trucks will accelerate the climb to $1 trillion in revenue. Driver compensation accounts for 31% of the operating costs of a freight truck, with fuel costs at 25%, repair and maintenance at 10%, and insurance at 6%. That's 72% of operating costs that can be reduced dramatically by a self-driving electric freight truck. Far lower costs mean that freight companies can offer far lower prices. This has the potential to unlock a new level of demand for freight transportation. Moreover, as Galileo Russell observes, self-driving electric freight trucks are likely to grab market share from rail.
Why this article might be wrong
This article is based on rough back-of-the-envelope math. High-powered research teams will release different estimates based on sophisticated mathematical models. These models capture subtleties back-of-the-envelope math can't. It's possible that due to factors I'm not modeling in my rough math, Tesla's opportunity is much smaller than I claim.
For instance, perhaps under conditions of dramatically lower costs and intense competition, aggregate freight trucking revenue could drop so low that Tesla would require a much larger market share to add $72 billion to its market cap. I am somewhat skeptical of this particular scenario because I don't see competition intensifying quickly and I suspect growth in freight volumes may offset the drop in costs. However, I can't rule it out and there may be other scenarios I haven't considered.
Conclusion
A successful launch of the Tesla Freight Network will, I believe, eventually add a minimum of $14.5 billion in market cap to Tesla and more likely a multiple of that number. Investors who feel confident in Tesla's technological leadership and ability to execute, as I do, should consider seizing on this opportunity. Since the Tesla Freight Network may not launch until years after the initial production of the Tesla semi truck — currently planned for 2019 — this is an opportunity for investors who are prepared to hold onto their stock for a long time.
My recommendation: Buy TSLA and hold on a very long-term basis, i.e. at least 10 years and ideally longer.