Retail Sales
Retail sales declined for a second consecutive month, falling 0.2% in June, after an upwardly revised 0.1% dip in May. The results were even more disappointing when we exclude autos, as sales fell 0.2% and 0.3%, respectively. Online spending is the only category that continues to post steady gains each month, but this is not enough to offset the weakness everywhere else.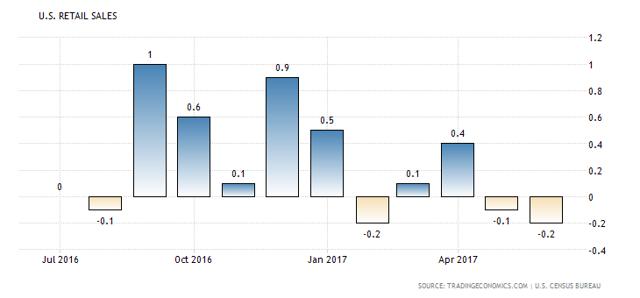 Core retail sales exclude autos, gas, building materials, as well as bar and restaurant sales. This metric declined 0.1% in June after being flat in May. Core retail sales growth is the figure used to calculate the increase in spending on consumer goods in the GDP report. Let's hope that spending on services increased significantly, because the contribution from goods is now looking like a goose egg for the second quarter. Consumer spending on goods and services combined gives us personal consumption expenditures, or PCE, which accounts for approximately 70% of overall economic growth.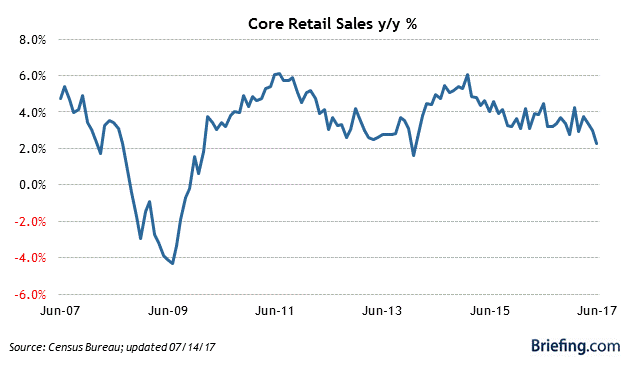 Business Inventories
Total business inventories, which include those of retailers, wholesalers, and manufacturers, rose 0.3% in May, while business sales fell 0.2%. This led to a modest increase in the inventory-to-sales ratio to 1.38, which weighs on future inventory building and limits pricing power. More troubling is that the inventory build was driven by the continued production of autos and auto parts at a time when sales are rolling over. Still, the 0.3% increase in inventories, which follows the 0.2% decline in April, is a modest lift to second quarter economic growth.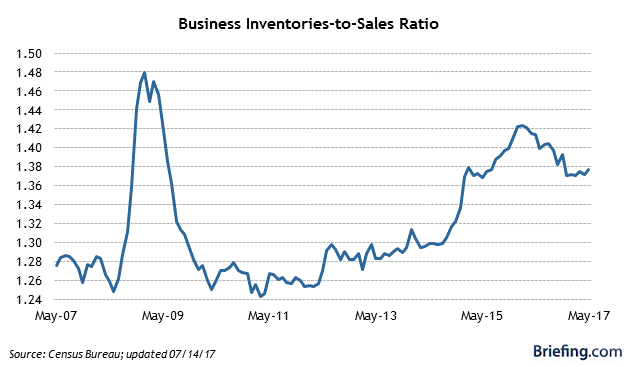 Consumer Price Index
The CPI was flat in June, but the year-over-year rate of increase fell from 1.9% to 1.6%. The core index, which excludes food and energy, rose just 0.1% and is now up 1.7% on a year-over-year basis. This small decline in the rate of inflation is a welcome relief to consumers who earn an hourly wage, but it limits pricing power for companies.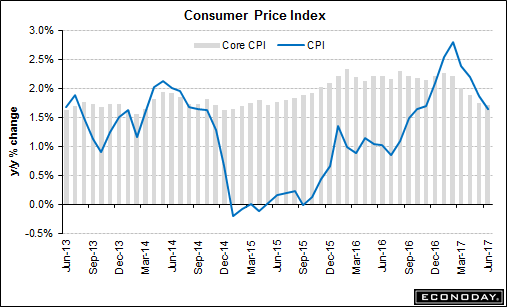 Real income, as measured by average hourly earnings, rose from 0.6% on a year-over-year basis in May to 1.1% in June. This is good news after what were three consecutive months of declining real annual income during the first quarter. The bad news is that the increase is a function of a lower rate of inflation rather than an increase in average hourly earnings.
Industrial Production
Industrial production rose 0.4% in June, led by a 1.6% increase in mining activity. Utility output was flat, while manufacturing recovered by 0.2%, following the prior month's 0.4% decline. With manufacturing accounting for the largest percentage of overall industrial production, this is a relatively uninspiring report. It still concerns me that motor vehicle production continues to increase, rising 0.7% last month, when sales are slowing and inventories are bloated. This will weigh on industrial production in the months ahead. Capacity utilization was unchanged at 76.6%, which is 3.3% below its historical average.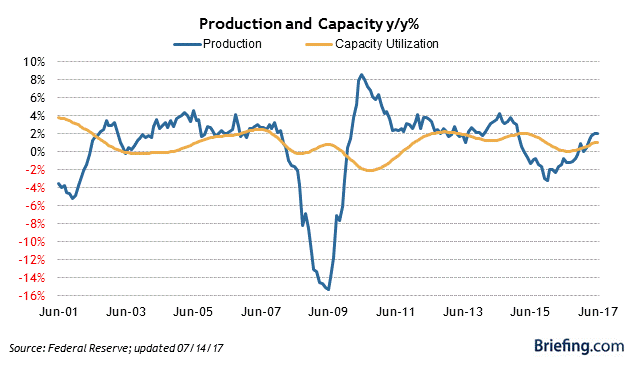 Confidence
As I have been expecting, consumer and business confidence levels are starting to wane. The NFIB Small Business Optimism index has been in gradual decline since the beginning of the year, as the consensus recognizes that healthcare and tax reform will not occur in 2017. Washington continues to be completely dysfunctional.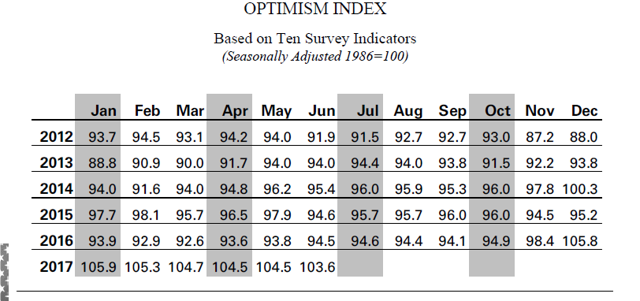 The University of Michigan's Consumer Sentiment Index fell to 93.1 from June's reading of 95.1, but it is the assessment of expectations that is the most concerning. The Index of Consumer Expectations has now fallen to 80.2, which is 10 points below its peak at the beginning of the year, as well as the lowest level since last year's election in November. A significant decline in expectations is consistent with slower rates of economic growth moving forward.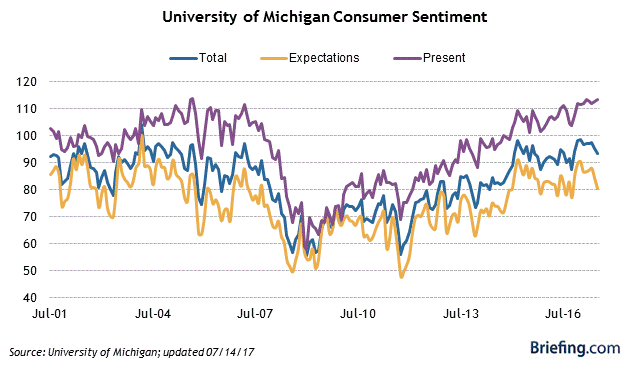 Conclusion
Consumer and business confidence surged following last November's presidential election, and the stock market followed. The consensus was expecting tax reform, infrastructure spending, and a cheaper and better healthcare alternative to the Affordable Care Act. More than six months later, nothing has been accomplished, as the data points that measure the strength of our economy have been falling below expectation for months. The economy is in desperate need of fiscal stimulus, especially as the Federal Reserve embarks on plans to tighten monetary policy.
Now, confidence levels are starting to soften, and I expect that the rate of consumption will follow, as the reality of an indefinite stalemate in Washington weighs on the outlook. The soft data is falling in line with the hard data.
Disclosure: I/we have no positions in any stocks mentioned, and no plans to initiate any positions within the next 72 hours.
I wrote this article myself, and it expresses my own opinions. I am not receiving compensation for it (other than from Seeking Alpha). I have no business relationship with any company whose stock is mentioned in this article.