In this article we are going to look at five potential dividend stocks that have high returns on capital and are priced cheaply on a cash flow basis. The five stocks we are examining are below.
| | |
| --- | --- |
| Company (Ticker) | Yield |
| NetApp Inc (NTAP) | 1.84% |
| FNF Group of Fidelity National Financial (FNF) | 2.19% |
| United Parcel Service Inc (UPS) | 2.97% |
| Infosys Ltd (INFY) | 2.54% |
| W W Grainger Inc (GWW) | 2.95% |
All companies trade at implied 5-10 year average growth rates of below 7% based on our reverse DCF model (assumes 10% discount rate, 3% terminal growth rate, and 5-10 year "high" growth period). The growth rates shown below are the growth rates implied by the current market price of the stock. For comparison purposes the next column shows the average annual growth rate for the past five years. We used the growth rate of gross profits to help avoid fluctuations that can be caused by various accounting issues (intangible asset write downs, restructuring charges, differences in financing, etc). The last two columns are the company's latest fiscal year return on invested capital (ROIC) and return on assets (ROA).

So which of the five dividend stocks offer the best combination of attractive price and a solid business?
NetApp
NetApp is an enterprise storage company that is currently facing a multitude of challenges. The entire enterprise storage market is being pressured by customers switching to the cloud. This switch lowers the need for on premise storage solutions. NetApp has also compounded it's secular problems by arriving late to the current product cycle. It was the last major player to offer an all flash storage solution.
Despite an attractive ROIC and a decent dividend yield of almost 2% we see no reason to invest in NetApp. The company produces a commodity product and faces significant competition. Large competitors like Dell/EMC, IBM (NYSE:IBM), and HP (NYSE:HPE) are better capitalized and up and coming cloud oriented companies such as Pure Storage (PTSG), Nimble Storage (NYSE:NMBL), and Nutanix (NASDAQ:NTNX) are nipping at NetApp's heels from behind.
While the company has the lowest valuation of the bunch based on our DCF model, the low valuation is warranted. NetApp has experienced five consecutive years of falling revenue. While gross profit has only fallen on average -2.1% each of the past five years and the stock is priced as if free cash flow will fall by 6% per year for the next 5 to 10 years we don't think investing based on this undervaluation is a risk worth taking based on the company's poor competitive position. Indeed, the market rarely rewards the stocks of companies whose business is simple just declining slower than first thought.
United Parcel Service
UPS is the next cheapest company on the list. Like seemingly every cheap company these days the main concern is Amazon (NASDAQ:AMZN). There is a fear that Amazon will build out its own distribution network to muscle out UPS [and FedEx (NYSE:FDX)] or at the very least use the threat of this to negotiate more price concessions. This fear really isn't unfounded as Amazon has made immense strides in adding planes and trucks to its delivery fleet (and likely soon, drones).
Despite this threat we think UPS could make a decent dividend pick. E-commerce is not a winner take all game. Right now Amazon owns the e-commerce market but what will e-commerce look like 5 or 10 years down the road? It's likely more competitors will start to emerge. Indeed, we think that e-commerce will be a huge tailwind for UPS. Not every retailer is going to build out their own delivery network. Amazon is going to for sure, and Wal-Mart (NYSE:WMT) is likely to as well. However, what about other large e-tailers like eBay or Etsy? What about all the other smaller brick and mortar retailers moving more sales online? Right now e-commerce sales account for only 8.5% of total retail sales in the US. As this number increases we think UPS will be poised to benefit regardless of what Amazon does.
Fidelity National Financial
Fidelity National Financial is the leading title insurance company in the country with a 33.3% market share. Out of all the companies in our list FNF has the most attractive competitive position. The title insurance market is basically controlled by four firms (First American Financial, Old Republic, and Stewart Information Services being the others) that control over 87% of the market.
Using the Herfindahl-Hirschman Index market concentration ratio we find that the market would indeed be considered concentrated by economists.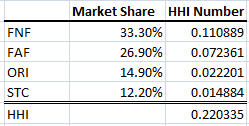 Economists consider .25 to be the ratio in the US where a market is beginning to be non-competitive. While bad for consumers, it's good for the companies. Less competition means higher margins and higher returns on capital.
While FNF is an attractive business it's important to note that it is a very cyclical business that is basically tied directly to the real estate market. Despite being a financial/insurance company it will be tied to other housing and real estate stocks in your portfolio. For instance owning FNF, a homebuilder like Lennar (NYSE:LEN), a retailer like Home Depot (NYSE:HD), and a manufacturing company like Whirlpool offers zero diversification, as they are all essentially real estate/home building plays. So keep this in mind when investing.
Infosys
If FNF is the most attractive company in our list Infosys is probably tied for second place with UPS. It's a good company, with a good business that got caught a little out of position by the changes in the consulting and IT services landscape.
Infosys's main business has been providing cheap, outsourced labor for enterprise application maintenance and development. With companies shifting computing to the cloud the demand for Infosys services has begun to slow. Things aren't "NetApp bad" as gross profit has increased by 6.4% on average over the past five years. Instead, the issue at Infosys is more one of investors perceiving the company as rudderless.
Infosys is sitting on a cash pile of almost $5B and has done nothing with it. Either returning a huge chunk of it to investors or using it to buy its way into the so-called "SMAC" (Social, Mobile, Analytics, Cloud) sectors would go a long way to bringing investors back to Infosys.
W W Grainger
W W Grainger is the last company in our last and like NetApp one we would avoid. Again, the issue Amazon. Amazon has been moving into the industrial parts and supplies business and has been pressuring the incumbents. In response, W W Grainger has been forced to significantly lower prices in order to retain business. Since 2012, gross margin at Grainger has dropped by over 400 basis points.
We don't really see how Grainger is going to compete versus Amazon. Grainger caters to small and mid size customers with basic needs and an average order size of around $250. This is prime territory for Amazon to steal share. Competitors who have more specialized catalogs or company's like Fastenal (NASDAQ:FAST) that offer on premise solutions are positioned much better to fight off Amazon.
Disclosure: I/we have no positions in any stocks mentioned, and no plans to initiate any positions within the next 72 hours.
I wrote this article myself, and it expresses my own opinions. I am not receiving compensation for it (other than from Seeking Alpha). I have no business relationship with any company whose stock is mentioned in this article.