It's certainly a difficult time to think about investing in the Energy sector with very high volatility, the oil price under pressure, and very little support from sentiment. Testament to that is the weight of the Energy sector in the S&P 500 Index, which has dropped to a low of 5.95% as of today, well below the top reached in 2008 when it was above 13%: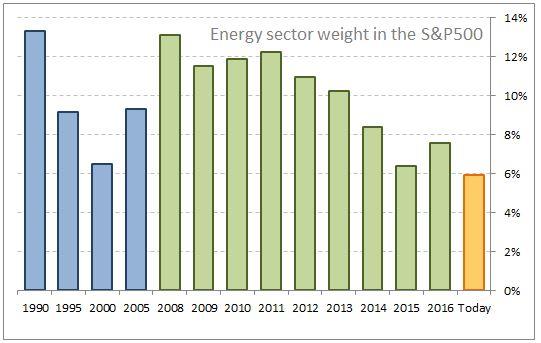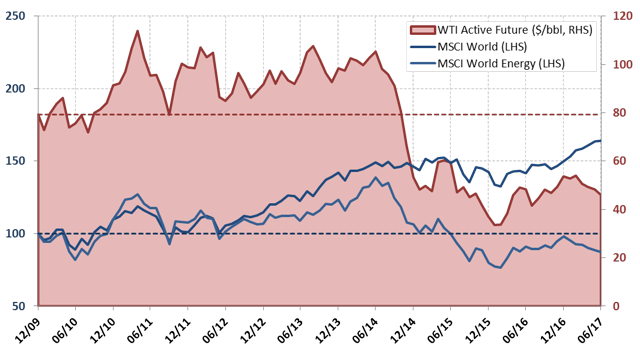 Having a clear view of the direction of the price of crude oil would be clearly extremely helpful in deciding how to invest in the sector. Some may argue that it is actually the only tool needed. In principle, this is true, but in this particular time, we think that it is both extremely controversial to assess future prices with reasonable confidence and less relevant to the stock price of energy companies. We are going to list several factors that should sustain WTI prices, as well as several that show downward pressure, but what is important to notice is that the sector has enough intrinsic value to shine on its own (both in a relative and absolute way), almost regardless (within reasonable limits) of the commodity price environment.
Reasons to be bearish (or why oil price is capped):
Despite the remarkable compliance of OPEC countries, crude stock levels in the USA remain exceptionally high. What will happen to oil prices once these inventories hit the market? It's going to take longer than expected to work this excess out, but one should not forget that the level of inventories ex-USA (and ex-OECD) is much less transparent and might be below what is commonly thought. Moreover, while the absolute level is high, the data is less worrisome once it is considered in relationship with the dramatic increase in production. Indeed, the Department of Energy (DOE) considers as inventories also the crude in the pipelines, a de facto working capital immobilization that needs to grow in line with the growth in production.
American E&Ps have shifted their strategic goals, from preserving their balance sheet (or at least attempting to do so) in 2015/16 to growing their production (10-15% per year on average) by increasing their spending. Currently, they expect to outspend cash flow by 20-30% on average, given the opportunities they have to make operating profits even when WTI stays around $45/barrel.
OPEC has been both bold and disciplined in its handling of the oil crisis, showing high level of compliance to its objective to cut production by 1.8 million barrel/day from the levels of December 2016. Saudi Arabia has been the glue that kept the cartel together by cutting in excess of its requirements. However, it is clear that OPEC is not anymore the (only) marginal producer and thus not necessarily the price-setters. Saudi Arabia might decide that it has more to gain by increasing its market share and creating price volatility (that will hurt USA producers the most) in order to make up for the loss in pricing power. OPEC countries still need higher oil prices to balance their budgets, but thanks to some reforms, their breakeven levels are lower than two years ago, allowing them some more flexibility. Additional volumes might at least partly compensate for the consequent (temporary?) drop in realization prices.
Drilled but Uncompleted wells (DUCs) in the USA have reached a new high to 5,900, an increase from 5,000 estimated in August 2016. In the event of a rally in the commodity price, probably, some of these would be completed, flooding the market with additional production. However, completion costs are significant (roughly two-thirds of total well costs), and moreover completion equipment and services might become increasingly scarce and/or expensive, limiting the potential increase in supply.
Citing a thorough study from Bernstein, offshore production is still on the rise with the 160 ongoing projects that it tracks only 58% completed. It expects offshore production to grow for the next three years at least, followed by an important reduction later in the decade, courtesy of the drop in the sanctioning of new projects that started in 2015.
But the oil price and the sentiment might have hit the bottom:
The consensus (IEA, DOE, independent research houses) does not envisage any drop in demand, which is expected to steadily grow by roughly 7MBoed in the next five years. Although developed economies will show stable demand, emerging markets will continue to grow their energy needs, driven by construction spending and automobile penetration. Energy-saving measures and electric vehicles might be a factor in the long run but will have a limited impact in the short-run, easily dwarfed by demography and affordability.
In the last couple of weeks, at least four major brokerage firms (Kepler Cheuvreux, Goldman Sachs, Société Générale, Natixis, and Bernstein) have downgraded their forecasts on crude oil prices for the next several years. The silver lining is the acknowledgment that despite healthy demand growth, supply from the USA will weigh on inventories and delay the recovery. Such a raft of downgrades sounds a lot like capitulation, suggesting the sentiment is currently hitting rock bottom.
Outside the unconventional area, some investors are concerned by the additional production coming from Libya and Nigeria, as well as from the potential of a supply surge from Iran. These are very sensible issues, but we feel that the upside potential is counterbalanced by the always-present geopolitical risk that might revert any progress, as well as from a non-negligible chance that the turmoil in Venezuela might accelerate, seriously jeopardizing the production of more than 2Mb/d.
Service costs in the USA are recovering fast, not yet on the drilling phase but especially for the completion. Sand, fracking crews, drivers, and waste management are increasingly scarce resources that will command an inflation in rates and salaries. Already some 10-15% inflation in costs (since the last quarter of last year) has been witnessed by multiple E&Ps. So far, productivity gains have more than compensated, but a combination of slower productivity gains, higher service costs, and interest rates might force some of them to drastically reduce capex. And, US shale has average decline rates above 30%, so you need lots of investments just to stay flat!
Any major financial market setback might deprive E&Ps of access to cheap financing that fuels their growth, providing a break to potential future production growth. However, shale resources in the USA are there to stay and are extremely competitive, so those setbacks are merely pushing production further, not erasing it.
Why the sector is attractive:
The Energy sector, especially in its most defensive stocks, is extremely attractive, almost regardless of the view on the oil price. In the table below, a series of indicators show that most of the downside risk is already priced in these stocks, which did not benefit from the overall market rerating and that lagged their peers in the petrochemical sector that have rallied more than 30% in the past year alone.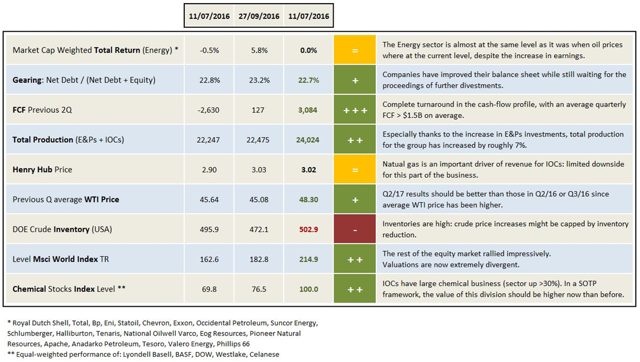 Clearly, any increase in the commodity price will have a beneficial effect on Energy companies and service providers. Moreover, their valuations are very compelling, and their balance sheet, profitability, and cash flow generation are well above the levels witnessed last year in periods with similar crude oil prices. Companies have made huge efforts in selling non-core assets, reducing their gearing, increasing production, and lowering their breakeven point, not only by cutting costs but also by prioritizing higher quality projects and improving their operating efficiency. Moreover, their balance sheet is deleveraged after the significant impairments of the previous years.
Finally, the Integrated Oil Companies benefit from a diversified revenue stream (liquid oil but also natural gas, refining, trading, and chemical products) that should help limit any further downside, protect the dividend, and which currently receives very little credit from investors.
The sector is in better shape than in previous times of sub-$50 oil price on almost all metrics (financial and operational). We have witnessed several times strong sector rallies starting from these levels, and we might expect even sharper increases from a base with so much better fundamentals. At the same time, the overall market is considerably more expensive, potentially making the sector a relative winner.
What we like:
The sector is under-owned and very diversified. The ideal allocation depends on the investment horizon. There are probably enough opportunities along the whole industry spectrum, with those seeking a margin of safety deciding to allocate resources towards IOCs, refiners or service companies exposed to the onshore US, while those with a longer time frame investing into offshore drillers or E&Ps. Quality, backlog, and balance sheet health should be prioritized, not only because those attributes reduce the downside risk but also because they allow companies to continue investing and give them the luxury of optionality: acquire assets or pursue opportunities, driven by potential returns and not by the need to survive (i.e.: choose projects with positive IRRs and not simply accept risky deals in pursuit of small margins just to improve utilization rates).
More specifically, the stocks on which investor should focus present a mix between diversified earnings, cheap valuations, balance sheet strength, and rerating potential:
1. Apache (NYSE:APA):
One of the biggest pure E&Ps with a significant presence in North America (especially in the highly profitable Permian basin), Egypt, and the North Sea. Most of its production is crude oil with higher realization prices. The company has recently discovered a new geological formation with high potential in the Permian, the Alpine High.
Clear strategy and proven discipline to execute it: Apache has been able to spend within cash flows in the past few years and sell non-core assets to reduce leverage and shore up its balance sheet (latest transaction, the whole Canadian operations, sold for more than $700 million, with an impact on decommissioning liabilities too). Management now wants to grow the business at a steady pace but without losing sight of balance sheet constraints. In particular, the company is gifted by highly cash generative assets in Egypt and the North Sea (favorable tax treatment, higher realization prices, low production costs) that will allow the company to fund and develop its growth engines in the Permian region and especially the Alpine High new discovery. Overall, the average decline rate of its production remains around 20%, significantly lower than other pure-players in the onshore US market. This increases flexibility, lowers spending, and allows to pursue growth opportunities only when rates of return are appropriate.
The Alpine High unconventional area started to be developed at the end of 2016. Apache was able to secure more than 320k acres at an average price of $1,300/acre, well below the price of the most recent transactions (as high as $14k/acre). The area is geologically very favorable (low clay content, high pressure, several productive layers) and more oily than usually thought. Apache is still in investment mode, pouring capital to develop the infrastructure ($500 million both in 2017 and 2018), de-risk the area with exploration (i.e.: non-optimized) wells and secure lease retention. Rig rates were contracted in 2013, and some contracts are up to renewal with significant saving potential.
Cost control: In the past four years, COGS/BOE dropped by 22%. Service costs are expected to remain stable for the foreseeable future while Lease Operating Costs per barrel might increase in H1/17 because of lower production in the North Sea (planned maintenance) and the early stage of Alpine High production (there is ample room to optimize the production once the geological formation is better understood).
Valuations: One of the cheapest E&P stocks on 2017 and 2018 numbers, with significant discount on EV/EBITDA (6.9x and 6.2x, respectively) despite an above-average 20% CAGR at $50 oil. Apache has the highest dividend yield amongst the big E&Ps at 2.1% and has not diluted shareholders in the past four years (actually, total share count decreased by 4%). Being one of the few companies that have spent within cash flows, it is the only big cap E&P with a positive cash flow yield (for 2016/18).
2. Occidental Petroleum (NYSE:OXY):

It is an integrated oil company. Most of its assets are related to its upstream division, but its midstream and chemical businesses have been the biggest contributors to earnings in 2016. The company has a $46B market cap and 2.4 million barrel of proved oil equivalent reserves (as of December/16). 60% of reserves are located in the US, the remaining in Middle East (35%) and Latin America (5%). Natural gas constitutes only 25% of proved reserves.
The company has an attractive mix of cash flow generating activities and growth opportunities. The Middle East and Latin America upstream businesses, as well as the chemical and midstream divisions, need low investments and have high cash margins, allowing a steady flow of resources available to finance the growth in more dynamic areas (i.e.: the Permian basin). The completion of the ethylene facility in Ingleside (a joint venture with Mexichem (OTCPK:MXCHF), expected to be completed for 2017 after a $725 million investment) and the rampup of the production at Al Hosn (for an annual operating cash-flow in between $300 million and $600 million) are the two other major drivers of growth.
Biggest producer in the Permian basin, one of the lowest cost area in the US, with ambitious plans to grow production by around 33% to reach 100k barrel/day. The other significant activity in the area is EOR (Enhanced Oil Recovery), an extremely low-cost way to increase production from existing wells through CO2 injection. The Permian operations benefit from an improvement in efficiency (days to completion steadily declining), a decline in service and equipment costs and from economies of experience, whereby companies improve the understanding of the geology after each well they drill.
The company has lower net debt than peers (around 18% of its market cap) and the free cash flow generation should be improving since the capex cycle is passing the top (30% cut to the capital budget expected for 2017, service cost reductions, completion of the Al Hosn project). Occidental has increased its dividend for the past 15 years and it now yields 5.1%.
3. Small cap/Higher-Beta ideas:
Torc Oil & Gas (OTCPK:VREYF): a Canadian E&P with a production of just 25k barrel/day. The company has been able to constantly grow production within cash flow, pays a dividend, and despite being an unconventional player, is able to keep decline rates at a reasonable 20%. This gives it a lot of flexibility, reduces capital outflows, and makes its targets easier to achieve. It is actively looking for opportunities to consolidate within the basins it is already operating in. Management (founders) has a big stake in the company, as well as the Canadian Pension Fund, which is an anchor shareholder owning more than 25% of the shares.
Tenaris (NYSE:TS): the leading producer of OCTG (Oil Country Tubular Goods). It is a global supplier of steel tubes for the energy industry and certain industrial applications. It is particularly exposed to the shale industry in the USA and Argentina which has seen a real development interest from the Majors. It is the sole supplier that directly target E&P companies in the USA, bypassing the distributors. It is an innovative strategy that allows higher margins, better visibility, and deepens the relationship with its clients, albeit at the expenses of higher working capital requirements. The company yields 3.5%, is net cash positive ($1.6B), and has the lowest breakeven costs in the industry. Its financial health has allowed it to navigate the downturn with positive cash flows and without cutting on growth initiatives, and now, its new Bay City (TX) plants are ready to serve the booming basins of Texas and Oklahoma at even lower operating costs. It's one of the most intuitive ways to play the growth in rig count in the USA and a natural hedge to lower oil prices induced by overproduction in North America.
Conclusion
Despite being a challenged sector, with disappointing returns and wary investors, we think that there are significant investment opportunities, especially for those who can tolerate near-term volatility. The oil price has been the main driver of the recent selloff, but one should be careful to dismiss the resilience of Energy companies and the robust improvements in their operating performance since the beginning of the downturn. Companies are now significantly leaner, producing higher cash-flows, and having a firm commitment on reducing unprofitable investments. Those with safe finances have normally lower speculative appeal, but the depth and amplitude of the recent price drop make them a compelling venture, with an enviable risk/reward profile.
Disclosure: I/we have no positions in any stocks mentioned, and no plans to initiate any positions within the next 72 hours.
I wrote this article myself, and it expresses my own opinions. I am not receiving compensation for it (other than from Seeking Alpha). I have no business relationship with any company whose stock is mentioned in this article.
Editor's Note: This article discusses one or more securities that do not trade on a major U.S. exchange. Please be aware of the risks associated with these stocks.