Every now and then, the market gets excited about a certain industry. Fortunately, this excitement translates to significant gains in the stock price of the companies involved. Autonomous driving, without a doubt, is an industry which the market will stay excitingly looking at for the next few years. And, the best way, in our view, to get exposed to this excitement is investing in a number of companies that would get the biggest benefit from such a hype. Thus, we created a portfolio (or as we like to call it, a virtual ETF) to track the performance of these companies.
List of companies included in our portfolio:
Nvidia (NASDAQ:NVDA): Nvidia is the most likely player (till now) to benefit from the autonomous driving hype. The training phase of this technology can only be done by using Nvidia's DGX-1. There are no GPUs in the world capable of analyzing huge quantities of data at high speeds like Nvidia's GPUs and accelerators. The company's Drive PX platform will also play a role in the mass-production phase of AVs (the extent of this role is yet to be known). The company is being valued at 74x its TTM FCF. At first glance, it seems that the stock is pricing most of the future gains. However, what few might know, Nvidia's stock is partially pricing automotive revenues as most of the growth is being derived from data centers and not from the automotive segment. We explained that in detail in this article.
Qualcomm (NASDAQ:QCOM): It seems that the acquisition of NXP Semiconductors (NASDAQ:NXPI) by Qualcomm would pass through. NXPI is now trading at $109/share, just $1 below the buyout price which shows high confidence by the market that the acquisition will occur. We believe that Qualcomm with NXPI would be a huge beneficiary of the AV revolution. NXP sells radars, ultrasonic devices, and cameras. Also, NXP's BlueBox (a competitor to Nvidia's Drive PX) might get a huge progress under Qualcomm's umbrella as the latter's expertise in increasing processing speed would lift the platform's performance upwards. Not to forget, NXP's V2X system and NFC technology would be greatly used in the mass production phase of AVs as the vehicles need to communicate with each other and with the data center to exchange information. These systems (V2X and NFC), accompanied by Qualcomm's coming 5G technology, will create an ecosystem for cars based on exchanging information at high speeds. QCOM is now trading at 15x its TTM FCF. This means QCOM stock is pricing minimal future growth. While Qualcomm's business model is being threatened by the huge pile of lawsuits against the company, we believe that this is a buying opportunity, not a selling catalyst. Lawsuits, scandals, and management shake-ups give investors a chance to buy strong businesses at attractive prices. Also, we believe that no one can force Qualcomm to change its business model. The most that a judge can do is pushing Qualcomm to pay a multi-billion dollar penalty. Qualcomm has a deep long-term moat. Buying a company that has such moat at 15x FCF is a no-brainer.
Intel (NASDAQ:INTC): To store and process data in data centers, Intel servers are needed. Intel's newly released Skylake server processors are the fastest in town. The processors recorded a 65% average outperformance of their Broadwell predecessors. Also, Intel's Xeon processors are much better than AMD's (NASDAQ:AMD) newly released EPYCs. This means that Intel would stay dominating the data center market for years to come.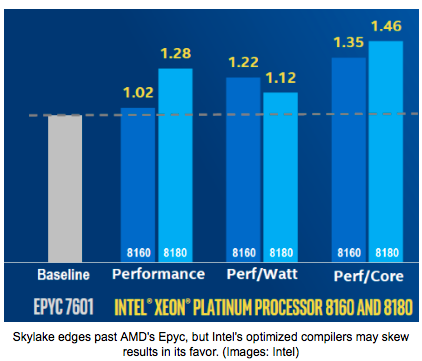 To be honest, we wouldn't have included Intel in our portfolio if it wasn't for its Mobileye acquisition. Falling PC sales and Intel's lack of significant presence in the SoC and GPU market limit the growth potential for the company. However, the acquisition of Mobileye will add further exposure for Intel to the autonomous driving segment as Mobileye's EyeQ chips are the best in processing image and radar data. For instance, the company's EyeQ5 for "Level 5" driving, which is expected to be released in 2020, can process up to 3 Terra operations per second per watt. Mobileye's EyeQ chips and ADAS systems should get a boost under a financially strong company with deep expertise in the semiconductors market.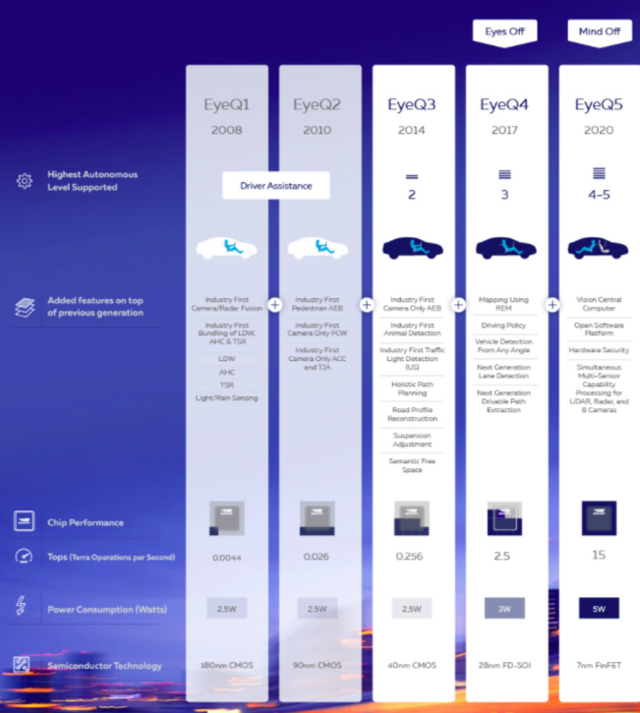 Micron Technology (NASDAQ:MU): All trained data needs to be stored somewhere. The AV needs to include an SSD storage device that can store hundreds of terabytes of data as it can't depend on cloud access which can be disrupted or slowed which will put the passengers' lives in danger. We believe that Micron Technology would be a huge beneficiary as it has deep expertise in DRAM and NAND storage drives, with both being used in vehicles and in data centers. It's estimated that each AV will create 3TBs of data per day. So, even if a small percentage of this number needs to be stored, the storage capacity needs to be huge. MU recorded 500% increase in revenues from cloud customers and a 30% increase in revenues from its overall storage segment. At 78x FCF, the stock is not cheap. But one of the biggest mistakes a growth investors would do is valuing a growth stock using traditional valuation metrics. Micron recorded a 92% increase in revenues in its latest quarter mainly due to shortage in storage supply due to high demand. Servers are having higher DRAM contents which should push demand higher in the coming years.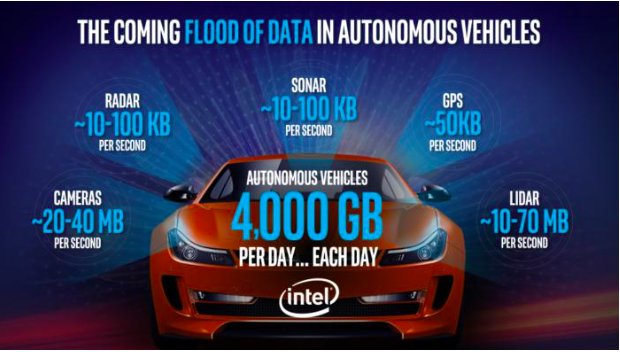 MediaTek (OTCPK:MDTKF): This fabless semiconductor SoC provider will also benefit from an AV revolution. The world's second-largest designer of chips for smartphones newly announced its "automotive strategy". As the AV would include so many semiconductors, focusing on performance/watt would be a priority for OEMs. Thus, using efficient SoCs is a must. MediaTek is designing its own radar SoC that just consumes between 1 and 3 watts (depending on distance). The company stated that it's working very closely with a Tier 1 company on the technology. While MediaTek would be a competitor to Intel's Mobileye, the open architecture for MediaTek would make the company's products more appealing. We also believe that MediaTek is a compelling acquisition target.
Infineon (OTCQX:IFNNF): If you have read our latest article on Nvidia, you would have noticed that the new Audi A8, the first legal "Level 3" vehicle, used Infineon's Aurix platform for safety. In order to comply with the ISO 26262 standard for autonomous driving safety, integrating Infineon's Aurix is a must, until this point. Also, besides Aurix, Infenion's acquisition of Wolfspeed will enable the company to be more exposed to the AV and electrification revolutions. Wolfspeed's technology is based on increasing power efficiency for AVs (using silicon carbide for wafers), a segment which is important for a vehicle that moves by using semiconductors power-supplied by batteries.
Alphabet (NASDAQ:GOOG)(NASDAQ:GOOGL): Google's Waymo would be a huge beneficiary from an AV revolution. The company's huge pile of data gives it an edge in the autonomous segment. We believe that licensing such data can add billions of dollars of revenues that have a high FCF margin. Waymo recorded the lowest disengagements among autonomous vehicles. Also, the company is detail mapping in several states. We believe that these detailed maps can be licensed to OEMs as it takes time for them to do their own mapping. Like Amazon's (NASDAQ:AMZN) first-mover advantage in the cloud, Waymo has a first-mover advantage in the AV industry. This first-mover advantage requires higher valuation. Months ago, we gave Alphabet a value per share of $1,154 using a conservative DCF analysis and not including any revenue from Waymo. As such, we believe that Alphabet stock is not pricing any growth from Waymo. Morgan Stanley gives Waymo a valuation of $70 billion. If that is precise, Alphabet stock should be worth around $1,225/share ($71/share for Waymo plus $1,154/share for Google), a ~25% upside from current levels.
TSMC (TSM), Samsung (OTC:SSNLF), and ASML Holdings (ASML): By 2020, it's estimated that the AV would include $6,000 worth of electronics. These electronics are either equipment (radars and LIDARs) which will be manufactured primarily by Bosch (a private company), or semiconductors which can be manufactured by TSMC, Samsung, ASML Holdings, and Intel. Together, these four stocks give us enough exposure to the manufacturing process of the semiconductors included in the AV.
Weights and performance of the AV portfolio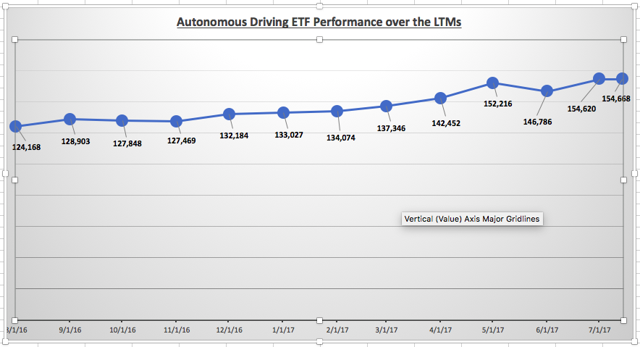 Over the LTMs, our portfolio (or virtual ETF) has appreciated by 24.5% with minimal fluctuation. That's slightly less than double the S&P 500 (SPY) return of 13% and nearly on par with the Nasdaq's (QQQ) return of 26% over the LTMs.
Closing thoughts
Autonomous driving will be the next thing to disrupt the world after the Internet. In order to get exposure to this industry, investors need to invest their money in multiple companies which are most likely to benefit from the coming hype.
As a result, we allocated 5% of our overall portfolio to this virtual ETF and will be giving a quarterly update of its performance.
If you know a company which would benefit from the AVs hype and it's not part of our portfolio, please don't hesitate to share your thoughts in the commentary section.
Disclosure: I am/we are long NVDA, ASML, QCOM, TSM, INTC, MU, GOOG, IFNNY, SSNLF.
I wrote this article myself, and it expresses my own opinions. I am not receiving compensation for it (other than from Seeking Alpha). I have no business relationship with any company whose stock is mentioned in this article.