The internet never forgets and investors tend to have long memories as well. That is why I was hesitant to write about a sector that historically hasn't been so kind to investors. Of the 22 stocks in this industry, there are 9 that carry a Zacks Rank #1 (Strong Buy) which has to be some kind of record.
Now before we go any further, know that this article doesn't come with any extra fees for bags. I won't eject you from this site and forcibly remove you from your seat. The delays you experience will be more about your computer or internet provider (although the Zacks website isn't the fastest). So buckle up and be aware that your closest exit might be behind you.
The Friendly Skies?
Lately, the friendly skies haven't been so friendly. Aside from the removal of passenger by force, there was a recent dust up from a conservative pundit. Selecting your seat seems to be the new way the airlines are using to drum up fees, but at the end of the day, higher fees often mean higher earnings.
Earnings estimates are the driving force behind the Zack Rank and with so many airlines getting positive estimate revisions we end of with the industry soaring the top 3% of all industries.
With 20% returns YTD for the group, let's take a look at a few of the high fliers.
Southwest
Southwest (NYSE:LUV)is a Zacks Rank #1 (Strong Buy) and has some great style score, with a B for value and an A for growth. The company has a so-so record when it comes to a recent earnings history with two beats and two misses of the Zacks Consensus Estimate. That is a factor in the Zacks Rank, but not nearly as important as the number of positive revisions.
When I look at the agreement section of the detailed estimates page (https://www.zacks.com/stock/quote/LUV/detailed-estimates) all I see is a blizzard of positive estimate revisions in 7, 30 and 60 days. The Zacks Consensus Estimate for this year has moved from $3.76 to $3.90 over the last 90 days. At the same time the Zacks Consensus Estimate for 2018 moved from $4.57 to $4.80.
LUV trades at 16x forward earnings and 18x trailing earnings. A price to sales multiple of 1.8x is also right in line with the industry average.
Southwest Airlines Company Price and Consensus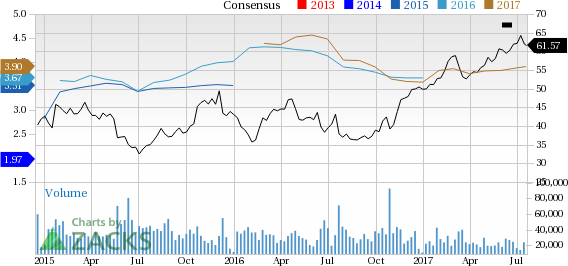 Southwest Airlines Company Price and Consensus | Southwest Airlines Company Quote
I Am A Real American
When Hulk Hogan made his way to the squared circle, also known as the wrestling ring, his theme song had a chorus of "I am a real American." Hulk is strong and my leads ins are weak, but the earnings estimate revisions for American Airlines (NASDAQ:AAL)have been strong.
AAL is a Zacks Rank #1 (Strong Buy) and I like this play a lot as it has a positive earnings ESP. This tells me that an analyst has very recently increased estimates over the consensus and analyst that do that with just a week or so before earnings are telling you they are confident in an upcoming beat. The logic is simple, the analyst that waits the longest to publish numbers or update their model has the most information on the quarter.
The Zacks Consensus Estimate for the coming quarter has been moving higher. The number has soared to $1.82 from $1.56 just 90 days ago. Along the way there were more than 17 earnings estimate revision to the upside. That is a lot of confidence in the quarter.
American Airlines Group, Inc. Price and Consensus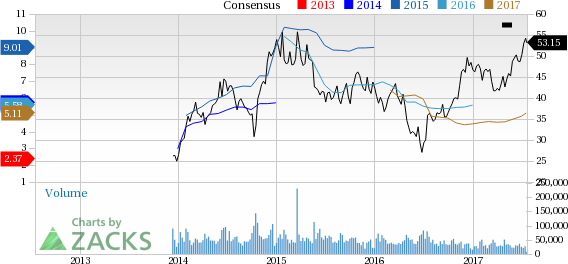 American Airlines Group, Inc. Price and Consensus | American Airlines Group, Inc. Quote
A Great Chart
In looking at the chart for the last three months I almost drooled on the keyboard. Deutsche Lufthansa (OTCQX:DLAKY) is also a Zacks Rank #1 (Strong Buy) that has an A for value and a D for growth.
I don't want to go too deep into this stock, but clearly, when a German airline is seeing positive estimate revisions as well as a number of our domestic airlines, you know you have a strong sector rotation at hand.
This stock has really soared since the start of the year and you can see on this chart how the earnings estimate revision have been the thrust beneath this stocks wings.
Deutsche Lufthansa AG Price and Consensus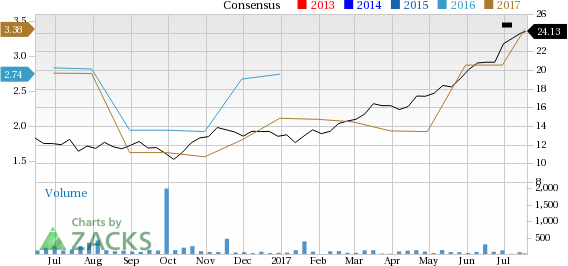 Deutsche Lufthansa AG Price and Consensus | Deutsche Lufthansa AG Quote
Editor's Note: This article discusses one or more securities that do not trade on a major U.S. exchange. Please be aware of the risks associated with these stocks.