Welcome to the EIA storage report edition of Oil Markets Daily!
WTI is moving higher today trading above $47/bbl as EIA reported better than expected oil storage report.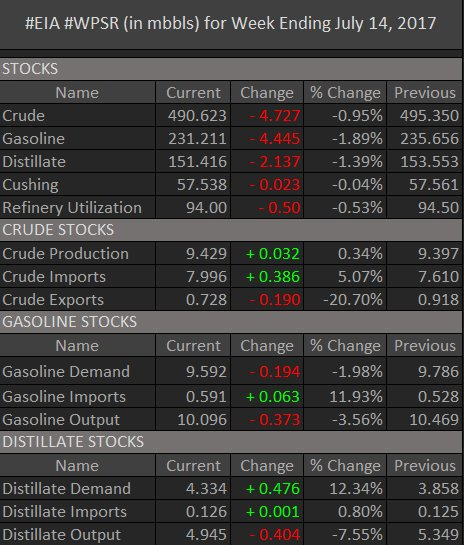 Source: EnergyBasis
Crude stockpile decreased 4.727 million bbls with gasoline stockpile declining 4.445 million bbls and distillate stockpile declining 2.137 million bbls. Total oil stockpiles fell 10.2 million bbls week over week.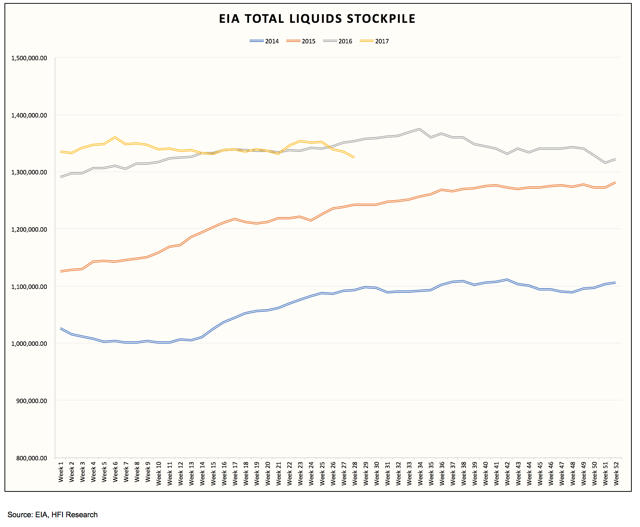 For total oil stockpile, we are now below where we started at the beginning of the year as the global oil rebalancing continues. Below is another view of the rebalancing:

What to make of this report?
Before we address this report, here is a relevant chart for everyone to watch for in next week's EIA oil storage report: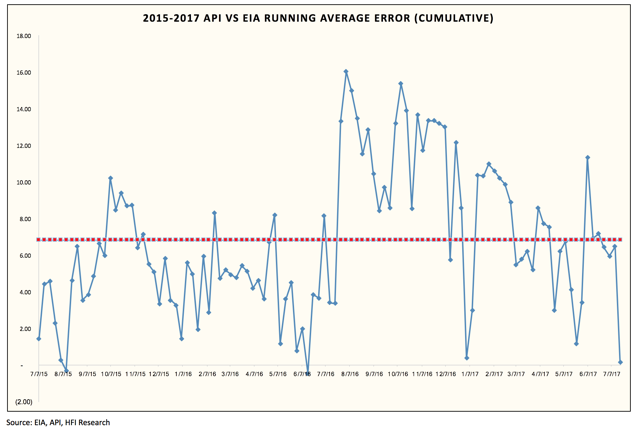 API reported yesterday that crude storage would see a build of 1.6 million bbls. EIA, on the contrary, reported a draw of 4.727 million bbls. As a result of the difference, running error between API and EIA has decreased to just 150k bbls versus the historic average of 6.82 million bbls.
This means that next week's EIA oil storage report will likely be below what API estimates.
In the 7/14 EIA oil storage report, there were several things we need to point out.
1) Adjustment contributed to 1.778 million bbls of crude draw as it represented -254k b/d in the report. This is either due to EIA "overestimating" US crude oil production or "underestimating" demand. Given EIA's latest short-term earnings outlook, it's very likely that the 9.429 million b/d of production estimate is "materially" overestimating the actual production level.
2) Crude imports were once again below what third-party vendors estimated, a direct contrast to June estimates. EIA reported crude imports rose 386k b/d week over week to 7.996 million b/d. Third-party vendors estimated 8.2 to 8.3 million b/d of imports.
These two factors were likely contributors to the bullish surprise, but the biggest positive takeaway from this report should be the "extremely healthy" end product demand via gasoline and distillate stockpile draws. With the rally in both refined products today, US refinery throughput could increase in the coming weeks resulting in even higher crude storage draws. We will be watching crack spreads closely.
Overall, this was a positive oil storage report with all signs pointing in the right direction.
For more insightful analysis of the oil markets, please consider signing up for HFI Research.
Disclosure: I/we have no positions in any stocks mentioned, and no plans to initiate any positions within the next 72 hours.
I wrote this article myself, and it expresses my own opinions. I am not receiving compensation for it (other than from Seeking Alpha). I have no business relationship with any company whose stock is mentioned in this article.